ADP Women in STEM Profile: Anaïs Beaucousin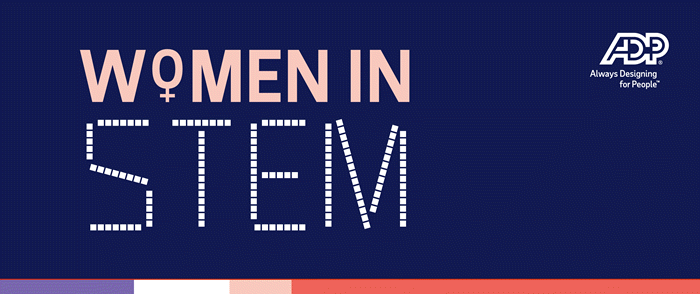 Continuing our profiles of some of the many extraordinary women in STEM at ADP, we sat down with Vice President of Service Delivery Systems, Anaïs Beaucousin.
Anaïs Beaucousin always wanted to travel. She grew up in a village in France where her natural curiosity was encouraged by her family. She set out to explore the world, first at school where she learned English and German on top of her native French. She was also drawn to STEM early, loving math and science alongside languages and literature.
Tech Can Change People's Lives
In high school, Anaïs chose to major in Science and Technology because she enjoyed the subjects and saw opportunities for the future. She was also very interested in business and management so she decided after her A level to do a "Prepa HEC" with a major in Math. This prepared Anaïs for entrance to top French Business schools.
Her educational focus was always science, technology and math all the way through her business degree. And she has never looked back.
Anaïs' first job was as an intern/trainee with a French telecom company that was developing VOIP (voice over internet protocol) to allow calls to be made using the internet. She was part of the testing and first calls made using the new technology in France. As she saw the difference new technology could make in people's lives, she knew she was in the right place at the right time.
From there she became a Telecoms consultant. As the Internet was expanding into our world, Anaïs helped cities understand and plan their investments in internet technology. At that time, there were regional differences about what was possible and local authorities were still implementing the infrastructure for the internet.
Coming to ADP
After two years consulting, a former colleague who had joined ADP told Anaïs about an open position and put her in touch with the recruiter. Anaïs was intrigued because ADP was a global tech company and she might have the opportunity to work internationally.
In 2003, Anaïs joined ADP's multinational sales and marketing team based in France. Her first position was a Sales Analyst for ADP International Europe doing market analysis and studying potential prospects. She became responsible for maintaining the CRM (Customer Relationship Management) database at the time that Salesforce.com was gaining traction.
Quickly, Anaïs became one of the go-to people for all things CRM and Salesforce.com. She became the CRM manager for ADP Europe, as she worked closely with the US team to put a CRM in place in all of ADP's European offices.
Big Changes for Anaïs
Early on, Anaïs expressed her interest in working internationally. When an opening arose at ADP's headquarters in Roseland, N.J., she jumped at the chance. She and her husband moved from France to the United States so Anaïs could help standardize, implement and improve the Salesforce.com CRM across ADP. It was a unique opportunity to centralize a new system for use across the globe where things do not work the same everywhere. "I had to understand different products, businesses and countries in order to bring everything together. I put myself in the client's shoes to help them when processes were different and tried to make it as easy as possible for everyone."
When they arrived in New Jersey, Anaïs and her husband had a brand new environment and culture to learn about. As if that was not enough change, after a few years, they also had their first child. She had great support from both her husband and ADP, but she was still far away from her family in France. She wanted her son to be able to learn French so he could talk to his grandparents and family and build relationships with them.
New Adventures
So, after 6 years in the States, Anaïs and her family moved to the UK where Anaïs transferred from the sales automation team to ADP's service delivery division. She was initially hired to implement a standard CRM for the Service teams across the 18 countries of ADP International. She quickly saw the opportunity to expand the role. Anaïs is currently the Vice President of Service Delivery Systems where she oversees ADP International's standard service systems ecosystem. Leveraging economies of scale and automation, she helps ADP to be more competitive and serve its clients more effectively.
"I like the intellectual challenge. There are always opportunities to simplify and bring solutions to a complex, multi-cultural environment. I enjoy learning about different aspects of business for both ADP and its clients. And I also want to make life easier for ADP associates and clients."
Anaïs is also a member of iWIN, International Women's Inclusion Network, which is part of ADP's commitment to diversity and inclusion. The group has chapters all over the world to help women achieve their potential in the company and in life.
She was instrumental in starting iWIN EMEA to set up mentorship programs and networking groups to help women navigate careers and motherhood, develop leadership skills, and inspire people to understand what is possible. She also speaks at different events to encourage more women to explore careers in technology.
Anaïs was just appointed the International Co-Chair of iWIN for 2019, and is excited to get back to the organization after maternity leave.
Anaïs ' best career advice is: "Don't be afraid to take the most difficult and challenging initiatives that nobody wants. Don't stay inside your job description; look for opportunity."
In dealing with the challenges of being a woman in tech, Anaïs says: "Find your own style. Don't waste your energy trying to be someone you're not."

Anaïs Beaucousin on a visit to Las Vegas.
Go Deeper
Read the series: Celebrating women in STEM careers by sharing the stories of some of the extraordinary women who work at ADP.