ADP Women in STEM: Margot Dear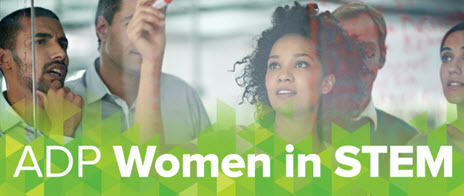 Margot Dear's advice to creative people interested in tech: Be curious and ask great design questions, but also always figure out how to explain your value.
When Margot Dear decided she wanted to learn French, she got on a bus in Vancouver and moved to Montreal. It took three days to get there, but that was part of the adventure.
C'est une aventure depuis.
It's been an adventure ever since.
From Art to Tech
She loved Montreal and decided to go to university there, where she studied art history and studio art. After college, she also learned graphic design and opened up her own design firm for print, graphics and independent film design.
Around that time, Margot realized that art was going digital, so she focused her efforts on computer digital design. She also began working on web design. While she was learning, one of her favorite tricks was to hide her mouse so she would be forced to find another way to get the same result. She has been bridging the gap between the logic and structure of computers and the art and experiences of people ever since.
Understanding Design, Tech, and Relationships
When a friend invited her to come to London — "Because things are happening here!" her friend exclaimed — Margot left her web design position and moved to the U.K. She was able to get a work permit there because her grandfather was a British citizen, and she immediately started working as a freelance graphic and web designer.
She first worked to create online tools for a finance company, then she helped the British Post Office develop their online portal. The Royal Mail needed someone who understood both technology and design to create a central portal while managing relationships across distinct postal brands: Royal Mail, Post Office and Parcel Post. This was a pivotal position for Margot, as her role became less hands-on and more managerial, which meant that understanding people would be a key skill.
After the project was complete, LexisNexis recruited Margot to develop an online presence for their products and services outside the United States. This involved working with teams around the world from many disciplines, including academics, library science, taxonomy, tech, art and design. Margot says, with a laugh, "It was hard to recruit the creative team, because tax and legal compliance is not exactly sexy. But fortunately, complex problems attract great people."
Coming to ADP
After about 10 years in London, Margot and her husband moved to the United States, where she joined Citrix to work on the Go to Meeting/Go to My PC interface. A friend there began working for ADP and told her about an opening at the ADP Innovation Center in Pasadena, California.
When she went for the interview, the Innovation Center was just starting, and the meeting was in empty office building. Despite the "Sopranos moment," Margot found that they were so passionate about their work in design and UX that she decided to move to L.A. and take the job.
Now, Margot is the Senior Director of User Experience for Compliance Solutions at the Innovation Center, where she continues to focus on the connections between people, tech and work. In a recent talk at Enterprise UX, she explained: "Delivering products is not enough. We must also communicate the needs of our audiences, the value of our practices and the unique skills we bring to the enterprise table."
She loves the Innovation Center and the opportunities to connect with others through the meetups and hackathons they hold there. Margot also appreciates the opportunities and challenges of constantly answering new questions and solving new issues. She especially enjoys going into the field and researching with customers to better understand how to design software interfaces in support of their work.
"Our work is getting into the hands of customers and we get to see what happens," Margot says. "It's exciting to see a large company invest in UX as an important part of their technology."
Creating Value
Along the way, Margot has learned a lot about working with people and managing teams. "Give people enough time, space and trust to do great work," she says. She has found that this is especially important when working with creative people.
"Roadmaps are linear. Creativity is nonlinear," Margot says.
As a leader, Margot also had to figure out how to explain the value of the creative work she and her team were doing so they would have the resources they needed. This also helped senior leadership understand what they were getting for their investment in UX. Margot and her team are currently exploring how to measure and quantify the value that UX brings to both ADP and its customers by regularly measuring and reporting these metrics to stakeholders across the organization.
Margot has the following advice for creative people interested in tech: be curious. Ask great design questions, but also always figure out how to explain your value.
Parce que vous le valez bien.
Because you're worth it.

Margot Dear, Senior Director of User Experience for Compliance Solutions at ADP's Innovation Center.