Technology in the Workplace Requires Careful Study by Humans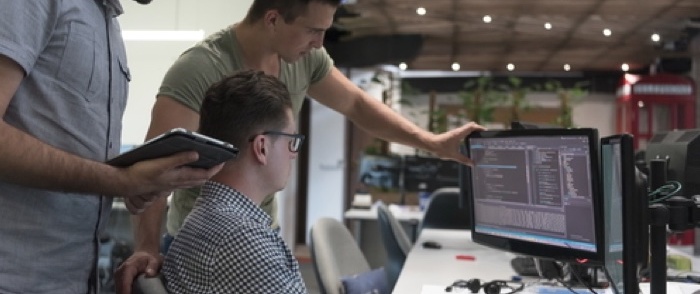 Understanding human expectations and experiences will shape how organizations implement technology in the workplace. Here's what you need to know.
With technology empowering just about every job function, organizations can nimbly meet the shifting demands of customers and clients. But fully understanding technology in the workplace is a complex endeavor thanks to its deep reach into job performance, administrative functions and organizational culture.
"For some, technology at work might mean, 'I'm going to get laid off,' while for others it builds confidence in the company leadership to remain up to date," said Martha Bird, Business Anthropologist for ADP's Innovation Labs.
"Add to this diversity of cultures and embedded beliefs systems around accountability, hierarchy, time management, people management, gender roles, religious and national holidays, governmental policies, communication style, status and seniority and it gets less straightforward about work and technology."
In other words, even though technology has simplified work, it's also become too complicated to explain exactly how it's affecting workplace culture.
Balancing Machines With Humans
Bird translates and tells stories to unwrap complexities. For businesses, she asks executives and managers to think critically about "matters many of us take for granted," particularly work and the meanings assigned to technology, she said.
It's easy to recognize that technology is creating new forms of work in hiring, collaboration, ongoing learning and a whole host of other HCM business processes. But going deeper, Bird said, technology in the workplace has renewed focus on culture, people and place — with digital tools allowing organizations to create global workforces and all sorts of internal teams that both temporarily and permanently commingle full-time employees and contractors.
"There are many functional tasks within a business today that software can do as well as or better than a person primarily because these are based on a strict logic, predictable inputs and sets of rules than can be programmed, scaled and repeated," Bird said. "With new developments in machine learning, neurolinguistic programming and robotics, this is only going to increase. Repetitive and time-intensive tasks that would otherwise be done by a person can now be done by a machine."
So what does this mean for the human worker? For example, Bird posited, what happens to the HR recruiter who no longer has to manually prescreen job applicants by scouring piles of resumes because a computer algorithm can now do it? Or, what should a manager do who no longer has to review and approve time sheets because of an algorithm?
Well, for Bird, the answers to those and other questions will come after corporate leaders think through the consequences — planned and unintended — of the technologies coming into workplaces. They need to "map out and champion opportunity for positive inclusion for all types of workers," she said. For the HR recruiter, that could mean focusing on areas requiring more human aptitudes such as relationship building, creative problem-solving, consulting and strategic thinking. "How this will play out continues to be hotly debated," Bird added.
Employee Experience Can Inform Implementation
Business leaders need to decide whether advanced technology will work for their organizations and, similarly, should judge how it will affect employees. Bird pointed to how employees become so adept at the specific practices of their jobs that these practices become second nature. The same holds true for digital tools. "People learn to master a system, they become experts of it and it gives them a sense of professional pride," she said. "They become owners of hard-won domain knowledge."
This mastery of technology means that employees are the best judges of which systems and programs work easily and which ones are clunky, Bird said. Nonetheless, the C-suite still needs to ensure that employees acclimate to new technology, getting over natural reactions of anxiousness or even anger.
"First, spend time with those for whom you are building tools. Understand their expectations and their work practices. See if these align with the capabilities you want to introduce," Bird said. "Ask them what's missing in their current way of getting things done. Observe how they do things, listen for what they aren't telling you directly and read between the lines. Look peripherally and respect that they know their needs better than you do. Including them in your development process as collaborators is not only respectful, it is common sense that you learn from the master teachers."
With workers expecting enterprise solutions to offer the same well-designed and pleasurable experience that consumer-grade technology does, usability probably won't be a barrier, Bird said. But the legacy-technology mindsets of some employees could be a hurdle.
"Understanding your company culture and how the values of the culture are enacted by employees, managers and teams — and how these values play out within the organization — is central to how successfully new technologies are instituted, managed and scaled," she said.
Again, cultural anthropology can help business leaders, and here Bird had advice.
"We operate from the present informed by the past as we imagine a possible future based on what we already believe," she said. "It is the adventurous, the early adopters, who try out new technologies, and word begins to spread. Fears start to fade or, at least, these aren't sufficiently strong to hold greater numbers of people back from buying in, and the technology starts to reach critical mass."