Your Employee Referral Program: 6 Ways to Help Ensure It Attracts Top Candidates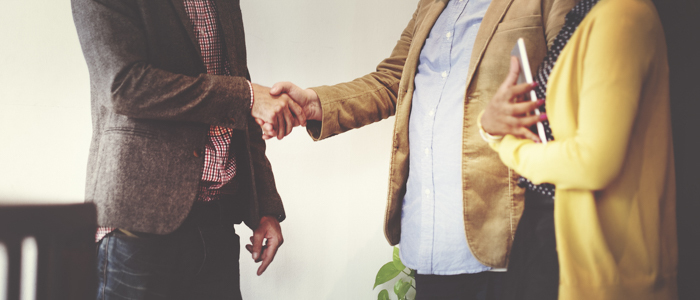 This article was updated on October 2, 2018.
Employee referrals save time and money, and they can boost your team's productivity. Fourteen percent of new hires at small companies with 99 or fewer employees came from referrals, and half of referred employees report being very satisfied with how well they fit with the company, according to Aol.com.
How can you help ensure your employee referral program is delivering the best candidates? Here are the top six ways to encourage referrals and weed out candidates who are not a good fit.
1. Communicate Regularly With Employees
Make employees aware of the types of skills your business needs and how your employee referral program works. Keep employees informed of immediate job openings and anticipated future hiring needs so they can keep an eye out for possible candidates.
2. Make It Easy to Refer
Print out referral cards and give them to employees to hand out to potential candidates. Create an online form for employees to report referrals they have made.
3. Assign a Single Employee Referral Program Manager
Designate an individual for employees to turn to with questions, who is also responsible for tracking referrals and issuing rewards. This demonstrates to employees how important your employee referral program is and makes it easier for them to participate.
4. Compensate Current Employees
Incentivize employees to think about colleagues and friends at other organizations that might be a good fit at your business. Compensate employees who attract new hires with a financial reward or a special perk, such as extra time off or a gift card. Publicly recognize employees who have referred successful new hires. Consider putting all employees who have referred candidates into a drawing for a major annual prize, such as a special trip.
5. Put Referred Candidates on the Fast Track
Respond to referrals quickly — within hours, preferably — to let them know you're interested in speaking with them. Review their paperwork quickly and schedule interviews with referred workers before others. Let employees know their referrals will be given special attention.
6. Offer Feedback on Candidates
Ensure the employee referral program manager provides regular feedback to help your staff understand what skills, personality traits and experiences make a candidate a strong fit for your organization. Explain why other candidates did not work out. If employees consistently recommend candidates who are a poor fit, have a conversation about what you're looking for and find out the employees' reasons for referring those particular candidates. If poor referrals continue, consider making the referral program a privilege, and excuse some employees from participating.
Because your top performers are likely to associate with other talented and ambitious workers, encouraging them to introduce their friends to your organization can be one of the fastest and easiest ways to find qualified employees.