The Franchise Model: Weighing the Pros and Cons for Franchisees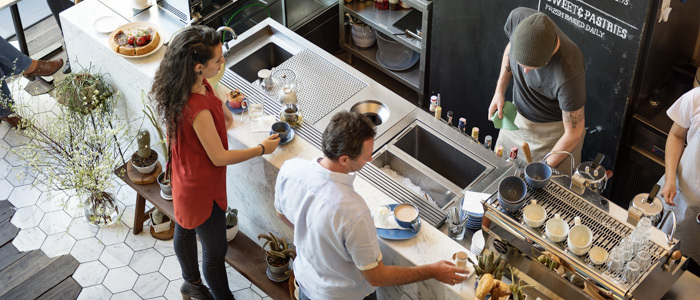 This article was updated on September 26, 2018.
How does a franchise model work? According to the International Franchise Association, "a franchise is the agreement or license between two legally independent parties which gives a person or group of people (franchisee) the right to market a product or service using the trademark or trade name of another business (franchisor)."
The franchisor legally owns the trademarks, logos and business model for the franchise, while the franchisee signs a contract that defines their working relationship and how they'll share risks and costs related to the business. What are the pros and cons that entrepreneurs face under a franchise model?
Pros
1. The Franchise Is Already an Established Brand, Which Reduces Your Business Risk
When you open your own small, independent business, you need to invest time and money to successfully establish your brand. On the other hand, a franchise already has a market identity and marketing strategy, as well as a place in the minds of potential customers. As franchise owner Aaron Schwartz notes at Bplans, "If you find a franchise you respect and admire, you can build from a strong base and simply add the accents to make it yours."
2. You Can Receive Marketing, Sourcing, Training, New Product Development and Other Prepackaged Business Support
With a franchise arrangement, the franchisor manages many of the costs that an independent business owner would usually absorb, from product development to developing the look and feel of a franchised premises. The franchisor will also have a deep understanding of the market and the company's customers, and they will share this relevant business intelligence with franchisees. In addition, the franchisor will have existing business relationships with suppliers and business advisers that franchisees can leverage. In other words, the franchisor gives you access to a valuable network.
3. Many Franchisors Will Help You Line Up a Great Location That Can Help Drive Your Success
Franchisors have experience and expertise in knowing which locations work best for their business model. As Franchise Update Media explains, "A franchisor can provide teams of real estate experts, advanced site selection software, and years of experience in finding the best sites for their brand. They also can provide expert assistance negotiating leases with landlords — an oft-ignored, yet critical component of profitability." Franchisors can even help you finance the purchase of the franchise, since they already have relationships with certain banks.
Cons
1. Hefty Franchise Costs
The franchisor can offer you a "safer" business model than if you go it alone, but that relative safety may come with a high initial and ongoing cost. You'll likely be paying franchise fees upfront, and a large percentage of your ongoing profits will go to the franchisor. In fact, the franchise owner needs to be paid before the franchisee. The cost of financing the purchase of a franchise will eat into your profits, but won't impact the franchisor.
2. A Franchise Often Provides a Specific Formula or Template
A franchise may be a bad fit for innovators or those who love to tinker and improvise. If you want to create a new business model atop a franchise, sort of the way great jazz musicians riff off a common musical theme and thereby make it their own, you probably shouldn't buy a franchise in the first place. After all, franchisors probably won't allow you the flexibility to "reimagine" their business. As such, you may find it more appealing to plant your own seed rather than pay for a franchisor's relatively mature sapling.
3. You Will Have to Abide By Strict Franchise Rules
Many franchises will have contractual restrictions on how franchisees can operate their businesses. These regulations will tell you what you need to do and when. If you violate these restrictions, you may face franchisor audits and penalties.
You may have little flexibility to negotiate "variances" in the way you conduct business, since these contractual restrictions can include the prices you charge, the way you decorate the premises, your hours of operation, how you hire and train workers, the way you market, from whom you can purchase supplies, how long you stay in business and more. While some of these prearranged scenarios can benefit you, some may seem more like a hindrance.
Caveats
Of course, the costs of operating a franchise will depend upon the specific franchise in question. But no matter how much money you invest, you'll need to engage in a careful process of due diligence. Hire a lawyer to review and help negotiate any franchise agreement that you might sign. And hire a business advisor to help you develop a workable business plan for your franchise. You always want to know what you're getting into, so be sure to carefully weigh all the pros and cons.