The Benefits of Mobile HR Solutions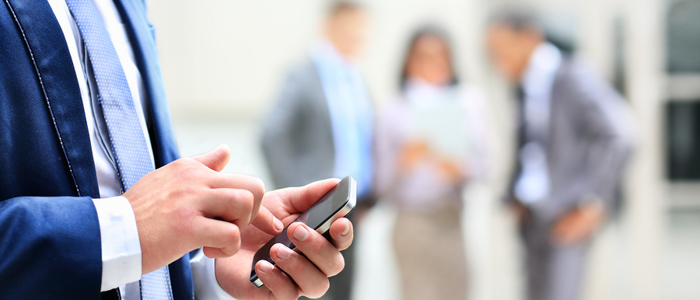 This article was updated on Sept. 28, 2018.

Mobile functionality is increasingly being demanded on every level of business operations and is changing how organizations communicate with their workforce. Mobile HR solutions have the potential to improve communications, increase the productivity of both HR departments and employees and strengthen retention efforts.
Reach a Dynamic Workforce
PwC's annual HR Technology Survey found that the half of all respondents believed mobile-enabled performance management would result in "a high degree of value" to managers.
Mobile technology can be a primary means to reach a dynamic workforce. This technology can give HR professionals the ability to make decisions on demand and on the go. Mobile solutions can make HR departments more efficient and give them more time to spend on strategic workforce planning rather than administrative work or expediting miscellaneous employee requests. These time and labor management (TLM) apps can be used anywhere to submit time worked, approve time-off and submit employee expense reports.
TalentCulture reports that mobile solutions can not only make HR more efficient through automation, but also can make HR more effective by engaging employees in the ways they desire. When combined with cloud technology and big data, mobile has the potential to boost employee satisfaction.
The consumerization of HR is forcing many HR departments to think more about their mission and purpose. Some HR directors now view their missions in the scope of strategic talent retention as employees seek more personal experience and interaction from their employers. "Using technology to manage performance, make the hiring process easier, and give people access to their own personal information will bring businesses over the threshold that separates the traditional workplace from the modern one," says TalentCulture.
Help Employees Manage Their Benefits
Businesses can start building such an experience by instituting mobile HR solutions that deliver basic functionality and improve communications. "Many apps keep things simple by automating record keeping and data organization, and lets employees explore their data online when it's convenient for them," says TalentCulture.
Apps can help employees better manage their benefits packages and can prevent costly errors by replacing written forms with electronic forms. And unlike emails, which can be missed, mobile solutions provide a standardized and traceable method of communication. Mobile apps also save businesses time when it comes to managing benefits packages. Employees can complete their benefits annual enrollment, access benefits elections, view contributions and access retirement accounts quicker and more efficiently on a mobile device.
Mobile HR solutions can have a positive impact on employers and workers by increasing flexibility, improving communications and enhancing accessibility. These solutions can not only increase retention, but increase the efficiency and effectiveness of HR functions and your employees.