Hiring Top Talent Using Effective Negotiating and Closing Techniques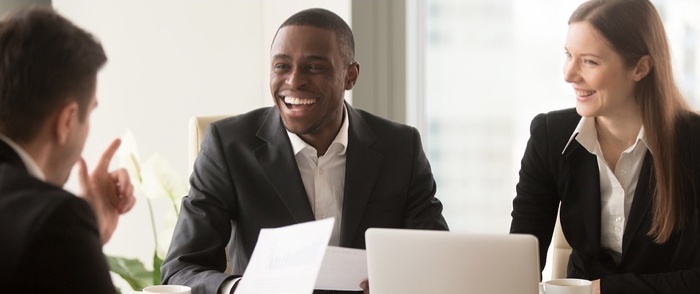 In today's job market, recruiting and hiring the right candidate requires a more proactive approach.
Today's talent market requires recruiting professionals to possess effective negotiating and closing skills to secure the best talent for their organization. Candidates currently have more job opportunities than they've had in many years, and successfully selling an employment opportunity to a candidate is critically important. The ability of a hiring manager or recruiter to effectively negotiate may make the difference between hiring a top candidate and losing the candidate to a similar opportunity at another organization.
In July 2009, there were about 6.6 unemployed candidates per job opening, according to the Bureau of Labor Statistics. In April of 2018, unemployment data showed 0.9 unemployed candidates per job opening. Employers in today's "candidate market" must have a more aggressive, engaged and proactive negotiating and closing strategy to hire the talent they need to be competitive in the market.
AIRS Recruitment Training identifies the key to negotiating with and closing candidates as the "professional trinity." It is defined as the three aspects an employment opportunity inherently has that are important to a candidate: a great business, a great team and a great job. Part of being a successful negotiator is being able to identify what is most important to the candidate and present how your position offers these three things to make an opportunity more enticing to the desired candidate.
Closing is not something that happens at the very end of the recruiting process. Closing is a technique; it is a process, and through that process, candidates will disclose the key to selling them on an opportunity. To successfully land a candidate, one must research, engage, sell and follow up. Talent acquisition professionals need to uncover what is driving their candidates in order to effectively make the pitch and close the deal in this tight labor market.
What can you do to drive to a successful hire?
Put yourself in the candidate's shoes: Be a partner in the process. Cultivate relationships to become a consultant with the job seeker rather than a recruiter or hiring manager. If you can empathize with a person's reasons for looking for a new opportunity, you will be better able to ensure a good fit for the role and with the organization — not just for the short term, but for many years to come.
Create interest: Understanding a candidate's wants, needs and motivations will help you hone in on specific aspects of the job opportunity that align with their expectations and convey key messages to capture their attention.
Uncover the essentials: The most crucial element to negotiating and closing a candidate is to find out what they absolutely want. This may require the recruiter or hiring manager to be a career counselor, a detective and a salesperson all at the same time. Time spent actively listening to what a candidate says, rather than trying to extract answers or sell the position, can go a long way toward unearthing their real motivations when looking for a new opportunity.
Focus on the positive, but don't hide the negative: By creating "benefit statements" or soundbites of information, you can provide a candidate with knowledge about the firm, position, team, products and services offered, as well as the history of your organization and other information that may help entice a candidate. However, if there are negative aspects of the company — either currently or in the past — make sure to address those issues directly. It is better to discuss them before a candidate has a chance to ask.
Showcase the exceptional: It's not always about the money. Candidates today are looking for more from their employers, including unique benefits, innovative work-life balance programs and a healthy work environment. These benefits range from being able to bring your pets to work, to on-site fitness facilities, environmentally conscious and socially progressive initiatives. The characteristics that set your organization apart from your competitors should be highlighted throughout the hiring process.
Test everything: Candidates have many potential opportunities. It's important for recruiters and hiring managers to check in, follow up and follow through to keep them engaged. A lot can happen in a short amount of time if you aren't following up with your candidates. Make sure to test everything discussed during the hiring process and ask challenging questions. It's important to surface any issues that may be deal breakers before an offer is extended to a candidate.
Manage counteroffers: If you're working as a consultant with your candidates, make sure to bring up the potential for counteroffers. Some candidates may not be aware that this can happen if they choose to leave their current employer. If you can spend time discussing what a counter-offer is and why they occur before your candidates receive one, you can potentially head off this issue. Candidate education is critically important.
Don't hesitate to walk away: You want to hire an excellent fit for the organization. However, sometimes walking away from the top candidate might be the right decision. If an offer is extended and accepted by the candidate and underlying issues or concerns are not addressed, there may be significant retention risk. At that point, you're back to looking at your talent pipeline for the position. Remember, it's the recruiter and a hiring manager's job to get to a candidate's real motivations and find the best person for the role. This means more time and effort may need to be invested during the recruiting process. Chances are the ROI on hiring the best candidate will be there.
Negotiating and closing begins at the first point of contact with a candidate and continues through the onboarding process and beyond. Test the deal throughout the process, circle back to any concerns that a candidate may have had and revisit areas where there may be weaknesses in the deal. These concerns could range from the position title to relocation aide to salary requirements. If you wait until the end, potential pitfalls can surface because a particular concern or question wasn't addressed earlier in the process.