The Gig Economy and Refugee Livelihoods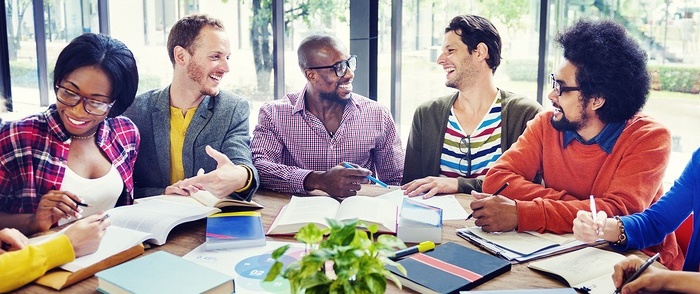 Hiring refugees can do good, as well as have a positive impact on your business.
Written in partnership with Benjamin Nolan (Director HR & Training) and Qiu Quan Kua (Consultant) of the Geneva Consulting Network at IHEID.
In this mini-series, we look at how corporate social responsibility can be good for business and good for the world. Previously, we noted that refugee professionals may already be serving as freelancers in your business service supply chain — creating a situation that we term "inadvertent CSR" — and how fostering "refugee livelihoods" may be mutually beneficial candidates for your workforce.
In this article, we look at case examples of organizations that have hired refugees for business reasons, with an eye on how your organization can approach this space.
Across a variety of sectors, many employers have already added refugees into their workforces. By thinking innovatively about this talent pool, organizations have developed programs that provide a novel solution to business-relevant topics, while also supporting CSR by fostering refugee livelihoods. We describe here three examples of solutions: employee retention, access to high-demand talent and self-sustaining CSR.
1. Employee Retention
In a recent survey conducted by the Tent Foundation, 26 employers across different geographical areas and industries in the U.S. were asked why they hired refugees. A majority of employers surveyed found that there were higher retention rates among refugee employees.
Chobani, the multi-billion dollar U.S.-based organization that makes Greek yogurt, has refugees comprising nearly 30 percent of its workforce, per CNBC. For the founder of Chobani, Hamdi Ulukaya, the hiring decision was based on his need for more workers as the business grew. He has found that refugees are among the "most loyal, hard-working people" within the organization's workforce.
Chobani uses 16 different translators to train and communicate with 19 different nationalities, Ulukaya told CBS's "60 Minutes." We discussed previously how the language mismatch that refugees face in their host countries can be a significant factor in finding work. By addressing that language barrier for its employees, Chobani's innovative program finds a low-cost process of hiring and retaining a stable employee base.
2. Access to High-Demand Talent
Many CSR programs focus on low-skilled jobs for refugees, since this workforce often has barriers such as the aforementioned language mismatch, uncertainty in their planning and disruption in their professional networks and career progressions.
That focus, however, is leaving talent resources on the table.
There are many highly educated refugees with professional working experience in their home country, before the disruption that caused their change of circumstance. An organization called Talent Beyond Boundaries (TBB) has mapped a talent pool of 10,000 refugees in Jordan and Lebanon, with the specific goal of placing high-demand talent with organizations in host countries. Data analyzed from the TBB's personnel database reveals that a large proportion of refugees have a tertiary education in diverse fields.
Capgemini, the French multinational business services firm, has capitalized on the refugee talent pool to meet the demand for IT skills in Germany. Capgemini offered office positions to Syrian refugees in software development. Sissy Tongendorff, a leading Capgemini HR professional in Germany, emphasizes the dual benefits of finding talent for these in-demand skills and fostering a positive sense of participation in the host-country workforce.
"There's a feel-good factor in recruiting refugees," she told NPR, via an interpreter. "By helping these new employees learn German and integrate into the workplace, our staff feel like they're doing something to help overcome this huge humanitarian crisis."
For this forward-thinking program, hiring refugees with high-demand skills has the additional long-term benefit of offering a solution to the projected shortage of skilled workers faced by countries such as Germany, as outlined by Deutsche Welle. Another sector that has begun to see the benefit is the elderly care sector, for which refugees have been trained as elderly care professionals, which, as Deutsche Welle adds, are in shortage in Germany.
Forbes reports that LinkedIn For Good has found that more than two-thirds of refugees in Sweden had skills that matched job vacancies. Platforms such as non-profit organization U.S. Committee for Refugees and Immigrants (USCRI) in the U.S. and Breaking Barriers in the U.K. determine employer requirements and link them to the right candidates in the refugee talent pool. Taken together, this means that an interested CHRO can find an underutilized source of high-demand talent, and even get aid in finding the best candidates for placement.
3. Self-Sustaining CSR
A well-managed hiring program that looks at refugees as a source of talent can be beneficial for employees, employers and refugees. Additionally, the survey by the Tent Foundation showed the same businesses that reported lower refugee employee turnover also reported that subsequent hiring of refugees became much easier once good relationships were established with the initial hires. This indicates that a program, once set up well, can sustain itself after the initial entry into refugee hiring.
In this way, a savvy CHRO may find an innovative and defensible position to gather high-demand skills are known to be in short supply in some markets — all while creating a CSR program that Tongendorff says has a "feel-good factor" for the whole staff, and simultaneously has above-average employee retention.
By thinking outside of the usual box in your search for talent, a CHRO can find an underutilized pool of talent, and one that is good for the world as well as good for business. Finding a community of scarce talent — like software developers — is a benefit for some CHROs in many sectors. Finding that same pool of scarce talent that is hidden from competing employers by the barriers of a refugee intake program or bias against refugee professionals may mean that your CSR program doubles as a significant strategic advantage for your organization.
More from this series:
Surprise! You Might Already Be Helping Refugees with "Inadvertent CSR"
Have a Gig Economy Workstream? Hiring Refugees Can Bolster Your Workforce