How to Create a Dynamic Company Culture: Tips From Tom Kellogg of ParsonsKellogg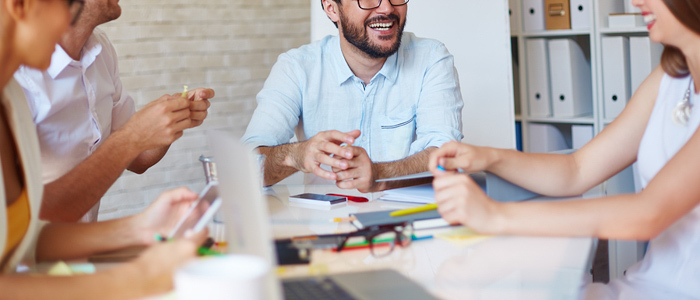 This article was updated on September 19, 2018.
Creating an amazing company culture means establishing the type of workplace where your employees are excited to come to work every day and enjoy taking ownership of their responsibilities. While this type of working environment may seem too good to be true, some companies, like ParsonsKellogg, have built just that. We spoke with Tom Kellogg to learn more about how he successfully created his desired company culture.
Give Your Employees Room to Succeed
If you want your employees to be more self-motivated, you can't micromanage how they spend every minute of the day. "One of our core values is disciplined freedom. We give our employees the tools to do their jobs and let them go. It's the best way for them to learn, and it shows that we trust them," Kellogg says.
Kellogg also believes in giving new employees opportunities to show what they are capable of. "We have employees that are just a year or two out of school servicing some of our largest accounts. There is supervision, but overall we trust our employees with more responsibility than most [companies]," he explains.
Use Incentives
Employee perks are a fantastic way to improve morale at your company. ParsonsKellogg employees value work-life balance, so Kellogg has built incentives around this idea. "Each year, if we hit our overarching goal, the entire company receives an additional week of vacation at the end of the year," Kellogg explains. He's also built in monthly and weekly goals throughout the year that, when met, result in Summer Fridays (shorter working hours on Fridays between Memorial Day and Labor Day).
This year, ParsonsKellogg employees also built a sports-inspired lounge and indoor "driving range" where they can relax and watch major sporting events. "I realized that our employees would regularly meet up at a local bar after work. I thought it would be nice to create that same atmosphere here, right on site, so that employees feel at home," Kellogg says.
A sports-inspired company lounge makes sense for ParsonsKellogg, since they sell high-end, branded sports apparel. While employees relax, they can also see their products on TV and think about relevant new ideas for future sales. When you consider what perks you offer at your company, try to think about what fits your culture and your employees' interests.
Develop Your Culture Over Time
At the end of the day, Kellogg doesn't know the exact steps he took to create his company culture; it just happened over time. "One day our HR director was discussing something and mentioned 'the PK way,'" he recalls. "That's when I realized we had created something special."
He found that by hiring good people and helping them along in their careers, a strong culture began to develop organically. "Our employees have figured out what it takes to succeed here. Now, when we hire, we can easily tell who will be a good fit and who will not. Our employees have helped create our culture and we're able to sustain it in this way."
Every organization dreams of creating an inspiring company culture where their employees are able to thrive. Kellogg has achieved this dream by fostering an environment of disciplined freedom and giving credit where credit is due — a model you can follow to bring this dream to life at your company, too.
ParsonsKellogg was a client of ADP, LLC. at the time of this article's publication.