How Becoming a B Corp Helped Equator Coffees and Teas Brew Business Success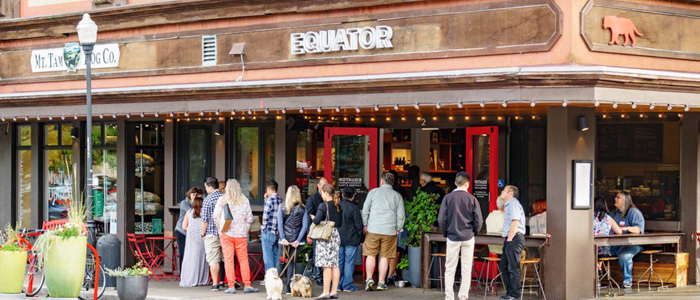 This article was updated on Sept. 6, 2018.

B Corp Equator Coffees & Teas was founded in 1995 in Northern California, beginning as a coffee wholesaler and then adding its own cafes in 2013. Today, Equator operates five cafes in the San Francisco Bay Area. In 2016, the U.S. Small Business Administration honored Equator by naming it the "National Small Business of the Year." Since its founding by Helen Russell and Brooke McDonnell, Equator has been a leader in sustainability and social responsibility.
In 2011, Equator formalized its commitment to sustainability by becoming a certified B Corporation, making it the first California coffee roaster to meet the rigorous environmental, social and transparency standards established by the nonprofit B Lab. We spoke recently with Equator's vice president of operations, Maureen McHugh, about how becoming a B Corp has helped create what Equator calls "a chain of well-being."

Maureen McHugh, Vice President of Operations, Equator Coffees & Teas
Q: Why did Equator decide to become a B Corporation?
McHugh: Our intention was always to run a socially and environmentally responsible business. It began with connecting our personal values with how we run our business. Becoming a certified B Corp has distinguished us from other coffee companies. It formalized our commitment and directed us to review our performance and make improvements wherever we could.
Q: Did becoming a B Corporation make Equator more competitive?
McHugh: Becoming a B Corp has allowed us to effectively engage our employees, customers, and all stakeholders. The next generation of the workforce are employees who greatly value social and environmental sustainability. Our values and commitment have helped us attract and retain this workforce, who in turn, are excited and committed to what they do every day
Increasingly over the last few years, our status as a B Corp comes up in interviews and is often a major contributor to why a candidate even applies. The next generation wants to make a living like everyone else, but wants to do good while doing it. They want to feel engaged at work and know they are contributing to more than just the bottom line.
Q: Can you talk about the process of becoming a B Corp?
McHugh: The process is a rigorous assessment of your business operations, from how you treat your employees and the benefits you offer, to how you manage your finances and the transparency in your P&L. There are, of course, questions about the environment and how sustainable you are in your operations. They assess your vendor relationships and how and where you purchase. Purchasing is a major component of any business and is an area where you can have a big impact.
It's also about your organization's impact on the community. There's a long list of social and environmental assessments that you must complete and then finally, you're given a score.
The takeaway from talking to Maureen McHugh is crystal clear: A company like Equator can make a profit while making the world a better, more sustainable place.
Equator Coffees & TeasTM is a client of ADP®.