Break Room Culture: How Design Innovation Spurs Employee Creativity and Interaction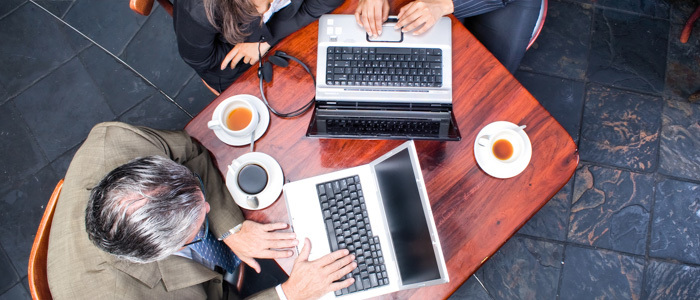 This article was updated on July 2, 2018.

Throughout a busy and often stressful workday, your employees need to have a place to go to decompress and relax. This is why many organizations steadfastly believe that it's crucial to establish a positive break room culture and to continually adjust and refine this space to foster creativity and interaction.
Here are six tips on how to reconfigure your current break room so that your employees can mentally recharge, find new ways to collaborate and have a little more fun during the workday.
1. Make Your Break Room Stand Out Within Your Office
You can give your break room its own character by taking steps such as painting the walls a unique color or opening up the room to add a central seating area. These types of changes make it clear that this room is different from the rest of your workplace. This distinction is important, writes Jayson DeMers at Inc., "because it will allow your workers to fully disconnect from their workspace and decompress." When your employees return to work, "they'll start fresh, and productivity will substantially increase."
2. Encourage Communal Dining
By providing larger, family-style dining tables as opposed to a slew of spread-out chairs, you can facilitate a more collaborative lunchtime spirit. After all, employees who gather together to eat lunch will have the opportunity to bond as a team and share ideas.
3. Provide Furnishings That Promote Comfort
Why not try thinking of your break room design from a coffee house perspective? After all, comfortable sofas and lounge chairs can greatly enhance a sense of relaxation in the midst of a frantic business day.
4. Make One Wall a Communication Hub
Business coach Mike Kerr suggests using one wall for communicating to and with employees. This spot could be designated for updates involving everything from the company softball league to internal job openings and mission statements. Communication regarding this sort of information fosters a break room culture of camaraderie and belonging.
5. Host Celebrations in the Rejuvenated Break Room

Does your workplace culture value employee birthdays and milestones? If so, you can try hosting a celebration in the break room. You can even reach out to a local caterer to deliver different breakfast or lunch fare and take advantage of this opportunity for the team to get to know any newer employees. These types of events encourage a stronger sense of engagement and team culture.
6. Ask Employees for Break Room Design Feature Ideas
Your workforce will likely have some fresh ideas on how to renovate an existing break room or create an entirely new one. As such, it's smart to ask for employee feedback and take action on the best suggestions.
By working to improve your break room culture, you may be able to establish a new and exciting idea incubator for your business.