3 Innovative Concepts to Increase Collaboration in the Workplace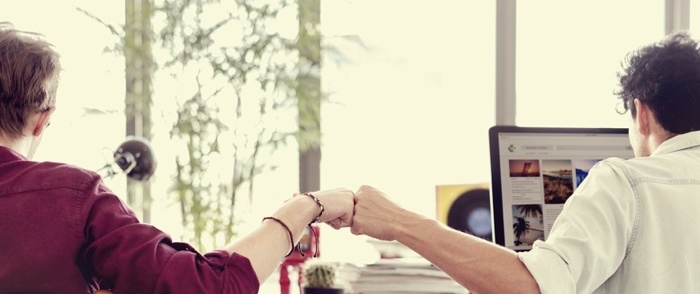 Discover important ways that HR leadership can increase collaboration in cross-team, cross-department or even cross-generation settings.
CHROs may want to consider adopting the title of Chief Human Collaboration Facilitators. Recent studies by Polycom indicate rapid globalization of the economy has created a need to increase collaboration "across time zones, borders and cultures." For millennials especially, who are now the largest generation in the workplace, teamwork is a key workplace value.
In a workplace that's increasingly global and mobile, HR leadership should focus on team-based collaboration. They can do that by taking advantage of programs and tools for worldwide teamwork. In addition, cross-departmental and cross-generational collaboration measures will help enterprise-wide knowledge sharing.
Here are three suggestions to kick-start a broad range of collaborative experiences across your organization:
1. Cross-Team Collaboration
Research by Robert Half indicates that 39 percent of employees struggle with "learning to interact with a variety of personality types." Employees need the tools and knowledge to work with individuals with a wide variety of communication and working styles. This need only becomes more pressing in a global workforce.
As HR managers look toward a future — and present — where cross-team collaboration is a necessity, facilitating company-wide relationship building is crucial. Enterprise social networks (ESNs), department-wide social activities and frequent team flexibility can protect against the negative impacts of tribalism.
Freibergs writes that "tribalism starts when employees and leaders view their organization as divisible and compartmentalized." Strong feelings of team loyalty aren't always a bad thing, but they can have a negative impact on cross-team work. Leaders should strive to develop a spirit of oneness for the entire organization.
2. Department-Wide Communication
Cross-departmental conflicts can be a barrier to workplace productivity and employee engagement. Accounting's complaint that IT takes "forever" to respond to tickets, for example, could simply be a symptom of a different problem — poor tools for communication. Granicus reports that organizations with highly effective means of communication are "4.5 times more likely to have engaged employees."
HR can minimize the friction between departments by helping employees share priorities and goals. Your teams should communicate well in advance of urgent deadlines that require collaboration. When employees have the ability to look far into the future and communicate their needs to their colleagues, they may be able to exceed expectations and be more productive.
3. Inter-Generational Cooperation
The workforce is now made up of four different generations — with four different approaches to work. BizJournals recommends considering age diversity in the same vein as other forms of workplace diversity, including "gender, ethnicity, race, and religion." By providing opportunities for cross-generational collaboration, such as official mentor pairings, HR teams can prepare workers of all ages for productive relationships.
In addition to cross-generational teams and relationships, SweetRush recommends leveraging a panel of age-diverse employees to develop training materials. By capturing the expertise of both older and younger workers, HR leaders can ensure that each generation's needs are accounted for.
By providing employees with the tools and knowledge to work productively across teams, departments and generations, HR leaders can increase collaboration in the workplace. Technology, knowledge-sharing and relationship-building can all work to help you field a workforce that's flexible and ready to play well with others.