How Hiring With Diversity in Mind Leads to a Smarter Team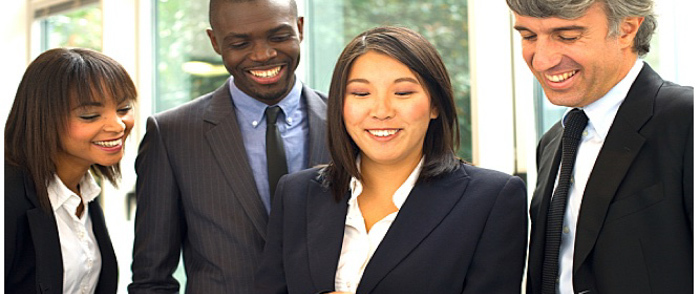 Why are diverse teams smarter than homogeneous ones? Here are three reasons to build more diversity into your business.

Some of the benefits of diversity in the workplace seem obvious: It establishes your brand as a supporter of equal opportunity. It cultivates goodwill in the communities where you do business. It enriches your office culture with variety.
But research suggests that the advantages of diversity amount to more than fairness and feel-good moments. Diversity can also help contribute to smarter teams, which can help drive the success of a business.
When teams include members of different protected characteristics (i.e. race, ethnicity, gender, sexual orientation, etc.), as well as ability and experience, the dynamics of the group change for the better. In the Harvard Business Review, the Neuroleadership Institute's David Rock and Heidi Grant explained that there's a body of research indicating that diverse work teams are more fact-focused, better at processing information and more innovative than homogeneous groups.
Here are three important ways diversity can help improve business outcomes.
1. Unleashing Creative Thinking
Conformity blocks creativity. It's hard to draw out new ideas for solving a problem when everyone is viewing it through a similar lens. If you want your brainstorming group to think outside the box, it helps to include the perspectives of people who don't fit within a narrow set of identities and life experiences.
Creative thinking, in turn, leads to greater innovation in the development of new products and services. In her Entrepreneur column, business owner Jennifer Spencer notes that products are more successful across market demographics when the design team reflects the variety of people who will use the products. As an example of what can go wrong when diversity is lacking, she points to how early models of air bags risked harming women and children because they were designed solely by men, for the average male body.
2. Removing the Blinders of Bias
The presence of people from diverse backgrounds on work teams seems to encourage members of the majority group to pay more attention to facts rather than rely on assumptions to reach a conclusion. As Rock and Grant note, diversity within a group may make all members more aware of their own potential biases and encourage them to make a conscious effort to suppress those attitudes. Freed from their preconceptions, diverse groups of problem-solvers are able to engage in more objective and accurate analyses to find the best solutions, according to Rock and Grant. The bias-busting effects of diversity are enhanced when team members from different backgrounds not only have a seat at the table but are also encouraged to make their voices heard.
3. Making Better Decisions
One of the other benefits of diversity is that it leads to a more efficient decision-making process and better decisions. Cloverpop, a company that builds software for business decision-making, conducted a two-year study of approximately 600 decisions by 200 business teams and came up with some interesting results.
First, the findings offer evidence that several heads are better than one when it comes to making successful business choices. Even all-male teams made better decisions than individuals 58 percent of the time. The improvement score jumped to 73 percent for work teams with gender diversity and 87 percent for teams that included members of different ages and geographic locations.
The study also found that inclusive teams made decisions faster, requiring only half the meetings that homogeneous teams needed to make up their minds.
The evidence is in. Assembling a team that represents a wide range of backgrounds, viewpoints and experiences may increase your company's chances of success. Making diversity a key hiring goal is a smart business decision.