Flexible Work Hours Are Key For the Retention of New Mothers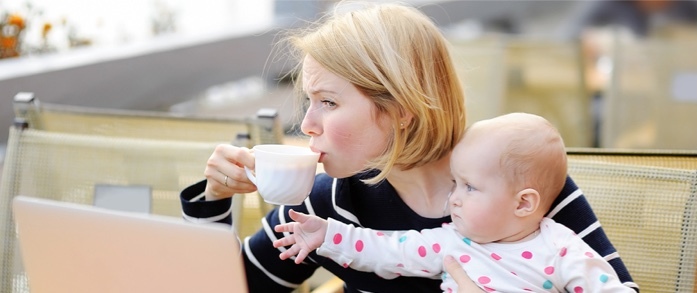 Flexible work hours allow parents to stay fully engaged during work days.
The University of Kent found that women who were able to use flexible work hours were only half as likely to reduce their weekly work hours after the birth of a child than those who did not have this option. Notably, it was not just the opportunity, it was the women who used it that drove the results. Flextime and related programs work to both get things done and help retain employees, cultivate female leaders and ultimately, support women's equality.
Women's Equality
Not all female employees will have children. However, for those that do, motherhood can lead to a career interruption because of demands attending to their children and family. According to the Joint Economic Committee, "Women are significantly more likely than men to leave a job or reduce their hours to care for children." This can lead to women missing out on raises and pay increases and not being considered for promotion opportunities. It can also impact their tenure in a particular role and their opportunities to gain experience and develop skills.
This often translate into career sacrifice and can contribute to lower pay compared to men, as well as fewer women in senior and executive management roles. Women simply have different and additional roles and responsibilities, including physically having children, that affects equality in the workplace.
Flexible Schedules
One way organizations can help women is to offer flexible work schedules or to work from home. This flexibility typically involves working a full 40-hour workweek, but the work can happen in a less structured manner or at nontraditional times.
According to the Joint Economic Committee, although approximately 90 percent of fathers of young children were working, only 56 percent of mothers with young children work. In addition, 27 percent of mothers report having to quit their jobs because of the time constraints. Working mothers face challenges of the cost of child care, work schedules and demands not matching child care availability, children's illness and appointments, and the desire to spend time with children when they are awake. These issues are particularly salient in the weeks and months immediately before and after giving birth. Flexible schedules can help mitigate or eliminate these issues.
Support for Flexible Work Hours
Many women believe that requesting flexible schedules may look bad or could put them at risk of being overlooked for promotions or raises. For many organizations, these women's concerns are warranted. As the University of Kent reports, organizations may have flextime policies, but when their use is frowned upon or discouraged, the results for the organization are the same as for organizations that do not have such policies. Thus, HR leaders must focus on creating internal support for employees actually using flexible schedules.
One means to do this is to create position 'contracts' that are more based on outcomes rather than hours. A position contract focuses on the employee's strategic and tactical responsibilities and ties them to the organization's goals. It also clearly delineates how and on what criteria the employee's performance will be evaluated. Employees are measured by what they actually achieve on a weekly, quarterly and annual basis, not just by their presence. It also allows managers to recognize achievements and focus on the consistency and quality of the work.
Policy Awareness and Usage
If the organization is hesitant to completely convert to flexible schedules, it can start by identifying one or more groups to do a 90-day trial period. HR leaders and managers can evaluate how it is working, get feedback from employees, and make adjustments to best support employees and the organization during this period.
Flexible work policies allow not only working mothers, but also fathers and other employees who may have issues with aging parents or other permanent or temporary concerns, to maintain their productivity and stay fully engaged in their work. Such policies help build employee goodwill and hence, employee satisfaction. When actively promoted and used as needed, organizations can reap benefits such as enhanced productivity and employee retention.

Stay up-to-date on the latest workforce trends and insights for HR leaders: subscribe to our monthly e-newsletter.