ADP Women in STEM Profile: Soumaia Mawad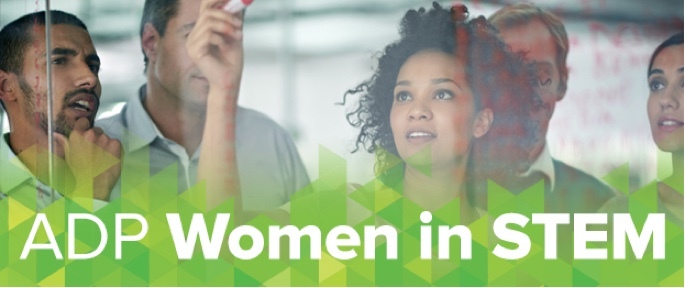 ADP Women in STEM Profile: Soumaia Mawad

How does an engineer successfully manage a sales division and a family?
Figure out what works and what doesn't, then do more of the first.
When Soumaia Mawad was starting her mechanical and electrical engineering program in college, she could not have imagined running a regional sales division for an HR technology company. But part of being a great engineer is being willing to test and try things until you find out what works best.
Soumaia's approach is simply this: See past your expectations; be open to possibilities you haven't thought of; then test, evaluate, and be willing to do things differently.
Her comprehension of the differences between how you understand things going in and what they really are was crystalized when her family immigrated to the United States from Egypt when she was almost 7. Soumaia and her older sister share the same birthday two years apart. Therefore, that same year, their parents introduced them to their new country with a birthday trip to Disneyland. Soumaia and her sister were overjoyed at how fun their new country was! Then the agonies of adjusting to a new country, a new school, and a group of "friends" who were as foreign as they were, started and she quickly realized America wasn't exactly Disneyland. But Soumaia has always enjoyed a challenge, and live up to it she did, both socially and academically. It didn't take long to find a way to fit in and not just survive, but thrive, both socially and academically. This was partially due to an exceptional innate ability to perform mathematical calculations which catapulted her to advanced classes, and notoriety, within a very short period of time.
As such, in school, Soumaia was drawn to math and science. She loved understanding how things work and had a fierce appetite for learning. Even before she graduated from high school (at age 16), she started taking calculus and physics at college. She ended up with a double major (electrical and mechanical engineering) in just 3.5 years, making her one of the youngest to graduate college at age 19.
While in college, Soumaia did an internship with a company who was working on the Space Shuttle. She was the only woman on her engineering team. She still remembers requesting drawings she needed for her project. "I asked for the plans I wanted and was told that he could not release engineering information to a secretary." "I replied, 'Why do you think I'm a secretary?'" Even after she explained she was an engineer, he was reluctant to give them to her. There just weren't many young female engineers and he could not imagine that I was actually one of them.
After university, Soumaia was recruited and went to work for IBM as a systems engineer. IBM was supportive of female and minority engineers, offering extensive training programs and peer groups. Though she is Egyptian, they sponsored her membership in NSBE (National Society of Black Engineers) which, nonetheless, led to her being able to speak at high risk schools as a means of encourage girls to choose engineering careers.
While Soumaia loved understanding how things worked, she saw herself drawn to sales. She wanted to work with the bigger picture and be more involved with clients. So, that's when her untapped potential got recognized and she transitioned from systems engineering to sales.
Sales was a natural fit, both personally and professionally. She enjoyed the challenges that are encompassed within the field of sales, while possessing the attention to detail that one acquires within the field of Engineering. Even now, Soumaia still enjoys the challenges and excitement of doing something different every day while maintaining the same drive, discipline and initiative it takes to continue building up successful sales teams. She finds meaning and cares deeply about the success of both her team and her clients. Soumaia was immediately drawn to the challenge of understanding clients' business strategies, market needs, structure, alignment, and messaging to help them choose the right processes and tools to strengthen and support their business as a whole.
After 12 years at IBM, Soumaia was recruited and eventually made the move to ADP. Two of her friends had taken jobs at ADP and loved it, so they helped convince her to make the switch. She started as a manager then eventually moved up to the Western Division Vice President of Sales. She then transitioned to become the Senior Division Vice President for Added Value Services for 4 years and currently is the Sr. DVP back in the up market, leading sales for the Benefits and Workforce Management products and services.

Meanwhile, throughout her career success, she recognized balance was key. Soumaia met and married her husband of nearly 18 years, and started a family. This came with a whole new set of challenges that many women face Ðhow to be successful in a management role while maintaining a fulfilling marriage and tending to the needs of small humans. Soumaia remembers being in the hospital after the birth of her daughter. "It was just after I had given birth and I was nursing the baby while taking a conference call. My husband looked at me holding our newborn daughter and asked, "What are you doing?" Laughing, Soumaia explains, "I hadn't even considered not taking the call. That was the moment I realized that I was going to have to make some adjustments."
Soumaia continued to take on new and challenging roles in her career while focusing on making things work at home. Both work and home involve having a great team and learning to trust others with decisions and responsibility. But there are some important differences.
At work, Soumaia's philosophy and advice is "Only do what only you can do." It's essential to learn to delegate and to help your team develop and grow. Soumaia sees her role as a leader and mentor whose job it is to empower and guide others.
But this doesn't always work at home. Sometimes, even if someone else is perfectly capable of driving the children to soccer, they need/want you to do it and be there for them. So at home, Soumaia's approach is: "Figure out what's important to your children, your family, your values, and what works for you. Take care of the big priorities and it's okay to get help with the smaller things." For Soumaia that means having a supportive spouse who is more available to manage busy family schedules when Soumaia travels for work, getting additional help when needed, and making sure that she is there when it really matters. At heart and in both roles, however, Soumaia is a motivator who leads by example finding ways to problems solve and encourage for all to realize their hidden potential.
In both work and family, the key is to understand what matters most, be willing to experiment and learn what does and doesn't work, then focus on the success of others which eventually leads to your own. But the relationships and goals in both places are very different. So, perhaps her greatest advice to working fathers and mothers alike who are in management roles is: "Don't try to run your personal life like a business."
But in both work and family, her advice is the same: "Don't be afraid to go past your comfort zone. Go for it! Make it happen."
To learn more about Soumaia, her story, her amazing husband and kids, and the delight and struggles of being a working mother, see her keynote and interview where she was featured at the 2014 Working Mother Magazine Work Life Congress in New York City.