Virtual Reality: A Call for HR Creativity?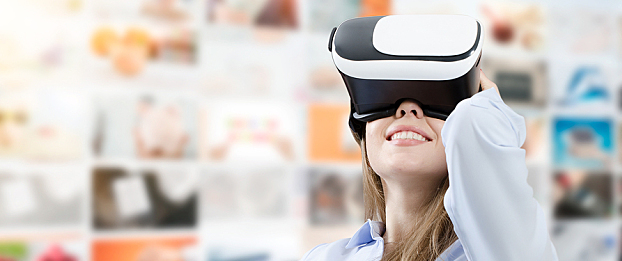 Virtual reality is the "next big thing" in the workplace. As noted by Joshua Davidson on Medium, this technology is already making its way to gaming platforms, but aside from occasional outliers — NASA, for example — it hasn't inspired mainstream corporate adoption. Part of the problem is the risk of early investment. No tech organization wants to aim for a revolution and end up developing an "also-ran." There's also another issue: Lack of creativity. Right now, businesses aren't sure how to use virtual reality in the workplace — what does it look like? What are the benefits? How are they measured?
For HR pros, this presents an ideal opportunity. Here's a look at current VR use cases and how HR leaders can find their creative calling.
Imagination
Businesses still spend significant portions of their budgets sending staff all over the world to collaborate on next-gen projects or develop top-secret intellectual property (IP) efforts. But it doesn't have to be this way — as noted by Forbes, organizations like Ford are now using Oculus Rift technology to create virtual car models for engineers and designers.
The result? Experts can now collaborate in real-time using an immersive, changeable view of new designs. This not only encourages creativity business-wide but saves on time spent traveling or emailing documents back-and-forth to arrive at mutually-approved changes or tweaks. For HR, this means simultaneously less travel paperwork to organize and improve employee engagement through collective digital discussion.
Accommodation
One of the key challenges faced by HR departments is helping employees understand and respect both the unwritten expectations of workplace culture and the hard-and-fast rules of state and federal labor agencies. Most employees are well-meaning but may accidentally overstep certain bounds with co-workers or behave in ways that necessitate HR intervention.
According to Fortune, however, a firm called Translator is developing a mobile VR experience designed to help employees be more empathetic by letting them (virtually) experience workplace situations from the perspective of people from different cultures, genders or those with different abilities. For HR, this kind of empathy simulation could help reduce the total number of staff complaints and improve overall productivity.
Preparation
In retail, meanwhile, large firms such as Walmart are leveraging VR to help employees prepare for the challenges of Black Friday shopping or to handle emergent events in-store. Using Strivr technology (originally developed to train NFL players) the organization is able to present employees with different real-world scenarios and then ask questions about the best course of action, according to The Verge.
Vision-tracking tools let facilitators know if staff are looking in the right direction and properly responding to digital events. The challenge? VR headsets are expensive and require substantial open space to operate safely, meaning that over the course of two-week training sessions employees will only get one shot at a VR scenario. Still, the retail giant has plans to roll out virtual reality in all 200 Walmart Academies by the end of the year.
On the HR side, this kind of preparation training could be invaluable for simulating social scenarios or co-worker interactions that may happen under stress or result in negative outcomes — by addressing these issues in VR, staff are better-prepared to handle real-life iterations.
Repetition
Healthcare is also getting in on the VR game. As noted by Medical Futurist, new technology can help stroke patients speed their recovery by letting them "practice" lifting their arms or moving their fingers in a digital space complete with visual and auditory feedback. Given the correlation between early rehabilitation and regained functionality, this VR technology shows significant promise. For HR departments, meanwhile, this kind of repetition could prove invaluable for employee training. Consider a staff member who has recently completed a performance review but is deficient in specific skills. While the workplace scenarios surrounding those skills may not often emerge, VR lets HR program training courses to enhance specific skillsets anytime, anywhere, meaning employees get the help they need and HR and is able to immediately address performance shortcomings.
The Creative Edge
Getting creative with VR requires far less time investment than traditional training, recruiting and accommodation programs and comes with significantly less risk. Consider the outcome if you've spent thousands on a three-day in-house course only to discover the instructor doesn't live up to their reputation and the materials are out-of-date. Not only are your results dismal but you have a fight on your hands getting the right training budget for next year. With VR, there's greater opportunity to (literally) think outside the box, test out new scenarios and simply toss what doesn't work — all without spending extra money or impacting productivity.
Right now, virtual reality in the workplace remains an early-adopter initiative, one that seems beyond the reach of many corporate budgets. But as development cycles speed up, innovation ramps up and costs come down, VR may be the ideal way to both improve HR impact and let human resource leaders flex their creative muscle.
Take a 360 degree virtual tour of ADP's Innovation Lab, using just your phone, computer or a VR headset, at www.adp.com/virtual.