Humans of HR: A Career Path in HR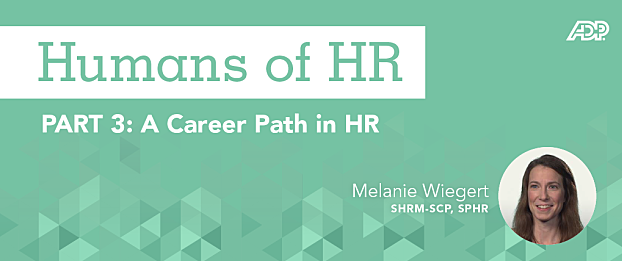 In the first two installments of "Humans of HR" with HR manager Melanie Wiegert, we learned about Melanie's role in unifying recruitment across a multi-location workplace and her take on the importance of streamlining benchmarking and analytics. In this installment, Melanie talks about her own chosen career path in HR and what she's learned along the way.
What Was Your Path to HR?
I chose this career path. I didn't want to be a teacher or engineer like my mom or dad. I wanted to go to business school. In high school, I worked at a Walgreens and had a co-worker who was in college, and she was cool and fun, and she was going to school to get a business degree with an emphasis in HR.
I asked her what that was, and I liked the idea that it was problem-solving, that it was working with people — not helping people — but working with people, solving problems. I liked the idea that it could be tactical or strategic, that you could specialize and be a recruiter or benefits analyst or whatever. You could work in different-sized organizations and in different industries. I knew I liked change, so that appealed to me.
I looked at several schools in my home state of Nebraska and settled on Wayne State College where I earned a business degree with an emphasis in HR. Since then, I've worked in industries as varied as manufacturing, consulting, retail and now health care. My path was intentional, chosen very early on and I believe it has served me well.
What Motivates You as an HR Leader?
I'm a continuous learner, so this idea of being overwhelmed with information is stimulating and motivating to me. I'm driven to this idea of being an employer of choice and striving for an engaged workforce. It's such an immense challenge. But, wow! When you chance upon someone, somewhere, who's engaged, that's just so interesting and motivating to me. That just drives me to think of what conditions were created to allow that employee to succeed in that manner.
What Do You Love About What You Do?
I once heard somebody say, "HR, when done well, is like jumping over a barbed-wire fence. You have to be careful you don't drag your backside and tear your pants." And you're jumping over that fence all day long. When you're in front of an employee, you're advocating for management. When you're in front of management, you're advocating for your employees. So, when you're in a meeting, you have to strategically understand the direction of the organization and tactically think about how you're going to recruit. I love the mental gymnastics that happens in this profession.
What Do You Find Particularly Challenging?
Our subject matter expertise is all about people. And, by definition, people are unique. So there is no set formula that works. Even though you say the exact same words to different people, how you said them, when you said them, where you said them, may be interpreted differently employee to employee.
What Are Your Career Ambitions?
To be an engaged employee myself. I want to treat every job as though it's the last one I'll ever have.
Do You Have Any Advice for an HR Leader Wanting to Grow in the Field?
Listen. It's that simple. I think the art of listening is something that takes more practice than any other skill we develop. We must listen to our employees. I learned the acronym W.A.I.T. the other day, which stands for why am I talking? That's powerful for me, because I can be very quick to offer my opinion. And why? Just to hear myself talk? If you just listen as an HR professional, you can learn from anybody. And that's not about title, organizational position or industry. That's just about being a human being.
Want more Humans of HR? Check out Part 1 on recruiting in a multi-location workplace and Part 2 on benchmarking and analytics.
Stay up-to-date on the latest workforce trends and insights for HR leaders: subscribe to our monthly e-newsletter.