To Encourage Employee Engagement Midsized Businesses Need a Strong Strategy for Talent Management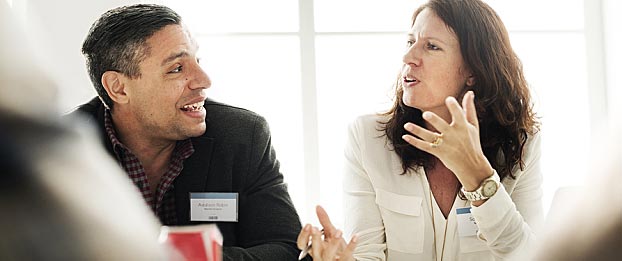 For midsized firms, employee engagement is a critical area of focus. The New York Times reports that unemployment is at the lowest rate since 2009. In an increasingly tight talent market, employee retention and engagement should therefore become a key area of focus for employers. What steps can leaders take to help bolster engagement?
The State of Engagement at Midsized Organizations
According to the ADP Research Institute® (ADP RI) study, Midsized Businesses: Poised to Lose Balance in a Time of Uncertainty, most midsized firms don't have a formal method in place to measure, track or evaluate employee engagement, which could be creating a blind spot that puts organizations at risk of losing top performers. Investing in measuring employee engagement has the following benefits:
Understanding how engaged and satisfied employees are
Identifying talent at risk of leaving or performing below expectations and addressing the situation
Understanding what factors improve or influence engagement within the organization, and investing to improve falling engagement
Develop a Strategy to Measure Engagement
Here are four key steps you can implement to start understanding your employees' engagement landscape.
1. Leverage Technology to Establish an Engagement Baseline
Investing in tech can help you establish a baseline level of engagement for your organization, and then measure changes over time. As Human Resources Today notes, organizations are using surveys and specialized technology to understand engagement levels, break down what factors are important to employee engagement, perform more insightful reviews and regularly keep a pulse on how engagement levels change.
2. Identify Employer-Employee Gaps in Expectations
One major cause of poor engagement is a gap between worker expectations and what employers actually deliver. For example, the ADP RI study notes a gap between employers and employees when it comes to the importance of training. Only 45 percent of employees surveyed feel that the training they receive helps them perform to the best of their ability. But 67 percent of employers say that their employees are adequately trained to perform their jobs. Additionally, only one-third of midsized organizations say they offer professional development training programs. Measure what areas are important to your workers and where they feel you're under delivering.
3. Track the Right Data Points
The Society for Human Resource Management notes that several factors contribute to engagement, including compensation, benefits, trust, recognition and a respectful environment, so you should do your best to evaluate how you're performing in these areas. Specific details make it easier to develop a long-term roadmap for improvements.
4. Incorporate Data into Annual Planning
The focus on employee engagement opens up an opportunity to incorporate these critical data points into your annual planning. Consider using employee engagement data when making decisions about compensation, benefits and other aspects of employment. It can also be helpful to utilize tools that measure engagement on a regular basis. Sharp changes in engagement levels can spur further analysis and intervention.
For midsized firms, it's important to focus on employee engagement. By evaluating how well you're performing, and using that information to shape HR decisions, it's possible to lay the foundation for better employee retention.
Stay up-to-date on the latest workforce trends and insights for HR leaders: subscribe to our monthly e-newsletter.