More Training and Better Branding Could Help You Fill Your Skills Gap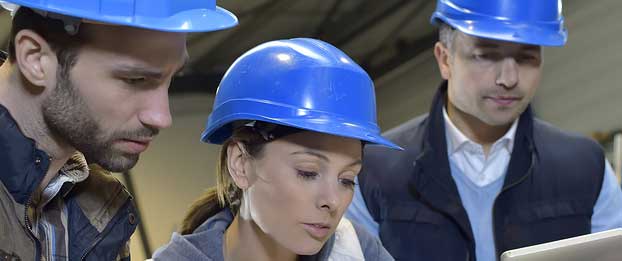 At the end of 2016, there were more than 300,000 open jobs available in the manufacturing sector, which is double the amount available in 2009, according to the BLS and reported in the ADP Research Institute® (ADP RI) report, The Evolution of Work 2.0: The Me vs. We Mindset. These openings can result in lost productivity and other difficulties for employers, especially if the jobs remain open for extended periods of time. In order to overcome this challenge, businesses should leverage methods such as training and employer branding to find and hire the necessary talent.
Manufacturing Training: Go Beyond the Classroom
ADP RI reports that "nearly 70% of manufacturing employees in the U.S. surveyed do not believe in job security," and "35% don't see a clear career development road map." These two seemingly disparate components of the worker experience are more than likely more interconnected than you think. It's no secret that training and development are powerful tools for driving employee performance, but giving your workforce sponsored opportunities to improve their skills also drives retention and loyalty. One great way to create these type of training opportunities and show your workforce how valuable you think they are is to implement a program that matches up more experienced workers with those who are just entering the workforce.
Another interesting channel for manufacturing training is to approach a local community college or school to forge a partnership. By working with a local institution, manufacturing firms can create a steady feeder program of skilled talent for any key roles. The Calumet Green Manufacturing Partnership (CGMP) is a great example of this. The CGMP connects unemployed or underemployed workers with training to develop them into skilled machinists in green industries. The initial effort expects to train more than 130 candidates, of which more than 90 are expected to enter unsubsidized employment within three months of graduating from the program. This is just one example of the innovative manufacturing training programs that are taking place throughout the country.
Take an Employer Branding Approach
Employer branding is another avenue for bridging the gap between workers that want a job and the available openings in the industry. Whether manual or technical in nature, there are people actively seeking other job opportunities. In fact, the ADP RI report states that even among those employees who said they were not "actively" looking, 42% in the 13 countries surveyed said they were open to the idea. This demonstrates that there's an active pool of talent readily available. The challenge is to gain and keep their attention.
General Electric Co. faced this challenge and was able to overcome it with its innovative "Owen" campaign — a series of ads that subversively told the audience about the many different types of industries and avenues of employment GE offers through the experiences of a young engineer named "Owen." According to Business Insider, visits to GE's recruitment site increased by 66 percent month over month after the commercials aired. Their main point? Even employers in the traditional manufacturing industry offer a variety of jobs that are more technical in nature. By featuring this character in a television advertising campaign, GE was able to shift its employer brand from a pure manufacturing focus to encouraging technical workers to consider the firm as a potential employer.
Keep the Number from Growing
One final piece of advice for employers in the manufacturing world: don't let that number of job openings grow by neglecting existing workers. The ADP RI report states that employees feel undervalued in the workplace. Additionally, 56 percent of employees around the world believe that "there is no such thing as job security today." This combination of factors drives them to consider other jobs and may leave employers with critical capability gaps. Some of the other elements discussed here, such as mentoring relationships, can help turn the tide by creating greater connectivity and touch points for workers.
Stay up-to-date on the latest workforce trends and insights for HR leaders: subscribe to our monthly e-newsletter.