Humans of HR: Susan Young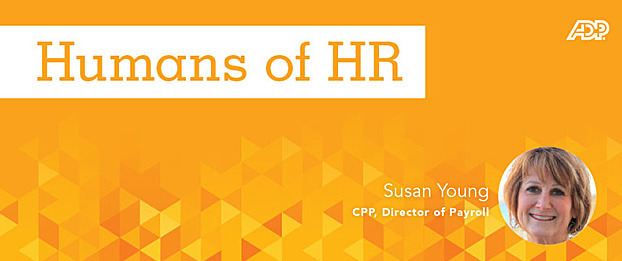 Susan Young loves making rules work for people.
That's why she loves being the Director of Payroll for Southwestern Energy (SWN). But she didn't start there or in payroll.
Susan started working as a bank teller when she was in college and got her first job at the bank when she graduated.
Then she married an engineer who decided to open his own general construction firm. She worked at the bank during the day and did all the administration work for the construction firm at night. Susan taught herself scheduling and payroll, and it delighted her when everything came out right. Even better, she would go to the construction site and personally deliver each of the checks. She learned that when you do payroll, people depend on you and you make a difference in their lives.
The marriage did not work out, but payroll did. Susan started working for a company doing payroll for about 50 employees. When that company moved, she interviewed for a position doing payroll for 30,000 employees. "It took my career to a whole new level, but I just knew I could do it. I had a chance to make an even bigger difference for people."
And along the way, she reconnected with her high school sweetheart and they are still "going steady".
Now, as Director of Payroll at Southwestern Energy, Susan oversees the payroll for about 1500 employees. She describes her team as "a lean, mean payroll machine." "We got it goin' on!"
One of the things she appreciates is working with other smart, talented women. Susan describes her boss as awesome. "She has helped me so much. One of the best things she taught me was to ask, because the worst thing that can happen is that someone says no. Then you are still in the same position you started. A light bulb went on. So, I asked to be Senior Payroll Manager. Later, I asked to be Payroll Director." The answer was yes.
Susan is a natural leader and a quick study. She really enjoys learning new technology. (She recently figured out how to create a mobile app for a local conference.) And she is willing to take on and conquer whatever comes. This also means that one of her big challenges at work has been learning to delegate. It was hard for her to learn to let go and trust that things will be done right. But she realized she did not like to be micromanaged and tries hard to let people work their own way. "People want to meet your expectations. And the truth is that almost everything can be fixed. Knowing that helps me give people the trust and understanding they need to do their best work."
Having mastered the art of delegation, Susan has some time to help others in new ways. Southwestern Energy does a lot of community outreach so Susan spends time volunteering with several local nonprofits. She also feels it's important to help people coming into the profession and works with the Women's Energy Network and is on the Board for the Texas Payroll Conference.
One of her favorite roles was to be a tour guide to show employees the site where the company was constructing their new building. They arranged food trucks to serve lunch at the site and bussed the employees to the place they would be working next. To dress for the occasion, Susan grabbed a hard hat, a shovel, and told everyone "I dig SWN!"
"I love people. I love paying them. I know they depend on me and what I do impacts their lives. I just love what I do."
Stay up-to-date on the latest workforce trends and insights for HR leaders: subscribe to our monthly e-newsletter.