Inspiring Innovation With Technology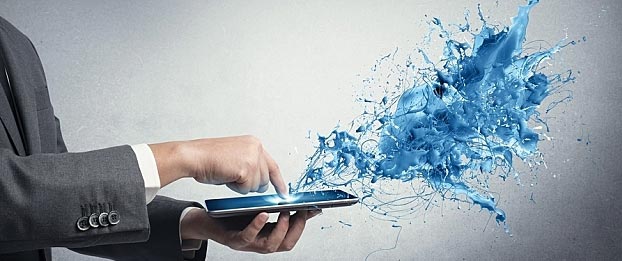 Innovation in the workplace can help your organization improve employee engagement. By leveraging technology and social media, businesses can create a fun, connected workplace. Gallup reports just 32.9 percent of U.S. employees are engaged at work. The right tools can increase productivity, improve communication and help build a stronger sense of community and team. Here's how HR leaders can use communications and social media as a source of growth and differentiation.
Changing Demographics and Workforce Structures Change Communication
Collaboration and communication are a hotbed for innovation in the workplace. Shifting dynamics in the business world are casting a spotlight on how teams connect — and creating competitive advantages for organizations that get it right. According to EY, by 2020 millennials will account for one-third of the workforce. Half of today's workforce has a job that's compatible with telecommuting and 20 to 25 percent of the population already telecommutes, according to GlobalWorkplaceAnalytics.com.
With a younger, more disbursed population that's under increasing demands for productivity, organizations that solve the collaboration challenge may be able to benefit from happier and more engaged employees. Luckily, emerging technologies and platforms are making it easier for businesses to invest in:
Internal communications networks (intranets) that provide a private space for collaboration
Collaborative tools that make it easier to share documents and optimize workflows across boundaries
Project management tools, which enhance transparency and communication
Communications tools (social platforms, video conferencing) that make it easier for businesses to foster teamwork
How to Use Social Media and Technology
To improve their workplace environment, HR leaders should consider the following four tips.
1. Focus on Measuring Engagement
Assess and understand your employees' engagement using tech such as surveys, text analysis, and social listening. Take the time to understand the feedback, then do something with the information. Let employees know their work and opinions matter.
2. Create Community Streams on Social Media
Cosmetics giant L'Oréal used social media to help improve its employee branding and build strong social ties among its teams. Fast Company notes that the corporate communications and HR teams developed two hashtags. The first, #lifeatloreal, showcased different aspects of a "day in the life" of the organization's employees. The second, #lorealcommunity, highlighted how team members connected online and off. In order to make the program a success, the firm set clear guidelines for acceptable social media usage and provided a framework so employees understood how to participate.
3. Invest in Core Collaboration Infrastructure
Investing in your collaboration infrastructure can help remove friction in the day-to-day activities of your teams. For example, Aon uses Microsoft products to connect a workforce of more than 66,000 people in over 120 countries. The CEO uses video tools to address the entire staff. Similarly, they've leveraged internal social networks to have people sign up for volunteer projects and then share feedback and pictures. Collaboration tools can focus on streamlining core project workflow, but they can also make office communication smooth.
4. Amp Up the Pace Through Competitions and Gamification
Increase the urgency to participate in workplace social media and collaboration by amping up the pace. Examples include hosting idea sprints, running employee competitions, offering incentives for participation or hosting themed days. The more creative your social campaigns are, the more likely they'll help you build connections with and among your employees. Look at existing HR campaigns and communications initiatives and determine whether adding a gamified or social element could help take performance to the next level.
Innovation in the workplace can help increase employee engagement. Because of this, HR leaders should focus on different ways to improve communication, build a stronger sense of identity and introduce a bit of fun to the broader conversation.
Stay up-to-date on the latest workforce trends and insights for HR leaders: subscribe to our monthly e-newsletter.