"Employees First, Customers Second" — Unexpected Insights on Moving Your Business Forward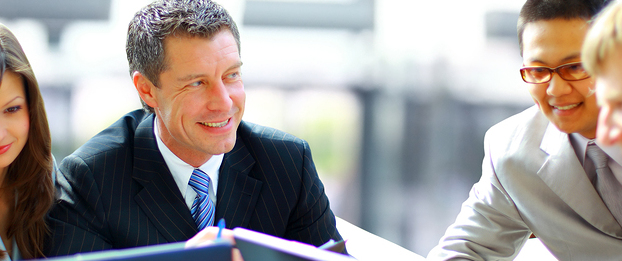 Who is your firm's most important stakeholder? Conventional wisdom might say its customers. However, in the book "Employees First, Customers Second: Turning Conventional Management Upside Down," author Vineet Nayar suggests that this may be incorrect. As part of a series on must-read books for HR leaders, we explore key lessons from this book that challenge traditional approaches to management and stakeholder relations.
In order to define their priorities, organizations must ask a series of key questions. "The question is, 'What is the core business of any corporation?' and the answer is to create a different shared value for its customers," Forbes reports Nayar saying. "The second question is, 'Where does that different shared value get created?' and the answer is in the interface of the employees and the customers." Ultimately, an organization should empower employees and streamline operations and management to make them more effective.
Here are three key lessons that HR leaders can apply to their operations.
1. Build a Culture of Trust Through Radical Transparency
One of the most critical gaps in the workplace today is the lack of trust between managers and workers. Harvard Business Review reports that only 46 percent of employees trust their employers and 15 percent only have a little trust in their employers. Without trust, it can be difficult to increase engagement or productivity. One solution includes making sure everyone understands organizational goals and is aligned toward your most important objectives. This may require radical transparency about challenges and how leadership intends to solve them.
Nayar writes, "Most people within the organization know very well what's wrong with a company, sometimes even before management does or, at least, before management is willing to admit it. When you bring this information out into the open and make challenges public, employees feel included."
2. Invert the Organizational Pyramid to Serve Employees
Nayar says that "structural flaws can get in the way of optimal results." Age old hierarchies fail to support people in what the author calls "the value zone" — where value is created for the end customer. Often, the most critical areas that your customers rely on for value are buried deep within hierarchies (think, for example, of your product development or customer service teams). Instead of following the traditional route of making these individuals accountable to teams, consider structuring management and support functions to empower these individuals.
In an example from Nayar's own firm, HCL Technologies, the organization focused on these value creators. Departments like finance and HR developed ticketing systems where employees could open requests and expect resolution within certain time frames. Other approaches include focusing on management's role to empower employees and using 360-degree feedback processes to help gather information.
3. Empower Employee Potential Through Decentralized Decision-Making
Nayar highlights the importance of helping employees recognize their potential by using tools that foster an entrepreneurial mindset. This often starts with the CEO. It's important for leaders to recognize that sustainable change begins with:
Decentralizing decisions — place some critical decisions in the hands of employees that work directly with customers by allowing them to make decisions that affect their work
Remove bottlenecks — capitalize on the momentum of the process to remove bottlenecks and speed the delivery process
Unleash the power of your collective talent by empowering your next generation of leaders — have a clear growth plan and allow their skills to be tested
While conventional wisdom may argue that your most important stakeholder is the customers, without the right employees it's impossible to deliver the values today's market demands. In "Employees First, Customers Second," HR leaders find a systematic process to identify challenges, increase trust and streamline the organization to deliver maximum support to employees "in the value zone" of your firm's products or services.
Stay up-to-date on the latest workforce trends and insights for HR leaders: subscribe to our monthly e-newsletter.
Other articles in this series:
"Employees First, Customers Second" Transparency in the Workplace: Building a Culture of Trust
"Employees First, Customers Second" Unlock Employee Potential By Fostering an Entrepreneurial Mindset
"Employees First, Customers Second" Your Team as Your Most Important Stakeholder