Building a Pro-Parent Workplace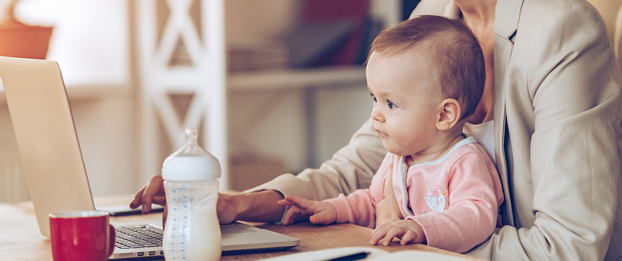 This article was updated on August 22, 2018.
Creating a pro-parent workplace is becoming a top consideration for leaders in HR, particularly as millennials increasingly have children. According to the Bureau of Labor Statistics (BLS), 96.7 percent of married couples with children had one employed parent, and both parents were working in 60.6 percent of families with married couples.
However, these individuals aren't always supported with family-friendly policies in the workplace. Forbes reports that 62 percent of women felt they have family-friendly hours and 53 percent felt they have family-friendly cultures at work. But just 36 percent felt their organizations have family-friendly policies like parental leave or on-site day care.
Here are four steps HR leaders should consider when building a pro-parent workplace.
1. Develop an Understanding and Flexible Culture
For many parents, one of the biggest hurdles to overcome is organizational culture. Examples of cultures that aren't family-friendly range from very serious — such as passing parents over for raises and promotions — to implicit bias, including negative reactions to taking time off to see a school play or attend a child's doctor appointment.
Organizations need to take an objective look at how their culture regards parents who may need to leave promptly after work, use personal time to take care of family-related challenges or choose a flexible schedule. It's important not only to assess the organizational culture, but also the varying attitudes at the department or manager level. Establish policies on these issues, train managers and workers on putting those policies into practice and audit performance and progression data to ensure that cultural changes are embraced.
2. Determine if Your Benefits Are Family-Friendly
According to Fast Company, Patagonia's CEO suggested that on-site day care was an excellent investment that practically pays for itself. The BLS reports that only 13 percent of parents have paid leave. Besides paid leave, many employees could be interested in additional benefits like fertility assistance, adoption perks and child care reimbursement. HR leaders should take the time to understand the demographics of their organization's workforce and their specific needs and priorities relating to family-friendly benefits.
3. Embrace Flexible Schedules
Parents could have different demands on their schedules than employees without kids. For organizations, this need can manifest in multiple ways — from missing days because of a child's illness to needing to leave in time for day care pickups. It can also translate to a reluctance to take on roles with significant travel responsibilities. The Boston Globe reports that JCSI Corporate Staffing in Grafton, Massachusetts, has half of its staff working part-time by choice — and many of those individuals are parents seeking flexible, pro-parent schedules.
HR leaders can evaluate whether strategies such as occasional telecommuting, job sharing, part-time positions, freelance arrangements on a per-project basis or full-time remote arrangements could make them more attractive to parents. In addition, these steps may make it easier for workers to stay with the firm if they transition to parenthood, whether that's having their first child or adding more to their growing family.
4. Recognize the Role of Both Parents
Organizations should evaluate their parental leave policies. Often, larger organizations are covered under federal programs such as the Family Medical Leave Act, but organizations should also audit their policies with an eye towards ensuring that they apply equally between genders, or in the case of same-sex couples, between both parents. Evaluate your leave policies to determine if they provide support for fathers who are taking an active role in their families or for same-sex partners who didn't give birth.
NPR notes how an innovative program in the U.S. military called the Career Intermission Program lets participants take a break from their careers for up to three years while still receiving benefits and a small percentage of their pay. The time off is not held against them when they come back to work and seek promotions or other opportunities.
Developing a pro-parent workplace begins with recognizing parents as an important demographic within your organization. From schedule considerations to benefits selection, understand their needs when developing your menu of benefits and policy options in the same way you'd evaluate what might help millennials or those nearing retirement succeed. Taking steps to become a pro-parent workplace could help you retain top talent so they're able to manage both family demands and thriving careers.