Humans of HR: Company Policy Changes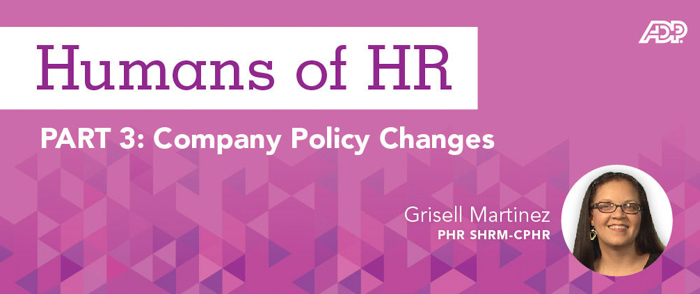 This article was updated on July 22, 2018.

In the first two installments of "Humans of HR" with Grisell Martinez, we learned about Grisell's role in the overall employee experience at her firm as well as her expertise dealing with HR transformations and business growth.
In this installment, Grisell focuses on company policy changes and organizational strategy that help support a growing remote employee base. Then, she offers up advice for HR leaders who want to take a more active role in organizational strategy.
Why Does It Make Sense for the Majority of Your Staff to Work Remotely?
These are sales employees and the environment is very fast-paced. Since we give them the tools they need to do their jobs, there's no reason for them to go to an office. It's also a way of saving costs — it'd cost too much money to have all these people in an office. Additionally, we're able to hire better talent by allowing them to work from home, because who doesn't like to work from home?
We can also tap into our industry's talent nationwide. If we didn't have remote workers, we'd probably have to be in Chicago, Illinois, where our industry has a strong presence, and our talent would come from those locations. Instead, we allow them to work from home and tap into the best of the best no matter where they're located.
What Kind of Policies Do You Have in Place to Support Remote Employees?
We don't have a telecommuting policy, but we do have other policies. We have a very robust ethics policy and code of conduct. We expect everyone to behave ethically and that includes reporting hours worked. We also have a good expense report policy that allows people to submit monthly expenses for their phones and the internet.
How Did Company Policy Changes Come About?
They evolved. Throughout the years, as we've become closer to our parent organization — which is very structured — we've adopted many of their policies.
What Role Does HR Play in an Organizational Strategy That Supports Mostly Remote Workers?
We didn't make the decision, we helped implement it and execute strategy. The payroll department I lead ensures we have taxes set up in all states needed and we comply with the different employment laws so employees can work from home and still feel like they're part of a team.
How Difficult Is It to Recruit for Different Geographic Areas?
It's not difficult because of the location, it's difficult because we're limiting ourselves to employees from the industry. So, it's challenging. We have to spend a lot of time trying to find the right person. The good news is, because we've been doing this for many years, we have a strong network of remote employees — more than 290. And they like working here. So they submit referrals and we take those very seriously. I'd say more than 40 percent of the people we hire come referred by employees.
What Role oes HR Have in Forming Organizational Strategy to Support Remote Employees?
Our software provides a platform to continue to grow the business, and it allows our employees to acclimate quickly. We can give employees the information they need regarding their employment whenever and wherever they need it.
What Advice Do You Have for HR Leaders Who Want to Take a More Active Role in Organizational Strategy?
Be on top of the latest tech trends in workforce management to eliminate your administrative burden. Keep your focus, and your staff's focus, on more valuable tasks such as hiring sales professionals who can directly affect revenue goals.
Want more Humans of HR? Check out Part 1 on Business Growth Transformations and Part 2 on the Employee Experience.