How to Encourage Employee Happiness and Success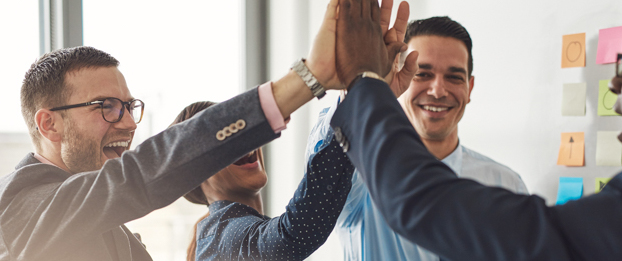 This article was updated on July 26, 2018.

Research from the University of Warwick suggests that there's a link between employee happiness and success at work. According to the study, if people were happy while conducting their work, their productivity spiked by 12 percent, but if they were unhappy while working, they were 10 percent less productive.
New York time best-selling author Gretchen Rubin has written many popular books about the link between happiness, habits and ultimately how that relationship relates to productivity. She's developed a happiness framework that explains what motivates people, called the Four Tendencies Framework, which places people into four categories:
"Upholders respond readily to outer and inner expectations"
"Questioners question all expectations; they'll meet an expectation if they think it makes sense"
"Rebels resist all expectations, outer and inner alike"
"Obligers meet outer expectations, but struggle to meet expectations they impose on themselves"
Expectations and Work Success
The link between happiness and success at work has a lot to do with how people deal with expectations. For example, if managers do not set clear expectations with obligers, these workers will likely be unhappy and less productive at work. In fact, in a 2016 ADP Employee Engagement Study, only half of employees said that they felt they have a clear understanding of their goals and objectives each year. And happy employees are more than 3.5 times as likely to feel they have an understanding as unhappy employees. So if happiness can improve success and performance at work, HR leaders should consider using a tool like Rubin's Four Tendencies framework to help identify the best ways to make sure that each employee is being engaged in the most effective manner possible.
The ideas below should help HR leaders incorporate Rubin's concept into their organization and subsequently encourage happier and more productive employees.
Give Employees the Assessment
Offering employees an opportunity to take the Four Tendencies quiz can show that you're committed to helping your staff be self-aware and able to thrive. Your HR team can then work with employees to reflect on their results and use them to foster employee growth.
Hold Workshops to Discuss Results
HR could lead workshops to help employees dig deeper into what they've learned about themselves, and then connect those lessons to work examples so each employees' discoveries can be re-centered and applied to their work. This is a hands-on approach, and HR leaders can control the delivery quality, but it's the least scalable method of delivery.
Empower Managers to Lead Team Discussions
Another approach is to empower managers to lead discussions within their teams. HR could host sessions with managers and provide tools and discussion guides. Good managers are already having regular discussions with their teams that take the form of team meetings and one-on-ones. HR leaders simply need to show managers the importance of employee happiness, and empower them to facilitate these workshops with their teams to promote a culture of continual improvement.
Use Self-Created Happiness Circles
Similar to Lean In Circles that formed to discuss Facebook COO Sheryl Sandberg's book, "Lean In: Women, Work and the Will to Lead," HR leaders should create guidelines that employees can use to form their own circles. These circles work well because it is HR that empowers the groups, but it is the employees who take the lead to manage the process. HR can help employees form these groups using the organization's communications platform, so employees can more efficiently organize meetings and discussions.
Encourage Discussions Using Enterprise Social Network
HR leaders could leverage the organization's communications platform to facilitate conversations around the Four Tendencies in Rubin's quiz, what people learned about their results and how they're applying what they learned. This is different from a Circles approach because HR forms the group, the group can be organization-wide and a skilled HR manager runs the group like a community manager, facilitating discussions about the four tendencies.
Run a Massive Open Online Course on Happiness
An even more innovative approach could be to create an internal massive open online course (MOOC) that runs in repeating, six-week periods to discuss each of the four tendencies. This MOOC can run four times per year and the executive team can be involved in sharing how they have applied their results, as well.
The link between employee happiness and success is increasingly evident, so HR leaders should use this intelligence to put programs in place to help employees become happier at work to promote a more productive workplace.