Flexible Working: What Parents Want Most From Employers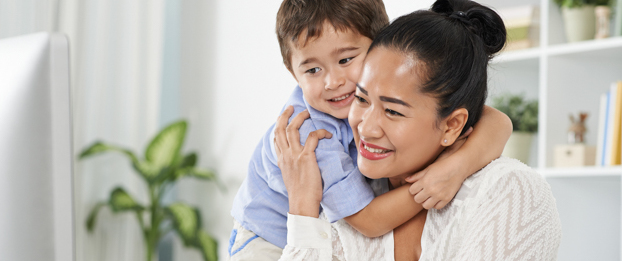 This article was updated on July 20, 2018.
According to the 2016 ADP Employee Engagement Study, 61 percent of employees at midsized businesses say that having a flexible work arrangement is important but only 40 percent are offered flextime and only 21 percent are offered flexible work locations.
As an HR leader, you want to create an atmosphere that meets both your employees' wants and your business' needs, but it can be tough to tailor an employee benefits package to a diverse workforce. To understand what type of flexible working opportunities you can offer your employees, you must understand what drives their individual workplace satisfaction. Here are three policies parents appreciate that enable flexibility for working parents.
1. Telecommuting
According to the Society for Human Resource Management (SHRM), 60 percent of organizations offer telecommuting as a benefit to employees. For Sarah Argenal, a litigation support analyst at a global law firm in San Diego, California, the flexibility to telecommute part-time has greatly improved her professional and personal life. Upon returning from maternity leave, she had a three-hour commute on a train in addition to 60-hour workweeks, leading to her feeling burned out and hopeless. When her baby was a year old, Argenal negotiated with her firm for a part-time work from home opportunity, including days where there may be doctor appointments or other baby-related issues. "All in all, it made a huge difference in my life and caused me to feel more loyalty and commitment to my organization since they were willing to work with me to create a more manageable schedule," Argenal says.
2. Flexibility in the Workplace
While many parents prefer the flexibility that comes with working from home, others appreciate the opportunity to bring their children into the workplace. Tara Glenn, membership ambassador for Chehaw Park in Albany, Georgia, enjoys that perk and many others. "I'm allowed to bring my kids and pets to work whenever I want, I'm given the ability to work remotely whenever desired and I make my own hours," Glenn says. "My job has allowed me to grow and share my love of animals and volunteerism with my older children as they have a junior zoo keeping program."
3. On-Site Child Care
Another flexible working opportunity many full-time working parents want access to is on-site day care programs. But according to SHRM, just 2 percent of organizations offer this as an employee benefit. Christa Graham, a pharmacy technician for WellStar Kennestone Regional Medical Center in Marietta, Georgia, utilizes this benefit. "My son attends the hospital's child care center and I am always encouraged to take the time to attend any holiday shows or parties his class prepares," Graham says. Parents don't need an invitation to visit their children throughout the day. "They have a total open door policy at the center," Graham says, "And whenever I need to check on him, he's just a short walk across the street."
According to the 2016 ADP Employee Engagement Study, when it comes to work-life balance and flexibility, 51 percent of millennials value flexible hours, 64 percent of Gen Xers value more family time and 54 percent of baby boomers value the ability to manage personal responsibilities. And, more than four out of five (84 percent) of employees in midsized companies say it is important to have good work-life balance. For working parents, flexibility may mean the opportunity to work remotely or bring their children into the workplace, but it certainly means finding a balance between their professional and personal lives.