Virtual Reality for Crisis Management Training?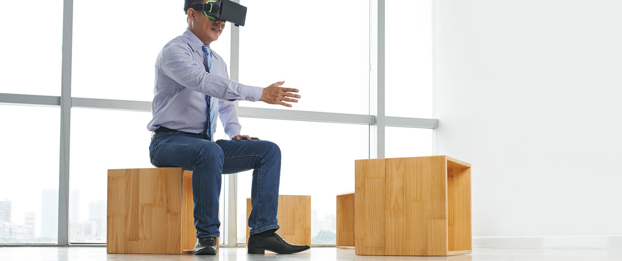 This article was updated on Aug. 23, 2018.

Virtual reality (VR) may just be the crisis management technology you've been hoping to find. A computer-generated environment that allows users to experience a different reality, virtual reality has long been embraced by video game developers and enthusiasts who wanted to feel like they are actually "in" the game rather than just watching it.
By donning a special headset, they could do just that. However, as the requisite headsets have become less expensive and more readily available, VR technology is moving beyond the gaming community. A growing number of industries and organizations are looking for ways to incorporate VR into their business models — and crisis management is an ideal application of this technology.
Crisis Management Training Gets Real
Chances are you've worked furiously over the years with your HR team to formulate crisis management plans and facilitate crisis management training that prepares your leaders and employees for the unknown — a natural disaster, a live shooter or another crisis. But there are great limitations to reading about, talking about and even role-playing a potential crisis — perhaps the greatest is that, in training, participants never really feel like they're facing a crisis.
But VR almost completely changes that. In a computer-generated environment, the crisis feels much more real. When a user dons a headset and hooks up to a VR software program, they instantly feel like the environment is more authentic than any role-playing scenario could provide. That environment could include floodwater rising in the office, injured coworkers in need of aid or any other potential crisis reality. Any real-life crisis scenario can be adapted to your individual business reality, allowing leaders and employees to actually experience that crisis virtually and practice making decisions and managing stress.
You can outsource the software development to create the crisis environments you want, and a number of software development businesses are now offering VR services. If you want to keep costs lower and create your own environments, a number of apps are available to do that, as well. These apps usually use photos or actual surroundings to create a virtual environment that can be viewed and interacted with in Google Cardboard, which also allows participants to simply use their smartphones as viewers.
As you develop your own virtual environment or work with software developers to create it, think carefully about how you want to use the crisis management technology. You should look for ways to incorporate these three components of crisis management training.
1. Coordinate Response to a Crisis
When leaders are placed in a crisis situation — even virtually — they must be able to calmly manage and direct other people and processes. Before placing them in a virtual crisis situation, make sure they are aware of the appropriate steps to follow and the chain of command. Then use the VR environment to allow them to practice coordinating the organization's response.
2. Provide Decision Support During a Crisis
Even with a well-conceived plan, any crisis situation will involve unpredictable consequences. In those situations, employees must be able to make clear, wise decisions under duress. VR can be a valuable tool for working on that skill. Be sure that your environment includes a few surprises or consequences that haven't been discussed in prior training, so everyone can practice making good decisions under stress.
3. Support Activities Before and After the Crisis
VR technology can also be used to train employees in preparing for and recovering from a crisis. If you know a hurricane is coming, for instance, there are numerous steps that should be taken to prevent damages. A virtual environment can offer an opportunity to work through those steps to be prepared in case of a real disaster.
The nature of a crisis is that it's unpredictable. But a bona fide crisis doesn't have to be the first time employees experience unpredictability. With VR technology, they can practice working through crises and managing stress in a predictable, deliberate way.
Take a 360-degree virtual tour of ADP's Innovation Lab, using just your phone, computer or a VR headset, at www.adp.com/virtual.
If you would like to learn more about how to manage leave during and after a disaster and what benefits, policies, and programs can help employees recover, listen to ADP's webinar "Natural Disasters Can Help Drive a 'Climate Change' in Your Business Leave Policies."