A pop-up store is a great way to test the waters or ramp up an inventory-intensive new business.
A pop-up store is a great way to test the waters or ramp up an inventory-intensive new business. Three years ago, Emily Masters Cook invested in 600 pieces of women's clothing from LuLaRoe and began scheduling in-home parties to sell the brightly colored knit dresses, skirts, shirts and leggings to local residents. Cook could set up her pop-up store in little more than an hour, sell some inventory and then pack up whatever was left over.
Pop-up stores are becoming increasingly popular. Larger brands set up tents at major music festivals, consumer brands set up booths at sporting events and races, and even retailers are constructing super-short-term sales spaces to take advantage of crowds. Instead of paying for expensive permanent space and hoping buyers will come shop, with pop-up stores, you can go where the buyers already are.
Mobile Pop-up Shop
Cook, whom we had the opportunity to chat with, started out setting up in people's living rooms, inviting friends to come shop — but she could only fit 450 pieces in her car, so that's all she could bring to sell.
Her solution? Invest in a truck.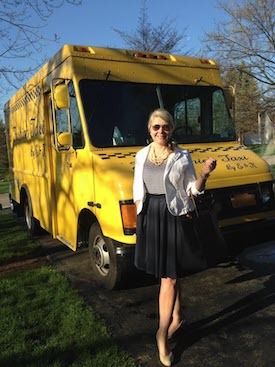 Having her merchandise stocked in a truck is a big advantage for Cook, who can easily attend area festivals, fundraisers and public and private events on very short notice.
"It is also more appealing to the hostess," she points out, "because there is less work and less clean-up."
About eight months after starting her venture, Cook bought a former delivery truck and renovated it to become a store on wheels. She took out the shelving and replaced it with galvanized pipe to hang her clothes on — and she added a dressing room.
With the truck, Cook could then stock 1200 pieces. And she doubled the number of pop-up events she could do from three to four per week to six to eight.
Finding Short-term Space
However, about 18 months ago, she received a couple of citations from her town for having pop-up events at her home (her truck sits in her driveway until she has a pop-up party off-site). "That put a damper on winter sales," Cook explains, because there are fewer outside events she can participate in during the colder months.
So she called around to four local shopping plazas to inquire about short-term space. Three weren't interested (they wanted a long-term lease) but one was happy to rent her space for the winter. With those 600 square feet, Cook increased her total inventory to 2400 pieces.
Now hostesses have the option to host private parties at her store or on the truck. With social media, Cook can also advertise days and times she will be open, for any individuals who want to come shop.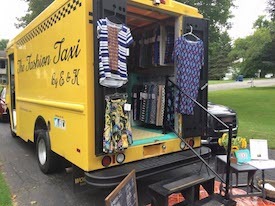 Cook has found that "the more inventory you have, the more you sell," just because the likelihood is higher that buyers will find something of interest.
"Pop-up shops are amazing," she says, because "there are always new eyes on your inventory." You're not committed to any one spot; you can pick up and move your store if you discover there is a better location somewhere else, whether that's across a parking lot at a festival or across town at a special event.
All photographs courtesy of Emily Masters Cook, used with permission.
SIGN UP FOR THE THRIVE NEWSLETTER