Future-Proof Your Management Team: Balancing Promotion and Succession Planning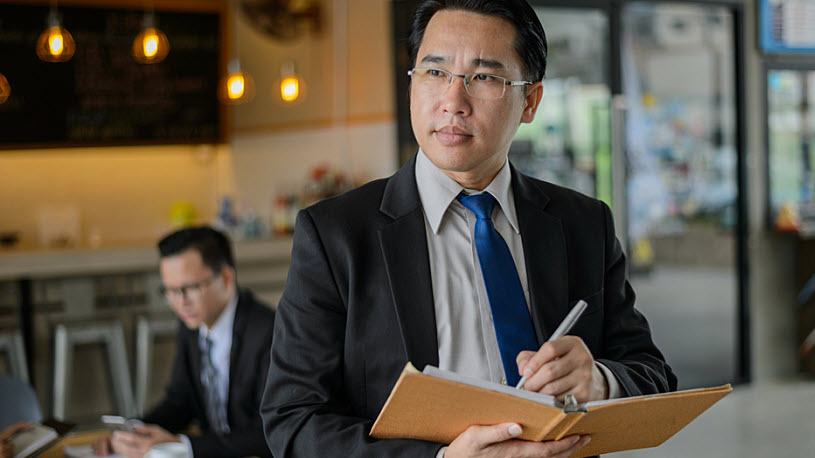 Setting up growth and planning cycles in your teams can help make sure your newly promoted leaders are prepared for the roles — or that you're prepared for their potential departure.
When it comes to leadership and management succession planning, two questions can keep executives and HR teams up at night: First, what happens if we invest in developing our people and they leave for another opportunity? And second, what happens if we don't invest in developing our people and they stay?
Findings from ADP Research Institute®'s latest quarterly Today at Work report – based on a statistical model – lend credence to these concerns. The model estimates a person's risk of leaving their employer for any reason within a given number of months based on their managerial level, job requirements, gender, job tenure, whether they've ever received a managerial promotion, and how long they've been working with that promotion.
The Today at Work findings show that workers who were promoted were more likely to leave their employer for any reason than they would have been without the promotion. Landing a promotion may boost a person's marketability and result in an increased chance of them quitting to explore new opportunities. Or promoting to leadership or management may give a person too much responsibility without adequate preparation and resources and result in them quitting to find a better fit.
Sandy Thomas, ADP's vice president of global talent and development, notes that discussions about talent and succession planning are as much a part of the core business process as strategy and budget are.
"Talent planning drives the match between the strategic outcomes the organization wants to achieve and the talent — their skills, experience and knowledge — needed to make it happen," Thomas says.
You don't want your best and brightest to leave your organization high and dry. Here's how to tip the scales in favor of balanced promotion and clear succession planning.
1. Put your planning where your priorities are
A study by the Economist Intelligence Unit and the ADP Research Institute found that 76 percent of businesses say strategic workforce planning is their top challenge (in the manufacturing and construction industries, that figure goes up to 91 percent and 87 percent, respectively).
But how many organizations are actually paying attention to the future leadership needs at the business when making promotion decisions? All too often, hiring decisions are responses to short-term needs and business changes rather than the strategic leadership planning initiatives required for long-term growth.
Another consideration is that promoting managers could lead to them leaving — a risk that's more pronounced right away and lasts longer for managers than for individual contributors. This potential for turnover makes strategic planning even more important to mitigate the risk of losing developed talent.
"When an organization positions talent work as a core business practice," Thomas explains, "you can start to ask very strategic questions about what the organization is focused on, how ready the talent base is to deliver the results and, if there are gaps, how internal mobility, training or even hiring externally can help."
2. Promote for the right reasons
Organizations with the best intentions sometimes confuse promotions with merit pay increases. When someone gets a promotion, the recognition might boost their commitment to their employer for a while. But it might also improve their confidence in their job prospects.
The ADPRI study found that within a month after their first promotion, 29 percent of people left their employer — a number that would have dropped to only 18 percent if a promotion hadn't been in the mix, according to model estimates.
So before promoting people, make sure you're promoting for the right reasons, such as taking on work with increased responsibility and scope.
Outstanding employees doing excellent work in their roles can be rewarded more effectively with bonuses or merit pay increases rather than a new position that elevates them within the organization. Plus, if you promote too many people, particularly individual contributors, you run the risk of lowering the bar for excellence and undermining the motivation to work harder.
Thomas points out that succession planning ensures the organization has reflected on promoting someone to change their job or scope of work versus rewarding their strong performance in other ways.
"There is nothing more demotivating than promoting someone into a role they don't want or are not equipped to do versus offering a compensation adjustment or other forms or recognition like one-time bonus awards or even unique rewards like time off or other personalized recognition," she explains.
3. Prepare your high performers for future roles
The ADPRI report data suggests that getting a promotion does indeed help someone with their job search outside of their current employer. But it's also possible it highlights the gap in preparing people for more responsibility without training, compensation or resources. It's not just that a promotion makes the employee more attractive; it's that the employee may be under more stress with less support and realize it's time for a change.
"Getting promoted is a moment to celebrate, and it is also a moment of change because once promoted, the real work starts," Thomas says. "An integration plan highlighting what is expected of them in the new role is the starting point."
Effective leadership succession planning allows an organization to prepare talent with targeted learning opportunities, ensuring promoted employees have what they need to remain high performers who are loyal and committed to the business. This becomes even more important as the person specializes in the role, gains rank within the organization and carries more institutional knowledge.
As Thomas notes, the promoted person may need time to understand new people, new norms and new team member needs.
"It's important for them to feel supported and cared for as they, ironically, face the inevitable performance dip as they rebuild efficiency in their new role," Thomas says.
Balancing promotion and succession
Organizations can't leave promotion and succession to chance. Instead, take time in your annual planning to set up growth and planning cycles within teams to account for the potential of their departure. That way, you know what will happen if you invest in your team and they leave for another opportunity — and you know you won't be saddled with undeveloped talent that has no plans at all.
Learn more about this and other data-based trends in "The Hidden Truth About Promotions," the September 2023 issue of the quarterly Today at Work report from ADP Research Institute.