Live-Arts Organization Quickly Improves HR Strategy, Starting With an Integrated ATS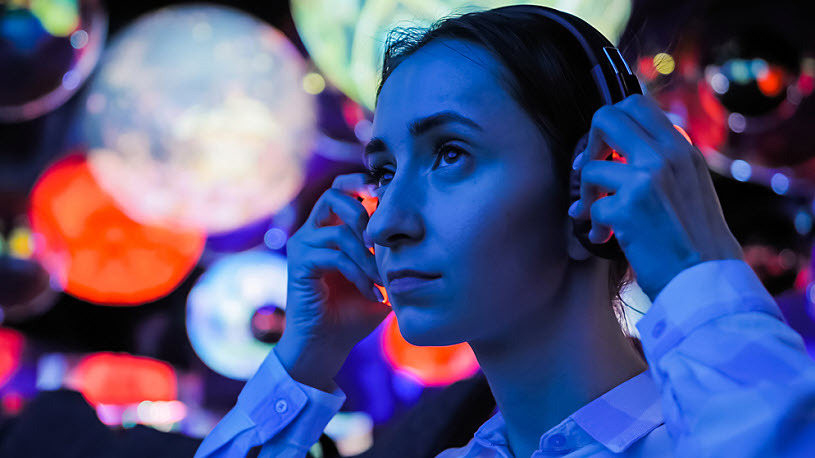 Learn why this digital and experiential art company chose to implement an applicant tracking system (ATS) when the time came to rebuild their team.
The COVID-19 pandemic wreaked havoc on many employers across the U.S., but few industries were hit harder than the performing arts. Some businesses are still feeling the repercussions.
For ARTECHOUSE, a pioneer in the field of digital and experiential art, performances slowed to a trickle. Its three venues — in New York City, Miami and Washington D.C. — eventually went dark. The repercussions were dramatic on the workforce as well, as a good percentage of the organization's full-time employees eventually obtained jobs elsewhere.

Randie Vitucci, who came to ARTECHOUSE as HR director in 2020 right before the pandemic hit, says recruiting obviously was not high on her list of initial duties.

"I joined the company just as COVID was becoming the new reality," Vitucci says. "When I arrived, hiring was close to a non-issue. However, as time passed and regulations loosened, we were able to reopen our shows; unfortunately, many of our employees had moved on."

Vitucci explains that as hiring began to ramp up, it became clear that ARTECHOUSE needed to implement an applicant tracking system (ATS) to help her more easily and quickly source and hire much-needed new talent. Using resources online, including Slack and LinkedIn, she reached out to past colleagues to ask for recommendations for an efficient, cost-effective ATS.

The name JazzHR kept coming up. While she researched that potential solution online, Vitucci connected with her ADP® representative and eventually purchased JazzHR directly through ADP Marketplace, a digital storefront of HR solutions that integrate with ADP.

"JazzHR integrated with our ADP Workforce Now® platform and smoothly resolved a serious talent need — and the price was right," she says. "Now, we do all of our hiring — full-time, part-time and independent contractors — using JazzHR."

Vitucci says the new system makes sourcing and hiring talent very easy — and the implementation was simple, too. "We were up and running within a couple of weeks," she says. "Plus, the integration with ADP was seamless."

At first, ARTECHOUSE's in-house recruiter was the only person using JazzHR. Today, individual locations and departments, about 10 employees in total, are doing their own recruiting via the app — another testament to its usability.

"I love that I'm able to enlist our general managers as recruiters," Vitucci says. "They do their own recruiting for their specific location."

She also trains all new managers on how to use JazzHR, and no one has had any issues.

When Vitucci arrived at ARTECHOUSE there was no formal procedure for hiring managers. So, when she implemented JazzHR, she used the app to create standardized hiring procedures that her managers now follow, solving another company challenge.

"I wanted this for ease of use for myself, but also to have a centralized talent database for the company," she says. "That's an advantage over having an ad hoc process and doing it piecemeal. And now we are experiencing with additional JazzHR features like 'knockout questions' in online job applications to even further improve our process."

On the customer service front regarding JazzHR and ADP, Vitucci has no qualms: "Whenever I have a question, it's answered very quickly," she says.

Finally, apart from JazzHR, Vitucci says she's in the middle of implementing the ADP Time and Attendance app, and she recently implemented ADP Performance Management as well.

About JazzHR

JazzHR, an Employ Inc. brand, is powerful, user-friendly, and affordable recruiting software built to help growing companies exceed their recruiting goals. JazzHR's best-in-class solution replaces manual, time-consuming hiring tasks with intuitive tools and automation, empowering hiring managers to recruit and hire the right talent faster. Learn more about the JazzHR integration with ADP.
About ADP Marketplace

ADP Marketplace is a digital HR storefront that enables you to connect and share data across all your HR solutions. Simplify your HR processes, reduce data errors and drive your business forward with easy-to-use apps that integrate with your core ADP platform. Easily discover, try, buy and implement ADP and third-party solutions, all with the simplicity of single sign-on, single data input and single billing. Learn more at apps.adp.com.
Quick facts

Company: ARTECHOUSE
Headquarters: Virtual
Industry: Arts & museums
Employees: 120
ADP Marketplace partner: JazzHR