What Role Can Outplacement Services Play in Your Organization's Future?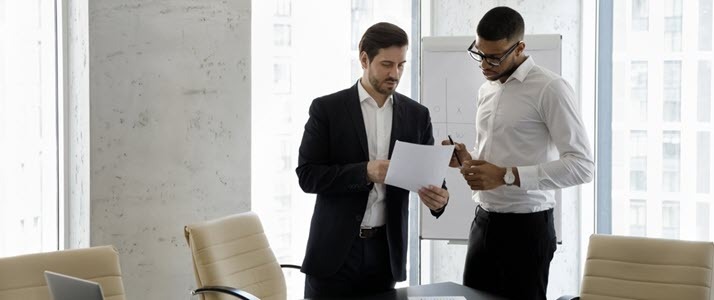 Many organizations faced with layoffs leverage outplacement services to support staff members in finding other work. Here's what Tiffanie Ross, Senior Director of AIRS, powered by ADP, thinks organizations should focus on when considering outplacement services.
Despite the historically low unemployment rate and ongoing competition for talent, some industries are not in a hiring sprint and may actually be going through difficult times. With the recent financial market changes and rising interest rates, many employers are making the tough decision to lay off workers.
Faced with layoffs, organizations are leveraging outplacement services to support these staff members in finding other work. A recent Mercer survey revealed that in 2021, 44% of organizations indicated that they offer outplacement for all or the majority of terminations, a 13% jump from the 31% offering outplacement services in 2018. And it's not just executives getting help finding their next steps; employees at all levels may receive this assistance.
So, what are outplacement services, and what role can they play in your organization's future? We explored this topic with Tiffanie Ross, Senior Director of AIRS, powered by ADP, to better understand how organizations can think about outplacement services. Ross brings over 20 years of experience in the recruitment training industry to bear, and she points out several big ideas HR leaders should keep in mind.
What are outplacement services?
Outplacement services are an employer-funded benefit provided as part of a severance package to laid-off or terminated workers. These services give outgoing employees access to tools and support for an extended period of time as they search for a new job. Most businesses tend to engage an outside partner that specializes in outplacement to manage these programs for their organization.
The specific offerings vary depending on the type of program, but most include support in skills assessment and training, career coaching, industry networking, resume creation, job searching and interview preparation. According to Ross, "Outplacement services that support various learning opportunities and live coaching and include the key pillars of a successful job search are imperative to effective outplacement solutions."
Who benefits from outplacement services?
It might surprise you to learn that outplacement services represent a rare win-win-win scenario in the business world. Ross emphasizes that these services can provide significant benefits to outgoing employees, remaining employees and the organization itself.
Regarding outgoing employees, outplacement services can empower them to move on to the next stage in their careers. These services help individuals focus their job-seeking efforts, speed up the job search process and receive much-needed support and guidance, especially for those facing difficult or more challenging transitions.
For retained employees, knowing that their colleagues are receiving assistance can help boost morale and keep them engaged in a time of stress and uncertainty. Additionally, some organizations provide outplacement service to associates that are aware of changes later (due to mergers, division closings, etc.) to help identify opportunities prior to separation date.
Ross points out that in a survey conducted by The Harris Poll, 83% of Americans said offering outplacement services to laid-off employees would improve their opinion of the organization, and 82% felt that employers who provide outplacement services care more about their employees than those who do not. Additionally, nearly as many stated that receiving outplacement services from their employer would make them less likely to speak negatively about them.
"The businesses that provide outplacement services to their associates may also benefit in several ways," says Ross. "These can include a positive impact on their state unemployment insurance costs, reducing the negative impact that layoffs may have on the company's reputation, and help improving their employer brand."
Who should offer outplacement services?
Organizations of all sizes and across all industries can benefit from offering outplacement services and giving outgoing workers a path forward through support. It's a low-cost, high-impact outplacement solution that can grant businesses the opportunity to support all transitioning employees at all levels of the organization.
It's also helpful that there are numerous different outplacement programs businesses can access. Organizations can find services that can be customized to their workforce and choose options that complement how different employees prefer to receive support, whether in person or virtually, in one-on-one sessions or group settings.
Support your people, and protect your brand
Global corporations and small businesses alike can help protect and enhance their brand reputation by ensuring that exiting employees are supported as they look to secure their next opportunity. "Employees and jobseekers are rethinking and redefining work," Ross notes, "and employers have an opportunity to rethink and redefine what commitment to their people looks like, and how it aligns with their core mission and values."
The way that a business manages the difficult task of layoffs can have a far-reaching impact. How employees are treated during the layoff process can significantly affect an organization's brand reputation. Providing outplacement assistance demonstrates a commitment to building and sustaining a respectful relationship with employees through all stages of their lifecycle, which can help to strengthen their employer brand.
Compassionately and confidently support transitioning talent. Learn more by visiting: ADP Outplacement – AIRS Training (airsdirectory.com)