Family Business Expands Market Reach by Simplifying Certified Payroll Compliance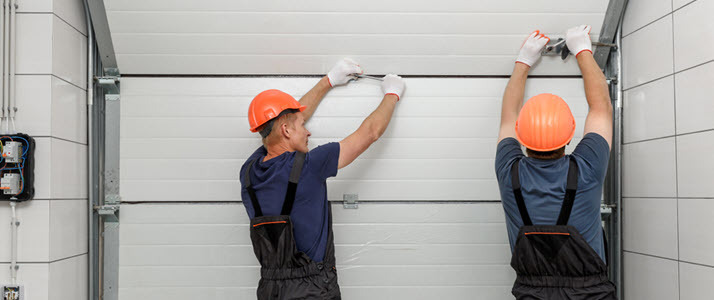 Learn how Bonnet Sales & Service Inc., took the complexity out of certified payroll compliance . The new process opened doors — in this case garage doors — for this regional company to take on municipal projects. Public works projects require vendors to pay prevailing wages based on the Davis-Bacon Act of 1931 — a compliance challenge, especially for small businesses.
When a family-owned business has been successful for over three decades, there's a good chance it has built a solid reputation for top-quality products and service. That's the case at Bonnet Sales & Service Inc., which offers customers high-end residential and commercial garage doors, as well as ongoing maintenance and repairs.
A regional company based in Central Square, New York, Bonnet fits the definition of a successful family business. Bob and Sue Bonnet own and operate the company, which typically has about a dozen employees and has focused on the garage door niche for its entire history.
"Bob is a second-generation 'door man,'" says Sue Bonnet, co-owner of Bonnet Sales & Service. "He learned the trade from his father, and then worked for a different company before deciding he wanted to go out on his own."
It was a smart move, as Bonnet Sales & Service has been making customers happy for 33 years.
Sue wears more than one hat at Bonnet, serving as HR executive, corporate administrator and office manager on a day-to-day basis. Apart from Bob and Sue, daughter Samantha is general manager and grandson Bradley works for the company as a service technician and dispatcher, making Bonnet a three-generation operation.
In 2021, Sue decided that Bonnet's existing payroll and HR software was due for an upgrade — an "extreme makeover" in fact. She chose HR Pro, a full HR package for RUN Powered by ADP® (RUN), ADP's small-business payroll platform. At the same time, Bonnet was looking to expand its public works project portfolio, primarily serving municipalities. But to book that type of business, there is a twist. Public works projects require vendors to pay prevailing wages based on the Davis-Bacon Act of 1931 — a compliance challenge, especially for small businesses.
By definition, a prevailing wage is a government-mandated hourly wage, usual benefits and overtime paid to the majority of workers, laborers and mechanics on a public project within a specific geographical area. Noncompliance can be costly due to owing back wages and U.S. Department of Labor fines. Violators may also be barred from future government contracts for up to three years, so meeting these regulatory requirements was important for Bonnet when seeking public garage door projects.
"Doing the prevailing wage paperwork for the Department of Labor was difficult — an all-consuming challenge," Sue says. "With our previous payroll vendor, we had to do it manually." Plus, she explains, due to the complex nature of the process, you can't really use a single template for reporting because every public customer is different. That makes it doubly difficult to manage accurately.
To overcome that administrative dilemma, Sue turned to her ADP® rep, who guided Sue to ADP Marketplace, a digital HR storefront of solutions that integrate with ADP so clients can customize their HCM ecosystem. Specifically, the ADP rep introduced her to Points North, whose Certified Payroll Reporting solution integrates easily with RUN and other ADP payroll systems.
By moving to ADP for payroll and adding the Points North solution, Sue ensured that the company's government-mandated prevailing wage data is reported accurately and in a timely manner. Among other features, Certified Payroll Reporting conveniently emails certified reports to anyone who needs them, such as federal, state, or municipal clients or contractors. It also can create an email distribution list for each project, accommodate different recipients for various reports within projects, and allow clients to attach multiple reports to a single email.
"Our ADP sales rep said they had an integrated partner solution that might solve our problem. I said if that's true, it will be a very quick decision," Sue says. "The existing reporting process was a numbers nightmare."
Previously, only Sue could compile the required reports. With Points North's streamlined and straightforward solution, now daughter Samantha can manage the prevailing wage process as well. Sue notes that apart from report accuracy, the turnaround time has dramatically gone from 60 to 90 days down to 30 to 60 days — a major time and money saver.
"When it comes to cash flow, that's very big for us," she adds. "Everything changed when we launched Points North. With such a short installation timeframe, it could have been a disaster, but it was incredible. In seven or eight days, it was ready to use."
Regarding ADP's input, Sue explains that before Bonnet made the decision, the ADP sales team held a conference call to go over the particulars. She especially appreciated that no one promised anything they couldn't deliver.
"Matt, our ADP sales rep, was by my side the entire time we were working out the details," she says. "He couldn't have been better when it came to asking questions and making sure I was okay with the solution."
Since implementing Certified Payroll Reporting, Sue says customers have asked how her company so smoothly handles the complex paperwork necessary to meet the prevailing wage compliance requirements.
"Points North and ADP have made it so easy," Sue says. "It's truly unbelievable — not complicated at all. It's given us complete confidence in our prevailing wage reporting and boosted our willingness to compete for more public works projects."
About Points North
Established in 1994, Points North is a software company offering solutions for ACA compliance, Certified Payroll compliance, salary allocation, payroll and retirement plan data aggregation, and attendance tracking and reporting. Through partnerships, software, and customer support Points North creates an experience that is seamless and predictable. Learn more about Points North's integrations with ADP.
About ADP Marketplace
ADP Marketplace is a digital HR storefront that enables you to connect and share data across all your HR solutions. Simplify your HR processes, reduce data errors and drive your business forward with easy-to-use apps that integrate with your core ADP platform. Easily discover, try, buy and implement ADP and third-party solutions, all with the simplicity of single sign-on, single data input and single billing. Learn more at apps.adp.com.