Life Lessons from the Golf Course: Why Approach is Everything for Women at Work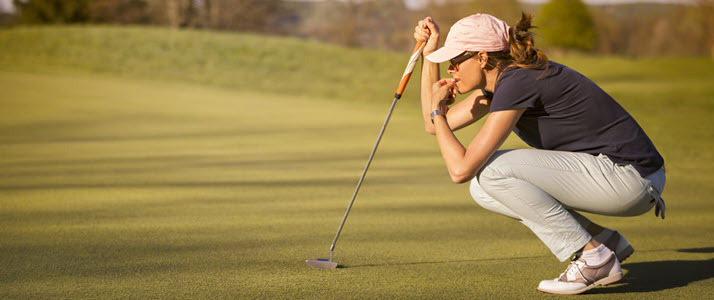 TeamADP's Danielle Kang, six-time LPGA Tour winner, and Dottie Pepper, 17-time LPGA Tour winner and TV golf commentator, spoke about their experiences during the Women@Work 2022 virtual event. The discussion touched on experiences from their time in the sports world and how their game/life strategies can be applied in more traditional workplaces.
Women continue to face significant inequities in the sports world and other arenas, but they're also spearheading the movement for change in all kinds of professional workplaces.
We're seeing this shift play out on a national stage for women in sports. This year, the National Women's Soccer League welcomed a new team, Los Angeles' Angel City Football Club, founded by actor Natalie Portman and backed by the largest female-led ownership group in professional sports. In Major League Baseball, Alyssa Nakken of the San Francisco Giants became the first woman to coach on the field.
This shift was a central theme of the closing session during the Women@Work 2022 virtual event, hosted by ADP in early May. The panel discussion "'Driving' Change: Approach is Everything for Women in Sports" featured Danielle Kang, six-time LPGA Tour winner, and Dottie Pepper, 17-time winner on the LPGA Tour, author and CBS broadcaster. During their conversation, Kang and Pepper touched on several topics, including their athletic experiences, how their game/life strategies can be applied to the more traditional workplace, valuable lessons learned from their coaches and the importance of flexibility in overcoming obstacles.
Harness the power of positive role models
Kang teed up the session by explaining her journey to becoming a professional athlete, which was different from those of many other players. She didn't start out with a passion for the sport at all. Her older brother, Alex Kang, was initially the golfer in the family. But when Danielle saw the attention her brother was getting, she started following him to every practice.
Far from your typical case of sibling rivalry, Kang says her brother became her biggest supporter, signing her up for tournaments and a Women's U.S. Open local qualifier. Just a year and a half after taking up the game, Kang played in the Women's U.S. Open.
"My brother is a big role model for me because he's one of the hardest workers I've ever been around. Trying to keep up with him made me better," Kang says. "When people ask him, 'Who's better, you or your sister?' it hurts me to hear it, because it's not about competition. He's so proud of me and happy for me. I wouldn't have been here if not for him."
In turn, Pepper discussed the role models she leaned on and the lessons she learned in transitioning from playing golf to broadcasting. She's been a commentator for almost 19 years now, which is longer than the time she spent competing as a professional golfer.
"I was very fortunate that I had Judy Rankin, the LPGA Hall of Fame member, who'd been working in television since the early 1980s," Pepper says. "She was a really big advocate for me and was terrific about answering questions. Also, there was a producer at NBC Sports, Tommy Roy. He helped me transition from women's golf to commentating on the PGA Tour. He always said, 'The microphone doesn't know whether you're male or female — you have to talk about golf as you see it, as a professional. If you firmly believe something, you say it.' That was a huge opportunity, open door and reinforcement of what I knew. I had great advocates and people who taught me to do TV the right way."
Know that you are more than your Job
Kang also cited her parents as positive role models in her life because they taught her to think of herself as a human before anything else. "They told me, 'Golf isn't who you are; it's just part of you,'" Kang recalls. "And that really resonates with me when I get caught up in how I'm playing, and what golf has given me, and what it's taken away. It's easy to get so wrapped up in the game that you forget it's just part of your life, not your entire being."
Pepper agreed, noting that as you go through different phases of your career, it's essential to realize that your job isn't your identification. "It isn't your self-value," Pepper notes. "The sooner you get to that point, the richer and more robust your life is."
Many people allow their occupations to define their worth, and while that might work for some, it's helpful to remember that a job is a means to an end. Your professional life should facilitate your personal life, not control it. It's easy to lose sight of that fact, especially when competing at such high levels, but it's helped Pepper maintain her perspective and enjoy each opportunity that's come her way.
Surround yourself with the best people
The people around you significantly influence your energy, growth and success, so selecting your team wisely is crucial. For instance, Kang's caddy for nearly six years, Olly Brett, is also one of her best friends.
"He has my back no matter what happens. When I make a mistake, he just looks at me and says, 'We'll make it work,'" Kang explains. "Same thing with my coach and my physiotherapist. You have to surround yourself with people who will support you in your worst times because it's easy to support you when you're doing well."
Pepper noted that members of the Harmon family have coached both her and Kang. Butch Harmon is Kang's coach, and Pepper worked with his brother and fellow coach, Craig Harmon. "They're really good at giving a golf lesson," she says, "But life gets wound through the entire thing."
Kang agreed, noting that Butch Harmon helps her see the big picture beyond what's right in front of her. She recalled once calling him to tell him she couldn't hit her three wood, and in response, he simply told her to take it out of the bag because it would make the bag lighter, and she had plenty of other clubs from which to choose. "Instead of focusing on what's not working, he helps me see the broader side," Kang notes.
Pepper noted that Craig Harmon taught her the importance of being adaptable. "For example, we might take a three iron and hit it 100 or 120 yards because you never know when you'll need to adapt," she explains. "You need to be able to self-diagnose. You need to know where your 'go zone' is and where your weaknesses are, and don't freak out when things aren't perfect, mother nature turns on you, or you aren't feeling great. That's what makes a well-rounded player."
These lessons from the golf course carry over to the office too, as every day in the office isn't the same.
Ask for assistance when you need it
Perhaps the biggest takeaway from Kang and Pepper's discussion is that women in sports, and in all types of workplaces, should never be afraid to ask for the help they need. Asking for assistance should be seen as a sign of strength, as raising a hand takes courage.
"Don't be afraid to tell people you need help or their support," Pepper says. Kang agreed and noted, "I cannot do it alone. I'm confident, but my confidence thrives off the people around me."
Learn more
If you're interested in viewing Kang and Pepper's conversation in full and learning what else was discussed during the Women@Work 2022 summit, you can listen to and watch the entire program on demand by clicking here to access a recording of the thought-provoking virtual event.