7 Ways to Celebrate Asian American and Pacific Islander Heritage Month at Work [2023 Update]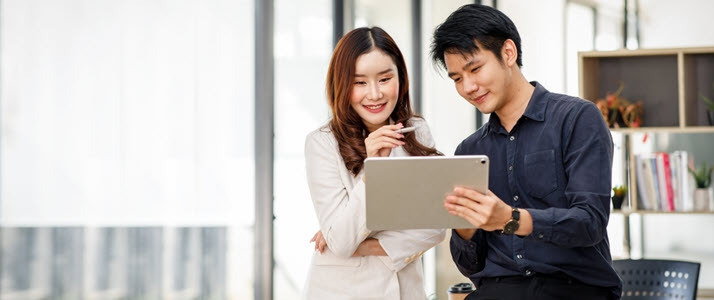 Check out these seven ways to recognize Asian American and Pacific Islander (AAPI) Heritage Month in the workplace, inspired by Elevate, ADP's AAPI business resource group.
Asian American and Pacific Islander (AAPI) Heritage Month involves learning about, honoring and recognizing AAPI communities, who bring unique cultures and experiences to the workplace.

"AAPI Heritage Month is a time to celebrate the rich cultural heritage and contributions of all AAPI communities," says Dave Kwon, corporate vice president, chief legal officer, ADP. Kwon is also the executive sponsor of ADP's business resource group (BRG) Elevate, which supports the organization's AAPI associates and allies. "We recognize the importance of our AAPI workplace community and are committed to promoting diversity, equity and inclusion in everything we do. To celebrate AAPI Heritage Month, we encourage all organizations to take a moment to consider their own diversity, equity and inclusion practices and to engage with their AAPI employees. Let's build a more diverse, equitable and inclusive workplace for all."
So, how can you celebrate AAPI Heritage Month in your workplace? First, ensure your celebrations are respectful, inclusive and guided by factually sound information. Take great care to avoid prejudices, stereotypes and assumptions. Focus on education, positivity and fun, and include as many AAPI communities as possible to enhance representation. Avoid singling out or otherizing your AAPI employees. Don't pressure them to participate or burden them with tasks and planning. If your employees wish to participate, that's wonderful, but don't force them to.
To help inform your agenda, here are seven ways to celebrate AAPI Heritage Month at work:
1. Exercise to celebrate AAPI heritage
Stimulate your mind and body during AAPI Heritage Month with yoga, tai chi or another form of exercise. These activities can be an energetic way to kick off the month, and they offer a dual benefit: Exercise is a healthy practice, and employees can learn something about AAPI communities while participating.
During AAPI Heritage Month 2023, ADP's Elevate BRG will offer virtual yoga and meditation classes featuring ADP customer service analyst and yoga instructor Ashutosh Survase. "Yoga is a discipline that opens the door to inner freedom," Survase says. "It can be a welcome addition to any celebration." Additionally, associates in Norfolk, Virginia, will run or walk to a nearby Taiwanese pagoda every week in May. Could you offer similar exercise-focused activities?
Hire qualified instructors, establish dates that work for you and find ways to accommodate remote and shift workers. Always be mindful of how you communicate these forms of exercise. Avoid stereotypes and insensitive remarks or actions. Consult your AAPI workplace community about their thoughts and ideas, too. Discuss exercise safety, take proper precautions, keep leadership abreast of your efforts and, most importantly, encourage your employees to have fun.
2. Host a discussion featuring AAPI leaders
Convening your AAPI leaders to discuss AAPI heritage, history, traditions, customs and current events related to AAPI communities may help AAPI employees feel seen, heard and valued. It can also educate other employees about informed, meaningful ways to show recognition and support. Example discussion topics include AAPI history, cuisine, music or art; embracing one's AAPI heritage; AAPI inclusion and accomplishments; and organizational innovations shaped by past and present AAPI employees. Make the discussions collaborative and engaging by carving out time for questions, and seek input from your AAPI workplace community to ensure the conversation is informed and representative. Remember to record the meeting for those who can't attend live and to include your remote workforce.
3. Play games that involve AAPI heritage
If you want to boost the engagement of your AAPI Heritage Month activities, AAPI trivia is an excellent place to start. Begin by researching relevant facts and figures. Ensure the information is accurate, inoffensive and workplace appropriate. Develop questions and answers from the data, and use a free online trivia service, like Kahoot!, to make the execution seamless. With Kahoot!, employees can answer questions and compete for the highest score on their computers, phones and tablets. It can be played in the office or at home, making it ideal for remote, hybrid and on-site workers. Alternatively, combine trivia with bingo for a fresh take on the activity. Create bingo cards that list the answers to predetermined trivia questions. Have a caller announce the questions and ask players to search their cards for the correct answers until a few players win. Make it a party: Play music, offer prizes and enjoy learning about AAPI communities.
4. Incorporate food and art into your celebration
Work with your AAPI workplace community to prepare cuisines originating from Asia and the Pacific Islands. You can also support your local community by purchasing food from nearby AAPI-owned restaurants. From an art standpoint, the arts-and-crafts approach works perfectly well. For example, during AAPI Heritage Month 2023, ADP associates in Norfolk, Virginia, will be able to make Ikebana flowers. Ikebana is the Japanese art of flower arrangement that involves creating harmonious compositions using natural materials. In addition, Henna artists will also offer tattoos to Tempe, Arizona associates, and associates everywhere will be treated to a virtual session with graphic designer Carlo Vergara about penetrating a global industry as an Asian artist. Playwright Layeta Bucoy will also speak to associates about representing and advocating Asian heritage through work. Use these event examples to inspire your AAPI Heritage Month celebrations year after year.
5. Support donations to AAPI organizations
Donating to AAPI-focused organizations is one of the most tangible ways allies can support their AAPI workplace community and recognize issues affecting AAPI communities, such as AAPI hate incidents and targeted violence against AAPI women. To drive support, consider hosting a charitable giving campaign encouraging donations to organizations addressing these issues and those that matter most to your AAPI workplace community. Use your organization's internal communication channels to boost the campaign's visibility, and consider asking leadership to contribute donation matches to help maximize proceeds and participation.
6. Form or join an AAPI business resource group
Forming a business resource group, or BRG, could be the formal kickoff to your AAPI Heritage Month celebration. BRGs are employee-led groups that unite workers under shared experiences, goals and events. An AAPI-focused BRG can give your AAPI employees and allies a voice long after AAPI Heritage Month ends. For example, ADP has a BRG called Elevate. Comprising some of ADP's AAPI leaders and open to all ADP employees, Elevate hosts AAPI-focused activities during AAPI Heritage Month and beyond. The BRG empowers people to realize their full career potential by providing networking opportunities, cultural awareness events, leadership development and community outreach initiatives. Could you start or join a similar BRG?
7. Ask AAPI employees to share their stories
Nothing is more critical during AAPI Heritage Month than listening to the unique stories of your AAPI employees. Consider tactfully and politely asking your AAPI employees to share their experiences on internal communication channels as a way to drive education and relationship-building opportunities. Be accepting, kind and respectful if they decline to share, and remember not to pressure or otherize anyone. After securing permission and support, share the stories on your business's social media accounts to highlight your AAPI workplace community's contributions. And don't let their stories get lost in internal and external feeds. Could you put them in an AAPI Heritage Month scrapbook that employees could view year-round?
Recognizing AAPI Heritage Month at work
No matter how you decide to recognize AAPI Heritage Month, do it authentically, sincerely and respectfully. AAPI communities bring unique experiences and insights to the workplace. Regardless of the time of year, AAPI workplace communities and their allies deserve an inclusive space to celebrate their heritage and discuss the topics they believe to be important.
For more on inclusive behaviors and practices that can help your organization do and be its best, visit ADP's Diversity, Equity and Inclusion (DE&I) Resource Hub.
ADP's Elevate BRG contributed to this article. Open to all ADP associates, the Elevate BRG is designed to empower associates to realize their full career potential by providing them with networking opportunities, cultural awareness events, leadership development and community outreach initiatives.