How Construction Businesses Can Prepare for the Infrastructure Investment and Jobs Act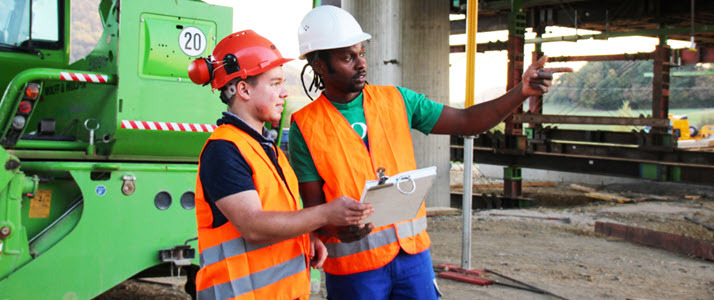 Companies can prepare for potential growth by putting in place tools for hiring, training, and compliance with payroll laws.
In November 2021, Congress passed the Infrastructure Investment and Jobs Act, also known as the bipartisan infrastructure bill, to authorize $1.2 trillion in total spending, including $550 billion in new funds, toward a wide range of infrastructure and environmental initiatives.
The new spending will be used toward repairing roads and bridges; upgrading, maintaining and/or expanding rail systems, public transit and airports; updating power lines and providing clean energy; and more.
For the construction industry especially, this means an influx in spending on public construction projects over the next several years — which can create a lot of opportunities to grow your business. There are many ways you can prepare for this potential growth, like putting in place tools for hiring, training, and compliance with payroll laws.

The compliance piece came into play for ADP client Mazzoni Mechanicals LLC, a small plumbing, heating and cooling firm in the Philadelphia area, when one of the company's customers applied for a state work grant. The grant triggered the need for Mazzoni Mechanicals to supply data guaranteeing compliance with Davis-Bacon reporting for "prevailing wages" regulations.
Specifically, the Davis-Bacon Act of 1931 requires businesses to pay prevailing wages on public works projects. A prevailing wage is an hourly wage, usual benefits, and overtime paid to the majority of workers, laborers and mechanics within a specific geographical area. Noncompliance can be costly due to owing back wages and Department of Labor fines. Also, violators may be barred from future contracts for up to three years.
To help manage Davis-Bacon compliance, Mazzoni Mechanicals implemented Points North Certified Payroll Reporting via ADP Marketplace, a digital storefront of solutions that integrate with ADP. Points North's solution integrates with various ADP payroll platforms, including RUN Powered by ADP®, which Mazzoni Mechanicals uses.
"We're small, with just three full-time employees," explains Claudio Mazzoni, the company's president. "When we got this prevailing wage project, we didn't know how to do the payroll for reporting compliance, so we wasted time on it. It's now a smooth, accurate, hassle-free process. It gives us more opportunity serve our customers, as well as prospect for new business."
In our new infographic, learn how your business can prepare to increase your public works projects.

Whether you need help managing certified payroll, complying with labor laws or growing your team, easy-to-implement tools from ADP® and our partners, available on ADP Marketplace, can help you get started.
ADP Marketplace is a digital HR storefront of solutions that integrate with ADP. With a curated set of apps from ADP and third-party partners, you can digitally purchase and implement solutions to help you simplify how they manage HR and run your business.