How an Employee Engagement Platform is Solving Remote Work Challenges for this BPO Provider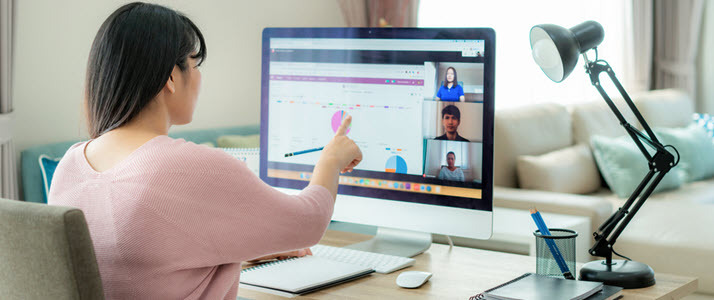 Facing an unplanned communications dilemma after their employees were all working from home, the leaders of World Connection began looking for a way to re-establish the all-important connection with and among employees.
COVID-19's undeniable impact on U.S. employers has dramatically changed the remote vs. office-based workforce equation. For employers whose workers are not required to be at workplace locations, the switch to remote has been the sole alternative.
With that, one potential impact seen is the breakdown of communications — between employer and employees, as well as among employees themselves.
For World Connection, a business process outsourcing provider headquartered in Boise, Idaho, when COVID-19 came calling, the company, like many other employers, adapted by shifting the majority of its 215 contact center employees from its headquarters to working remotely in the Boise area. It also experienced that immediate disconnect with its remote workforce.
"The shift to remote work was the driving force for us to look at engagement options to reach our agents, because even though they're operating within our area, we suddenly had limited contact capabilities," says World Connection's Chelsea Petzak, director of human resources and finance, adding that World Connection handles technical support, customer service and some sales for a variety of clients.
Facing an unplanned communications dilemma, Petzak began looking for a way to re-establish the all-important connection with and among employees. As an ADP Workforce Now customer for the past three years, Petzak turned to ADP Marketplace, a digital HR storefront of apps that integrate with ADP payroll solutions. She quickly chose HelloTeam, an all-in-one performance management and employee engagement platform designed to increase accountability through goals, streamlined 360-degree performance reviews, one-on-ones for real-time feedback, and surveys to increase engagement, among other capabilities.
"Moving to the remote work scenario, it was clear we needed a way to ensure we were engaging and including everyone working from home," she says.
Petzak scheduled a call with HelloTeam and after a promising initial conversation, Petzak's manager and the company president joined for a second chat, which sealed the deal.
"Our executive team liked the idea from the start. I thought, 'If I'm going to look anywhere, I might as well look at ADP Marketplace first,'" she says, adding that the built-in ADP data integration also was a major selling point. "I could automatically bring in all of my data from ADP to HelloTeam. It checked all the boxes."
HelloTeam's engagement dashboard posts include company news and events. HelloTeam also offers surveys for the entire organization or a specific team. Another feature offers "high fives" employees can deliver to co-workers, a "kudos-type" of feature, according to Petzak.
"They offer recognition that is instant, visible and meaningful," she says. "With the fun recognition badges and high fives, it's a fantastic engagement boost."
As noted, HelloTeam's performance management capability sparked immediate interest because it also offered easy, quick access with remote workers. Just as importantly, it gave the company a new way to manage turnover.
"We saw it as helping reduce attrition," Petzak says. "From the start, HelloTeam has been much more than an engagement solution." And, as far as a return on investment, reducing attrition translates into lower recruiting costs and resources.
"We're able to engage with all of our employees now," she says. "We're recognizing our employees, especially those who have been here for a long time. We're recognizing them and giving them raises with the performance review."
Finally, the company-wide roll out eight months ago took just two weeks and delivered a low learning curve.
"I was both surprised and relieved," says Petzak, adding that the HelloTeam deployment does not require any input from the internal IT staff.
So far, in fact, Petzak has been thrilled with HelloTeam's customer service.
"It's been amazing. We had a dedicated person from the start for anything we needed," Petzak says. "We still are in touch but don't communicate much anymore, which shows how well it's working."
Turning to ADP Marketplace, Petzak is "100 percent" likely to recommend it to other HR leaders who are also ADP customers. She says while HelloTeam was World Connection's first solution purchased via ADP Marketplace, it's not likely to be the last.
"I've worked with ADP for so long that I know ADP is a credible source," she says, noting rather than a random search for solutions like HelloTeam, she's thrilled ADP did the legwork for her.
What about the feedback from World Connection's leadership team?
"They all love it," Petzak says. "It's clearly had a major impact on our move to a remote workforce being successful."
About HelloTeam
HelloTeam is a leading all-in-one performance management, employee engagement, and social workplace community platform designed to improve employee retention and create engaged, highly effective teams through goals, 360 performance reviews, one-on-ones for real-time feedback, surveys, virtual peer recognition, and more.
HelloTeam's user-friendly platform provides interactive tools that HR needs and employees love. Learn more about HelloTeam on ADP Marketplace.
About ADP Marketplace
ADP Marketplace is a digital HR storefront that enables you to connect and share data across all your HR solutions. Simplify your HR processes, reduce data errors and drive your business forward with easy-to-use apps that connect with your core ADP platform. Easily discover, try, buy and implement ADP and third-party solutions, all with the simplicity of single sign-on, single data input and single billing. Learn more at apps.adp.com.
Build and manage a better workforce with integrated HR solutions from ADP Marketplace partners like HelloTeam.