Ask Addi P.: How Do I Keep My Gen Z Workforce from Job-Hopping?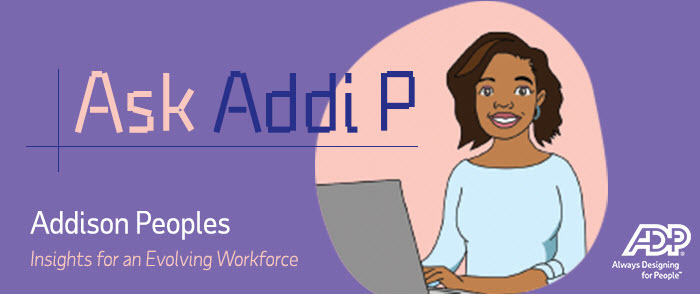 Dear Addi P.,
As an HR leader, I'm always exploring new strategies to retain my employees. This is especially true with my Generation Z talent and especially in today's competitive job market. They often see "job-hopping" as the only viable way to progress in their careers. What motivates Generation Z in the workplace, and how do I keep them from leaving?
— Exploring in El Paso
Dear Exploring in El Paso,
You bring up a common problem in today's workforce, and it's great that you're taking the initiative to find ways to keep your Gen Z employees on board. As you already know and is certainly true now, Gen Z moves fast, so here are some retention ideas that can make a difference.
Provide Skills Development Programs
A one-size-fits-all approach to career advancement will not appeal to your Gen Z folks. Be sure to offer skills development programs that are customized to an individual's specific needs, work experience and career aspirations.
Gen Z workers have developed a reputation as ambitious, competitive and independent thinkers. To keep Gen Z employees optimistic about their professional future, and about remaining with your organization, you can implement unique performance-based advancement opportunities or allow them to manage their own projects to encourage growth in certain areas.
Offer Alternative Payment Methods
More and more businesses are offering alternative payment methods (APMs) to attract and retain Gen Z workers. New college grads in particular are already accustomed to using APMs and less likely to visit brick-and-mortar locations for their business needs. They are using APMs, such as digital wallets, for the convenience factor to order food online, pay bills and shop.
To give Gen Z the convenience that they desire, offer work payment in the form of paycards instead of only traditional payroll offerings. You'll find that tech-savvy, young workers prefer nontraditional alternatives as many are choosing not to have bank accounts.
Provide Financial Wellness Programs
Gen Z comprises financially focused individuals who are looking to their employers for financial advice and benefits. By offering financial wellness programs aimed at helping employees get a handle on their finances, you could improve your Gen Z retention rates. Some of your young workers have already started saving money for their future, so perks like education debt benefits to help pay off student loans and 401(k) programs to help save for retirement will be of strong interest to this group.
Since Gen Z is technology-driven, it's also helpful to have an online or mobile portal that allows your employees to manage their financial health and get a better understanding of their elected benefits. This should help dispel any financial uncertainty and give your workers additional reasons not to hop to another job if the opportunity presents itself.
Embrace New Technology
Gen Z is the world's first digital-native generation, so technology is an important factor in what motivates Generation Z in the workplace. To keep this group comfortable and on-board, you must continually incorporate new technologies into your business functions. For instance, be sure to optimize your website for mobile applications; ignoring this can be a red flag that may lead younger workers to jump to a more tech-savvy business.
Keep in mind, though, that in-person communications are vital. Heavy use of technology makes the need for human connection even greater, and this point is important to your young workforce. As is feasible and safe given COVID-19 conditions, be sure to regularly offer in-person feedback and opportunities for face-to-face collaboration with colleagues and managers to keep your Gen Z folks content.
Foster a Flexible Work Culture
Gen Z workers value personal time and want their employers to recognize the importance of life outside of work. With that being said, creating a flexible work culture to retain your Gen Z workers is a must. Even before the pandemic made home-based and flexible work arrangements the norm, young workers were demanding schedules outside the 9-to-5, remote work options, generous vacation time and even unlimited PTO. The bottom line is that you can keep your young employees anchored and happy by offering options that enable them to maintain a solid work-life balance.
By implementing these ideas, you can work toward winning the hearts of Gen Z and keeping them in the long run.
Take care,
Addi P.
Addi P. is a digital character who represents the human expertise of ADP. The questions and challenges come from professionals who manage people at companies of all sizes. The advice comes from ADP experts who have a deep understanding of the issues and a passion for helping leaders create a better workplace. If you have a challenge you'd like to pose for Addi P, complete this simple form.
The information provided here is for general informational purposes only and not legal, accounting or tax advice. The information and services ADP provides should not be deemed a substitute for the advice of a professional who can better address your specific concern and situation. Any information provided here is by nature subject to revision and may not be the most current information available on the subject matter discussed.