Race Against Time: How ADP's Product Team Helped Thousands of Businesses Secure Critical Paycheck Protections Loans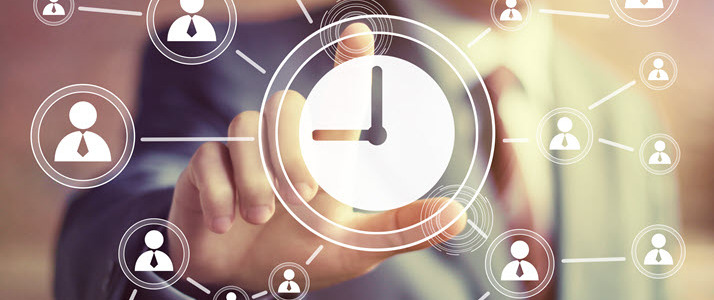 In the wake of COVID-19, ADP's product teams have worked tirelessly to ensure our clients weather the storm. We wanted to catch up with two of the people who've made this possible. Bill Leonard, Director of Product Management, was once the payroll director for ADP. He advises early-in-career colleagues to say yes to new opportunities—it's brought him to where he is today. Terri Thomas, Senior Director of Product Management, says that she owes her 35-year career at ADP to outstanding mentors and the advice she received from day one: Don't be afraid of what you don't know.
Below, Bill and Terri look back on a whirlwind weekend in April 2020, when the Small Business Administration (SBA) had launched an unprecedented new loan program established by the Coronavirus Aid, Relief, and Economic Security Act (CARES Act). Tens of thousands of companies applied in the first hour alone. Thanks in part to our team's hard work, many loans went to ADP clients in the first funding round.
Take us back a few months when you first got involved in this project. How did it start?
Terri: I remember I got a phone call the day the CARES Act passed, the last Friday in March 2020. The SBA would start accepting loan applications under the new Paycheck Protection Program (PPP) the following Friday. We wanted to be there for the thousands of ADP's clients we expected to apply for the loans and give them the tools they would need to help their employees. That meant they needed information from us as soon as possible. I was asked to take the lead on the product side.
We had already been working on the provisions of the FFCRA, or Families First Coronavirus Response Act, which had passed the week before and potentially affected all 600,000 companies who use ADP. But the impact of CARES was massive, too, and we had far less time to take action. So, there was no debate, no red tape. We just got on a call and started working.

Above, Terri Thomas
Bill: Absolutely. There was limited funding, especially in that first round, so our clients all wanted to be ready the minute the application period opened. We wanted to have their payroll cost reports and other supporting documents ready by Monday.
There were a couple of factors that made that difficult. For example, loan amounts were based on each employee's annual payroll cost but capped at $100,000 per person per year. We couldn't just pull data and run a report. The number of moving pieces was pretty astounding due to the rapid shifts in the regulatory environment with unnaturally compressed timelines. We had to respond just as quickly to ensure our clients could keep up and continue to thrive. We had a clear objective; we knew what we needed to do. I think ADP is at its best when we have a dragon to slay.
What were those first couple of days like before the project went live?
Bill: First, we needed to interpret the regulations. We received excellent internal guidance from ADP's Legal and Compliance teams. They were fantastic in helping us navigate the regulatory language to figure out exactly what it all meant. We couldn't make any assumptions—for example, defining full-time equivalent hours for employees. In the Affordable Care Act, that meant 30 hours per week, but in this legislation, it was 40.
Since ADP serves so much of the market, we had support at the federal level to ask questions and get answers quickly—and in some cases, we even made recommendations that helped shape the SBA's guidance.

Above, Bill Leonard
Terri: Agreed; our Legal and Compliance teams were amazing. The government would release something at 1 a.m. that we'd have to translate the logic of it, to see whether it changed what we were doing, and Legal was right there with us. FTE and lookback periods were big ones, and we also had to figure out what costs qualified, in terms of retirement and health care, and wages. Plus, there was a whole other set of guidance to interpret when it came to loan forgiveness.
ADP has such a large, diverse group of clients—everything from multinational corporations to pizza shops—we offer many different products to our client base. We had to find a way to produce reports that accommodated all those differences but were still consistent enough that a lender's API could pull out the information they needed. So there were many conversations regarding which fields to "lockdown" and which to let clients edit. For example, if an employee doesn't come back to work because their job is eliminated, the portion of a PPP loan based on their payroll cost usually isn't forgivable. However, if an employee has the option to come back to work and refuses, it is. So, we had to build options for clients based on their unique situation.
What happened once the reports were posted—and what's happened since?
Terri: In the first couple of days after we launched, clients relied on us to help them navigate the calculations. We explained why the numbers on our reports were different from the gross wages they saw on their regular payroll reports—and why they were supposed to be.
One thing that helped, though, was that we'd been able to quickly create not just the reports but some FAQs and other collateral. We shared that with our clients and our Service teams. I think those resources were a big key to our success. We got so much positive feedback from people saying how relieved they were to log on Monday morning and see that we were already on this. They didn't have to go searching for answers.
Bill: Yes, I think from the client's point of view, the most valuable thing we gave them, especially in that first week, was assurance. Many business owners were really scared—imagine your company's entire existence is in question, and here's this possible lifeline, but you don't know how or whether you can actually use it. We were able to say, "We've got it; we'll help you through this.."
Terri: Also, while we'd had to make some executive decisions internally to get through the initial launch, we immediately shifted into getting external input. We were pulling everyone into working sessions—clients, CPAs, banks—to find out what they thought about every aspect of the project and how we could do things even better. We kept iterating based on that feedback coupled with the government guidance that continued coming in. We're still tweaking things even today.
What did you learn from this project that will help you going forward?
Bill: I think this project was an excellent example of keeping things simple. As Terri mentioned, ADP has lots of different products and tools, and for a good reason—we have many different clients. When we simplify, the easier it is to deploy new features and enable innovation. When things like this happen, it needs to be easy, innovative, and quick to market. Most of all, it needs to be right for our clients.
I also learned a lot about—and from—our team. There were many times when Terri and I and the rest of the people leading this project would talk something through, and then a developer would come back to us with a question that was complete gold and entirely changed the way we'd been thinking.
Terri: I couldn't agree more. It doesn't matter what your role is; if you have an idea or a suggestion, we want your voice to be heard. Innovation happens here at all levels, and the feedback is immensely powerful in moving the company forward. I've already seen numerous examples, and I've only been in this role for a few months. My goal as a leader is to encourage that as much as I can.
In true ADP style, the collaboration we saw between teams was amazing. Nothing was about titles or who was attached to what product. The difference this time was that people who don't ordinarily work together teamed up to make this happen, and having all of those unique perspectives at the table was incredible. Our shared purpose is something I really love about ADP. We're all working toward the same goal of making an impact for our clients.
In closing, Terri and Bill, you've been here 35 and 27 years, respectively. Would you share how you've seen ADP change and what advice you would give new people starting with ADP?
Terri: I had some fantastic mentors, and they pushed and made me think about the different opportunities. The advice given to me from day one was don't be afraid of things you don't know. That stuck with me for 35 years, and I leaped into things that I never thought I'd even consider. You control your own destiny. Nothing is just handed to you. I got myself in the door and continued to drive my career into different areas. It took a lot of hard work, but I was dedicated to doing it and have had many supporters. So, to me, the sky is the limit at ADP. You don't have to be stuck in one area. You can go anywhere. It's like taking a new job when you transition to your next role.
Bill: There is a lot of runway for people on the technology side these days. If you wanted to go into management, there has always been plenty of room there. Today, there's been much more opportunity to stay on the technology side without having to move into people management to grow your career. As an example, this year, we named our first Distinguished Engineer.
Learn more
Interested in a tech career at ADP? Check out open roles on tech.adp.com.
Read more stories like this on our ADP Tech blog.