What's Driving the Future of Work? Prioritizing Employee Mental Health and Wellbeing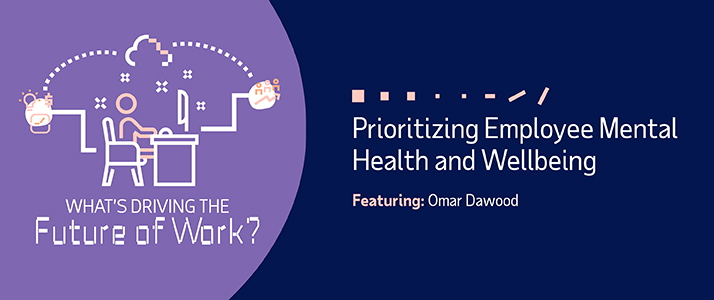 Following the pandemic, now more than ever it's important for employers to prioritize employee mental health and wellbeing to maintain a positive work environment.
Watch this segment from Cheddar (TV network) sponsored by ADP, that features Omar Dawood, Chief Medical Officer for Calm, as he shares his insights about how employers can prioritize employee's mental health and wellbeing. Over 83% of US employees have suffered from work related stress and 1 million or more employees call out sick because of stress, that costs businesses over $300 billion a year.
Omar talks about ways for employees to fight burnout, how conversations about wellness in the workplace have evolved and how employers can help prioritize employee wellbeing by encouraging conversations and listening to employee needs.
Watch this video to learn more about the mental health and wellness trends shaping the future of work following COVID-19's impact on the workforce.
The above video segment covers these topics beginning at these times:
1:02
Business impact of employee wellness
Stress costs businesses over $300 billion a year
Importance of physical and mental health
1:56
How the conversation has evolved and opened dialogue to talk about mental and behavioral health
66.9% of workers are reporting higher stress during the COVID-19 outbreak
2:41
3:24
Majority of employees experience stress in their personal and professional lives
3:45
Typical mental health benefits only support 0-3% of employees
How to help employees set boundaries
4.17
Ways for employees to fight burnout
Why it's hard to step away from work in this virtual world
4:45
5:32
How individual employees are establishing professional and personal boundaries
Why time off matters to help decompress from work
To learn about the other episodes in this series, visit this page.