ADP Women in STEM Profile: Kim Albarella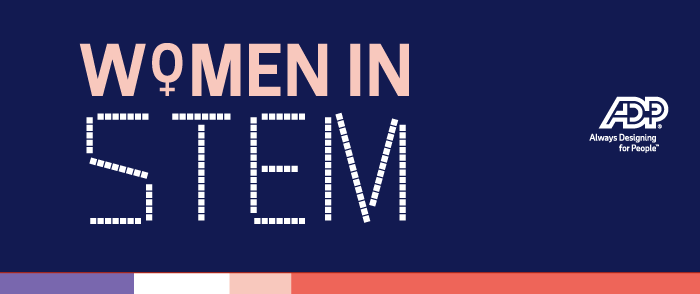 "Never turn down the opportunity to learn something new." From starting as an intern sorting expense receipts to now as a VP at ADP, Kim Albarella has learned a lot along the way and loves what she does.
"If you don't have data security, you don't have a business." Kim Albarella, ADP's Vice President, Information Risk and Security Advocacy, believes it's that simple. She's one of the people making sure ADP and all its clients have a business.
Kim is proud to be a Jersey girl. "It was a true gift because I grew up in Edison, which is a really diverse town," she says. "I had friends from all different nationalities and different backgrounds."
Kim also came from a hardworking family. Her mom always worked, starting as a secretary with a large pharmaceutical company right out of high school. She eventually retired from the company's marketing team. Kim's dad was a truck driver. In high school, Kim worked at a local pizza parlor and an eye doctor's office.
After high school, Kim wanted to be a teacher and enrolled at The College of New Jersey, a school known mostly at that time for teaching. She joined a teaching club that gave members experience working in classrooms. "I realized I couldn't do this every day," she says. "Teaching children was not for me."
Kim changed her major to business. Not sure what aspect of business to major in, so she figured she would look at which made the most money. She decided on finance. She wasn't sure she liked that either, but the thought of making good money was enough for her to stay.

Above: Kim Albarella, Vice President, Information Risk and Security Advocacy
One of her cousins worked for Merrill Lynch and helped Kim get a summer job there as an intern for a secretary. Her primary duties were to order supplies and organize expense receipts. When Kim saw the executive in the corner office, she decided she wanted to be the person travelling and then submitting those expense receipts.
After her internship, Kim was invited to work part-time during college, and the tech door opened. She worked with a division that built front-end apps for banks and learned about databases, how to manage a data center, app development, and corporate life.
Expense receipts of her own
After graduating, Kim got a job with Ernst & Young in Manhattan. The company had an office in Times Square, and Kim said the job involved 90% travel. "That's all I needed to know," she remembers. "I said, 'Sign me up!'" She was going to have her own expense receipts at last!
At E&Y, Kim worked with the business risk services group, where she learned about risk, controls, compliance, and testing. "These are the basic concepts that apply to data security at all organizations," she says. Although she worked on the business side rather than the tech side, Kim knew from college about data centers and things like the path of least access. She was fascinated.
But it turned out the travel and expense receipts were not as exciting and glamorous as she had thought. "The travel got old quick."
Kim left to take a job with Morgan Stanley. She started on the audit and compliance side and eventually moved to risk management. "I was there during the 2008 financial crisis and got to see how the bank handled risk and IT and what operational controls they put in place," she says.

Above: Kim (far right), with her mother, Rosa Koval (far left), with aunt Dee DaCosta who is mentioned in the article (top center). Kim's daughter, Avery Albarella is in front.
Coming to ADP
After a while, the commute from New Jersey to Manhattan started to feel like a slog, and Kim began looking for something closer to home. She knew about ADP because her aunt worked there. She found out ADP had a two-year training program in evaluating and auditing data security risks. The company was looking for someone who had risk experience to help build out the audit program. It was a perfect fit.
In 2011, Kim joined ADP and quickly moved to the Global Security Organization (GSO) where she works today to protect ADP and its clients. "It's all about how we message the concept of data security to internal associates and clients," she says. "I did a lot of work with marketing and sales. I was the middle piece between the super technical people and the outside world. We needed to get people to care about data security, because it is critical for ADP and our clients' organizations."
She started taking on more responsibility with clients, helping them understand how and why they should trust ADP with their most important assets.
We make sure that critical things like data and funds are safe and don't get exposed to the outside. Most importantly, we also keep people safe.
- Kim Albarella, VP, Information Risk and Security Advocacy at ADP
Security Is good business
In the summer of 2020, Kim took over leadership of ADP's security risk program. She works to identify, assess and mitigate risk to the organization.
"Risk deals with making sure controls are in place and operating the way they are supposed to," she says. "Assessing risk is making sure we are doing what we say we're doing and looking at what we should be doing. We look to see what the real threats are, how bad they are, and what we can do that will give us the most protection."
"Security is making sure people who want to do harm don't get in," she continues. "It can be external, internal, or even state actors. We make sure that critical things like data and funds are safe and don't get exposed to the outside. Most importantly, we also keep people safe.
"Prior to the COVID-19 pandemic, we made sure buildings were safe against any threat of violence and that everyone working there knew how to respond in an emergency. We monitored physical controls like cameras, security guards, and who was coming in and out.
"In March 2020, ADP sent all non-essential associates home to work because of the pandemic. We had to make sure that people could do their work while our systems stayed safe and secure. Now, we've shifted to figuring how to keep associates safe as we think about returning to the office. Some people want to go back. Some don't. Some aren't sure and want to keep their options open. Now that the vaccine is being rolled out, it brings another level of explexity. It's huge and very exciting! How do we accommodate the needs of both the business and our associates?"
Becoming a manager
Vice President of Information Risk and Security Advocacy at ADP is a long way from intern in charge of expense receipts. Kim feels lucky to have had some great managers and mentors who have shown and taught her how to manage a team.
"As I've worked my way up, I've remembered what it was like to be an intern," she says. "I never knew where I stood and could never seem to get the information I needed. I try to be very transparent and let people know what I need and want from a performance perspective. I believe that honesty and transparency are signs of respect."
Kim spends time learning what makes people thrive and what their challenges are. She believes it's also important to help her team figure out what is next in each of their careers. "Part of my job is to help people move on to the best thing possible for them. It's a mistake to try to keep people too long instead of making sure they are moving forward in their careers."
Kim feels blessed to have had many great mentors, too, including her aunt. "She knew the company and had a good perspective about taking on a new role," she says. "She also really helped me when I was scared of going for something I wasn't ready for. I would tell her, 'I'm not that technical. I don't think I can do this.' She told me, 'If you actually look into what any person does on a day-to-day basis and are smart enough to learn, you can take on any job."
"Different people have different styles. But every one of my mentors has left their mark, even if it was to give me a vote of confidence or build a relationship."

Above: Albarella family trip to Scottsdale, Arizona, in November 2019. Pictured front to back: Avery, Eddie, Kim and Keith.
Best advice
Some of the best advice Kim has received is to never turn down the opportunity to learn something or someone new. When she started her first job, a mentor told her, "Kim, you are going to a great company. Take advantage of every training. Learn everything you can. Get involved in committees and groups. You may never get that chance again."
"ADP offers a lot from an educational standpoint and networking, including tuition, knowledge pay, and BRGs. People don't use them enough," Kim says.
When she is giving the advice, Kim echoes the importance of new skills, new people, and new opportunities: "Know your worth. Believe in yourself. It's a risk to try something new. Take the class. Get the certification. It might be hard, but nobody can take it away from you."
Kim also stresses the importance of connecting with people, especially people you don't work with directly. "Start by picking one person you want to know. Connect with them and find out about them. Then follow up and continue the conversation. You never know what might happen.
"Also, know when it's the end. I wanted to be promoted in a group I was in, but it wasn't happening. I had to realize this is it and stop fighting a losing battle, because it was holding me back. I was able to look wider and connect with people I knew in areas I was interested in. That's how I got into GSO."
Ready for more?
Explore the stories of these and other ADP Women in STEM, and learn about careers at ADP.