COVID-19 Compliance: Exploring Five Challenges for Employers in 2021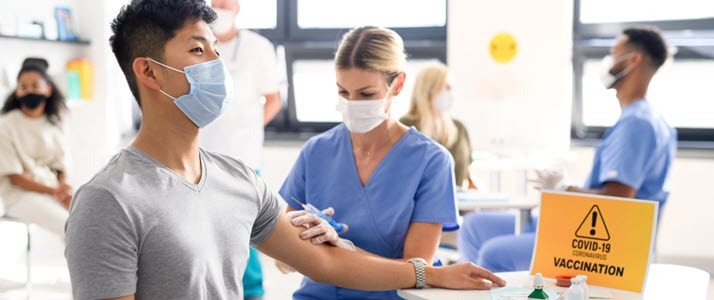 As workplace guidance concerning COVID-19 compliance evolves, enterprises must be prepared to meet these five key challenges.
When COVID-19 first emerged, employers had to respond before public health authorities knew how the virus would spread and how to contain it. Now, with a greater understanding of these issues and the development of effective vaccines, guidance for employers has evolved.
Even as enterprises grapple with ongoing operational issues in 2021, new COVID-19 compliance expectations must also be addressed. Here are five key challenges organizations must overcome to manage their workplaces effectively, both during and after the pandemic.
Challenge 1: What type of health screening can employers legally require their employees to get?
Employers can generally implement three types of screening methods to address COVID-19 concerns: testing, temperature screening and health questionnaires. Throughout the pandemic, the U.S. Equal Employment Opportunity Commission (EEOC) has provided guidance on its website to help employers deploy these programs, but employers also need to understand and follow state and local laws.
At a minimum, employers can ask employees reentering the workplace if they have COVID-19 or symptoms associated with COVID-19, if they have been tested for COVID-19, and if they have been exposed to someone who tested positive for COVID-19. The Centers for Disease Control and Prevention (CDC) lists symptoms associated with the virus, including fever, chills, cough, shortness of breath, fatigue, muscle or body aches, headaches, new loss of taste or smell, sore throat, and congestion or runny nose.
Employers may exclude individuals with COVID-19 or symptoms of COVID-19 from the workplace because, as the EEOC has stated, their presence would pose a direct threat to the health or safety of others. The caveat is that employers are generally not permitted to ask employees who are teleworking and not physically interacting with coworkers or customers these questions.
Challenge 2: Can employers make vaccinations mandatory?
As production ramps up and distribution expands, COVID-19 vaccines will become more widely available, and many employers are wondering whether they can require staff to be vaccinated. While there are potential public health benefits to this approach, there are multiple issues to consider before implementing vaccination-related policies:
Legality. Although a mandatory vaccine policy could be technically legal according to recent EEOC guidance (with possible exemptions for ADA and religious accommodations, and state law), it could be difficult to implement such a policy without large-scale employee buy-in. Rather than mandating COVID-19 vaccinations, many employers plan to encourage employees to get it. Before implementing any such program, they should consult legal counsel.
Practicality. Employers should be mindful that the vaccine may not be widely available depending on state and local distribution schedules. In some jurisdictions, vaccine distribution is phased with healthcare personnel, essential workers and higher-risk populations first in line. Employers should assess the potential impact on employee morale if employers do or don't require vaccinations, given their work environment and culture. Employers also should consider the risk of litigation or workers' compensation claims if employers do or don't require vaccinations (such as, an employee experiencing side effects from the vaccination). Also, there is a likelihood employees will seek the vaccine without a mandate. As always, employers with unions will also need to address collective bargaining obligations.
Workplace safety protocols. Whether or not your organization mandates vaccinations, you should continue having workplace safety protocols in place and continue to promote masks, physical distancing and handwashing. There will still be CDC, state and local mandates to follow, and the new administration could implement new rules.
Challenge 3: How do employers balance local, state and federal expectations?
Federal, state and local governments have all had to address the challenges of the COVID-19 pandemic. At the beginning of the pandemic, some governors issued orders requiring people to stay at home unless they were engaged in essential work or activities, while some municipalities used their authority to implement quarantines or lockdowns. Some state legislatures and local officials, meanwhile, enacted paid sick leave requirements and issued mask mandates. As the pandemic continues, government responses will continue to develop, and additional regulations will emerge.
For employers, the evolving public health landscape means there are no hard-and-fast rules when it comes to COVID-19 compliance. For example, offices in one state or city may be obligated to follow regulations that require all in-office staff to wear masks, while businesses in other locations may be required to approve work-from-home requests regardless of operational priorities. As a result, enterprises must ensure they are continually monitoring the compliance landscape to act on the most recent guidance and avoid accidental violations.
Challenge 4: What happens if an employee falsifies a positive COVID-19 test for time off?
Employers should approach this situation in the same way they would approach an employee falsifying a doctor's note for time off or leave and other employee integrity issues.
There's no need to reinvent the wheel here. While ongoing pandemic issues might make it seem like COVID-19 has changed all the rules, in many situations employers already have applicable policies in place, and in this case policies around employee dishonesty would be relevant. To ensure any disciplinary actions meet evolving compliance requirements, managers must be sure to record all relevant details and make it clear that any consequences or reprimands are tied to preexisting policy, not COVID-specific concerns.
Challenges 5: What post-pandemic impacts on compliance could stem from this?
As recovery from the pandemic moves forward, federal, state and local governments will continue to focus on policies that promote both health and economic welfare. In practice this means certain laws targeting COVID-19 may sunset, but other laws will likely bring additional compliance obligations for employers.
Consider data from the CDC that makes it clear that, in general, healthy employees are more productive. This operational reality, coupled with the potential for another COVID-like event that disrupts normal work operations, could lead to broader sick leave policies that simultaneously grant staff more leeway and reduce workplace risk. Employers must be prepared for new laws that may cover a wide range of issues, including paid sick and family leave, workplace safety, health benefits, wellness initiatives, and protection for employees and independent contractors.
While the crisis isn't over yet, our improved understanding of viral behavior and the increasing availability of vaccines offer substantive hope for return-to-work rollouts in 2021. Rapid workplace changes will undoubtedly come with evolving COVID-19 compliance concerns and a change in administration in Washington, D.C, so enterprises would do well to address current and foreseeable challenges as soon as possible to reduce risk proactively.
Get customizable email templates and in-depth information on employee leave, recent legislation and other valuable topics in ADP's COVID-19 Employee Communications Toolkit.
Updated information for employers can also be found here: ADP Employer Preparedness Toolkit — Coronavirus Disease (COVID-19)