ADP Women in STEM Profile: Marilyn Nicolas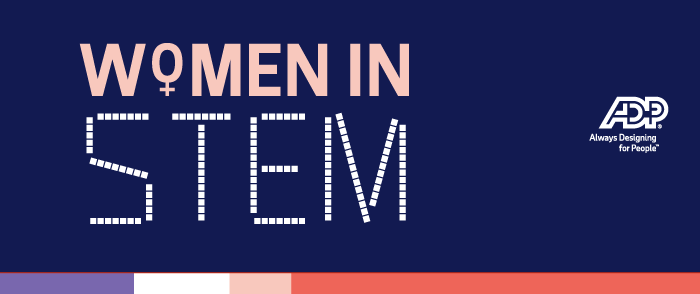 Consider this point of view from the senior manager of Digital Shared Services for Europe, Middle East and Africa: "Being a woman in a male field, you have to impose yourself more, but without ever changing who you are."
Marilyn grew up near Paris. She has always been passionate about sports—dance, yoga, basketball (she's a big NBA fan) and running. She recently competed in a team marathon and loves working in a group. Being a team player has always driven her mindset.
Although she wasn't that interested in computers at first, she loved math, science and languages. She majored in chemistry. Her objective, to work for a cosmetics company after university, did not happen. So she expanded her sights to tech. "Look for new opportunities and take chances, even if it changes your plans."
Be Open to Opportunities
Marilyn started exploring companies that were looking for someone with strong science backgrounds. She was hired at a service delivery company, where her first client was in telecom. Marilyn worked nights doing bandwidth tests in a male environment where she was the only woman in the team. "I was young and said to myself, 'Let's try it!'" It turned out to be a very good choice.
As Marilyn evolved in the company, she started helping the company's clients with information technology (IT) issues in different areas (automotive, television media, medical). "It was a lot of fun! Each time I worked with a new client, I started from scratch to learn about their business and technology." At each new client, she made more connections, built relationships, and was growing and learning. Being able to adapt in multiple situations even though her background wasn't IT at first, is something she keeps in mind moving forward. She has no regrets about taking the chance.
Coming to ADP
Marilyn got a call from a recruiter to see if she would be interested in working for ADP in Paris. Her first reaction was "no thank you," thinking she wasn't ready for an international role in another new business, this time an HR and payroll services company. But then she considered how much she loved to learn and that changing industries was just bringing her skills to a new set of clients. After some calls, she decided to talk to the company to learn more about ADP. "When I went to the interview, the role was promising and the people were really kind. I liked them so much that I changed my mind and went through the hiring process. One of the hardest parts of working from home this year has been missing my ADP colleagues."

Marilyn Nicolas, Senior Manager of Digital Shared Services for EMEA
Marilyn started at ADP in a role that bridged ADP's business units and IT. She oversaw IT projects, made sure the clients' applications were running and kept the tech and client expectations on track. "There is always something new to learn and new people to meet."
In that role, Marilyn worked with people all over the world. "It was sometimes a little challenging because we all have different customs. But I got along well, especially in Asia-Pacific. I liked working with people of different cultures and learning more about them." This is a bit of an understatement. She even decided to learn Chinese to strengthen her relationships and communications there.
Lift as You Climb
After about eight years, Marilyn was ready for new adventures and moved to take a lead role in digital shared services, a new ADP IT division. This set her about learning new aspects of the business and developing as a manager. "I learned to manage along the way. Having a good network and relationships at all levels helped me too."
She also had a woman mentor who helped her navigate in this career area that had been mostly men. "Being a woman in a male field, you have to impose yourself more, but without ever changing who you are."
Marilyn has continued to lift as she climbs and believes ADP is a good place for women interested in STEM. "I am happy to be where I am today – at ADP promoting women's success. I would like to inspire other women to explore management roles and opportunities. When I'm hiring, I want to make sure to give women a chance."
Marilyn believes education and learning are a big part of supporting women to grow into leadership positions. In March 2018, with the sponsorship of ADP (she was so proud!), Marilyn built an extreme sporting team with another ADP colleague, and they competed at Raid Amazones in Cambodia. It was a six-day extreme sporting event for women that raises money to give young girls access to education. Marilyn and a colleague continue to sponsor a young woman in her education.

Marilyn Nichols (right), with a student in Cambodia (left), whose education Marilyn and a fellow ADP associate raised money to help support.
Best Advice
Marilyn's best advice is: "Take on challenges. Be open to new opportunities, even if you don't have 100% of the skills. Don't overthink or ask yourself too many questions. If you are curious and open to learn, you can do many interesting things."
"You have to learn all the time (if you are lucky enough to have this opportunity); that's how you evolve personally and professionally."
For students, Marilyn advocates starting with science because it teaches methodology along with how to evaluate information, figure out what you need to know next, and how to create and manage projects. "My science background is part of everything I do and is still helping me today."
Her favorite quote is from Michael Jordan: "If you run into a wall, don't turn around and give up. Figure out how to climb it."
Ready for more?
Explore the stories of these and other ADP Women in STEM, and learn about careers at ADP.
Related Video: How ADP Walks the D&I Talk
One way ADP encourages diversity and inclusion (D&I) among its associates is through business resource groups (BRGs). ADP's iWIN BRG is the company's largest with 5000+ members (male and female) from 19 countries across the business. Learn how iWIN engages, equips and empowers its members to achieve personal and professional success through networking, professional development, and other educational opportunities. iWIN is an internal organization open only to ADP associates.