Taking the Guesswork Out of COVID-19 Testing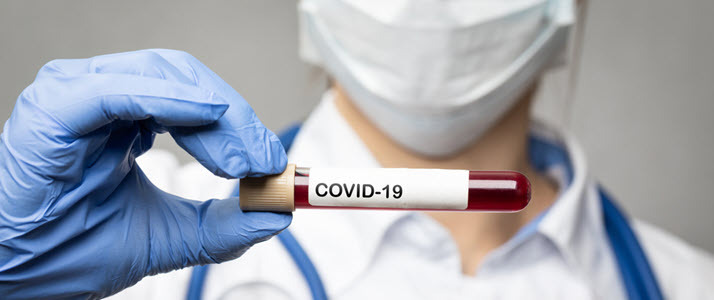 Not every employee may need to be tested; below are some questions that can help with that decision.
COVID-19 testing information abounds and can be overwhelming. As an employer, you can help your employees by letting them know when and how they can get tested and what testing options are available.
Not everyone needs to be tested, but here are some questions they can ask themselves in order to make a decision:
Am I experiencing some of the most common corona virus symptoms including fever, dry cough, tiredness, or any of the less common ones such as loss of taste or smell, aches and pains, headache, sore throat, nasal congestion, red eyes, diarrhea, or a skin rash?
Have I been in close contact (within six feet) for 15 minutes or more with someone who has confirmed positive for COVID-19?
Has my healthcare provider requested that I get tested?
If the answer is yes to any of these, the next step is getting a test.
What type of COVID-19 test to take
There are three approved types of COVID-19 tests: molecular, antigen or antibody. Each has its own benefits, accuracy, turnaround times and recommendations according to the Food and Drug Administration (FDA).
The Molecular Test (aka RNA or PCR Test) is the most sensitive, specific, and accurate test at 98-100% for detecting an active COVID-19 infection. It is analysed at a high complexity lab and results take 24 - 72 hours. If employees can identify with any of the statements below, then this may be the test to take:
I want to know if I have COVID-19. Accuracy is important to me. I can't afford a wrong result.
I have recovered from COVID-19 but I need to make sure that it is safe to return to work.
I am feeling symptomatic and my rapid test was negative. I want to retest to make sure I am okay.
I need a convenient, safe, at-home, self-testing and collecting option.
Antigen Test (aka "rapid test") will give the fastest but not the most accurate result. It is only 80% accurate, is more likely to miss an active infection and a follow-up PCR test is recommended after a negative result from this test. Important to know, the antigen test:
is sometimes used to screen large numbers such as airport screenings
more prone to false negative results, but if the test is positive it is probably correct. It is however the negatives that are reason for concern
requires a doctor's visit where the test is conducted, and results are achieved in less than an hour
is cheaper than PCR excluding and consults
Antibody Test (aka serology test or blood test) does not diagnose an active COVID-19 infection; it only reveals if the person has been infected before. This test requires a blood sample taken by a healthcare professional at a doctor's office, a hospital or urgent-care facility. Results are achieved in a quick turnaround time.
Will likely be required when the vaccine is widely available to make sure employees are immune
Is self-collection testing a good option for employees?
Only the molecular type of COVID-19 testing is available in an FDA EUA approved self-collection testing format. It is a thorough and convenient testing option that you can offer to your employees as a benefit and it can also minimize COVID-19 anxiety and work disruptions during working hours. This is how:
Using UDoTest, an employee can order the self-collection test and sign digital consent through the employer account.
The order is approved by nationwide physicians and the test kit is shipped to the employee's home or place of work.
The employee activates their test, collects their sample and drops it in the overnight mailer for the lab.
One of UDoTest's verified labs then analyses the sample and uploads the result.
Results are securely accessed online by both the employee and employer (once consent has been granted by the employee prior to the test being administered).
What are the benefits for the employer?
A real-time employer dashboard of all results, testing activity and legal documentation required for their employees testing.
Productivity may be increased and anxiety may be decreased. Instead of employers and employees wondering what type of test to take and where to go to have it done, they can focus on work.
No time wasted spent in doctors' rooms, pharmacies or drive-thru lines.
An employee's safety is taken into consideration as it is not necessary for the individual to go to an external testing location.
How does the employer guarantee a reputable and approved COVID-19 self-testing option?
UDoTest, available on ADP Marketplace, aspires to deliver what is best for their clients and their employees. They provide access to accurate, convenient on-site and self-collection COVID-19 tests from a large network of CLIA certified labs across the country, as well as an employer dashboard for real-time results and legal documentation required by OSHA.
This option can reduce the stress associated with employees choosing or finding where to get tested, but it can also help address the potentially inconsistent results and quality from different providers and test types. UDoTest ensures quality control, transparency and quality. Employee consent and confidentiality is paramount to UDoTest and they work with a large network of labs, offering both PCR and antibody tests while securing kit orders and lab testing capacity.
What are the individual state policies for entry and exit?
Each State has their own COVID-19 rules for entry and exit which are subject to change. UDoTest offers a traveler support benefit for expedited results and testing, as well as state policy guidance.
If your workforce travels to other states, travel preparation may be more complicated, and advanced planning will be key. Consider these examples:
A trip to New York is planned. The traveler is required to provide a negative or pending test result within 72 hours prior to departure, travel declaration and a self-isolation plan. And a 2nd test is required 7-14 days after arrival. Or, in the case of employees traveling to New Hampshire for a board meeting — every traveler is required to self-quarantine for two weeks before departure.
These examples highlight the value of an accurate COVID-19 test with high sensitivity and specificity such as those from the UDoTest laboratories.
Visit the ADP Marketplace to learn about this type of flexible testing service for your employees.