ADP Women in STEM Profile: Margaret Tuohy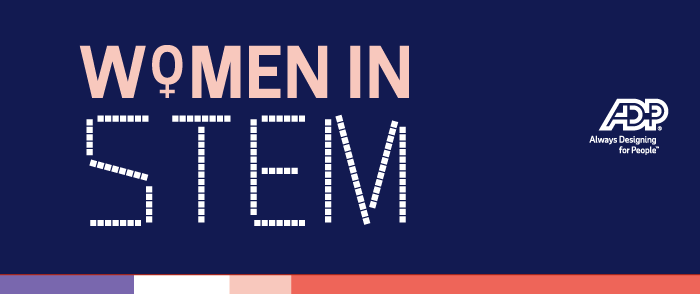 Take inspiration from this Vice President of Product Management of National Accounts who says she wasn't one of those people who knew what she wanted to be at the age of 5. She's learned to just figure out that one next step.
Margaret Tuohy grew up the oldest of three in Brooklyn, NY. Her parents, both immigrants, still live there. "My parents are the classic immigrant story. They independently came to the US from Ireland when they were 17. They both sent money home. I learned early on to admire their work ethic and even as a child, I respected the sacrifices that they made for my brother, sister, and me."
She went to college at SUNY Albany in upstate New York. Thinking she wanted to be a lawyer, she majored in English and Political Science. After some summer jobs working for law firms, Margaret changed her mind.
Finding the Path to Product Management
She still loved the analytic and methodical thinking of law. So, she explored other graduate programs and continued at SUNY Albany for an MBA with a concentration in Management Information Systems. "It was a pragmatic decision. I enjoyed technology and they had a great program. I was awarded an assistantship that would cover tuition and I knew there were job opportunities when I graduated."
Margaret found the classes fascinating, especially information systems. "There was quite a bit of statistics and math, operational problems, and field projects. I enjoyed the work."

Margaret Tuohy
She was recruited by GE and entered their Information Management Leadership Program. Margaret was attracted to the opportunity to rotate throughout different GE businesses utilizing different technologies. An added benefit was the ability to move to a different geographic location every six months. "I had a lot of exposure to different business concepts, ways of doing things, and technologies. About midway through the program, I rotated to the San Francisco Bay Area by myself for what was supposed to be six months. I loved the area so much, I ended up living there for several years. In addition to work opportunities, the Bay Area is where I met my husband and bought my first house. It was an exciting time."
During the last part of Margaret's GE tenure, she spent her time working as a developer on a data warehousing project where she managed a team focused on data conversions and integrations. One technology Margaret developed expertise in was Informatica. A friend knew someone at the company and Margaret learned they were recruiting.
Margaret joined Informatica as a sales engineer where she was doing demos, traveling to client sites, and implementing proof of concepts in short engagements. "The pressure was pretty intense. As a sales engineer, you need to be able to install, run, and develop programs in an unfamiliar environment, all with the client looking over your shoulder." She loved working with clients and understanding tech from their perspective, as well as working with the product managers in the company. Margaret stayed in the business intelligence space for a few more years, managing larger development teams. After eight years in California, Margaret's husband, an environmental scientist and professor, had a job opportunity in Atlanta and they decided to move back East.

Margaret with her husband, Derek Shendell, hiking on vacation in Sonoma, California.
Margaret moved to Atlanta and quickly found a position with CNN, supporting a data warehousing effort. About 7 months into that role, another opportunity opened with CNN in the New York bureau. The role was responsible for product managing digital media for CNN's business coverage. Margaret applied and was in NY within a couple of weeks. "That time was a bit of whirlwind. In the space of 16 months, I had lived in the Bay Area, Atlanta, and then then New York. Fortunately, my husband quickly found a position with Rutgers University, so the move was good for both of us."
Margaret was in the newsroom, working with editorial and developers to build more effective ways to report business news and financial data across digital, social, video, and mobile. "I loved the job and being in the newsroom. It was fun to be part of something new in an environment where we could get things done quickly. I had great executive support and resources in a unit that was very nimble. And I had a lot of autonomy to roll things out on the site."
Best advice: When you've made the decision, be at peace with that decision. Trust yourself enough to not second-guess.
- Margaret Tuohy, VP of Product Management, ADP National Accounts
Although she had managed teams before, CNN was the first place she could build a team from scratch. "I knew what I was looking for in the first person, but it was not the same as what I needed in my fifth hire. As the team grew, the work and people were evolving. So, we needed new personality traits and skills sets that weren't part of the picture at the beginning."
After eight years with CNN, an opportunity arose with a start-up, Business Insider (BI). Margaret joined as the SVP of Product Development, running product management, launching international versions of the website, and using analytics to build an audience.
Coming to ADP
She had hoped BI would be more like CNN, but it was a different organization in a different stage of development. "I remember being on vacation and while I was hiking, I came to terms with feeling like the job was not a fit. So, I gave myself permission to leave. I went home and started putting out feelers. This time I cast a wider net beyond media. I was looking at companies that sold software products and solutions. I was still open to media, but I was also willing to explore something new."
At the time, ADP had several open roles that looked interesting. Margaret checked her LinkedIn connections and found someone happy to pass on her resume to the right person.
Then she got a call and interviewed with Don Weinstein, who hired her. She started out in a product portfolio and strategy role, which was perfect for learning about HR technology and ADP. Eager to get back into Product Management, Margaret moved into her current role, VP, Product Management of National Accounts. "It was the natural next step and there was a lot to learn. In National Accounts, we work with large clients with complex needs and high expectations. I was also learning the market while at the same time, structuring my team."
"In the last couple of years, I really feel like I've gotten to practice Product Management at scale. National Accounts has many products within the portfolio, we have a good number of Digital Transformation projects in flight that will deliver strong business outcomes, and the Product Management team has really evolved. It has been exciting to see product managers that are relatively new to the organization develop confidence to not only manage product backlogs, but also become the experts on client webinars. Likewise, there have been opportunities to tweak or develop roles so more tenured associates can continue to grow."

Margaret with her family after a dinner out in Brooklyn, New York.
Find and Be a Mentor
Margaret strongly advocates finding a mentor and then being a mentor to others. "I was lucky to have a sponsor at CNN who understood me. He had my back and helped handle the politics so I could focus on the work. It was really valuable. Even now, I text him once in a while and ask for advice."
"Find someone who knows you in a professional context and can give advice. At CNN, I was a Sr. Director and needed someone who supported and challenged me at the same time. Earlier in my career, I had a mentor who was more of a teacher who could provide expertise and encouragement. They were the right mentors for different stages in my career."
Best Advice
The best advice Margaret received along the way was from a trusted teacher in high school when she was trying to figure out where to go to college. She was weighing options, making tentative decisions, and then second guessing. The teacher advised, "You've made the decision, now be at peace with that decision. Trust yourself enough to not second-guess."
Her advice to others is related. "I've always been a little envious of people who knew exactly what they wanted to do since they were 5 years old. I'm just not that person, and I've learned to be ok with that. I often tell others, you don't have to decide your life plan; just decide what you're going to try next. Figure out that one next step. Just ask yourself whether the opportunity you are going after will take you in the right direction, and then trust your decision."
Ready for more?
Explore the stories of these and other ADP Women in STEM, and learn about careers at ADP.
Read why ADP was named the "2020 Top Companies Winner for Women Technologists" by AnitaB.org.
Related Video: How ADP Walks the D&I Talk
One way ADP encourages diversity and inclusion (D&I) among its associates is through business resource groups (BRGs). ADP's iWIN BRG is the company's largest with 5000+ members (male and female) from 19 countries across the business. Learn how iWIN engages, equips and empowers its members to achieve personal and professional success through networking, professional development, and other educational opportunities. iWIN is an internal organization open only to ADP associates.