Why Paying Tips Electronically Can Benefit Employers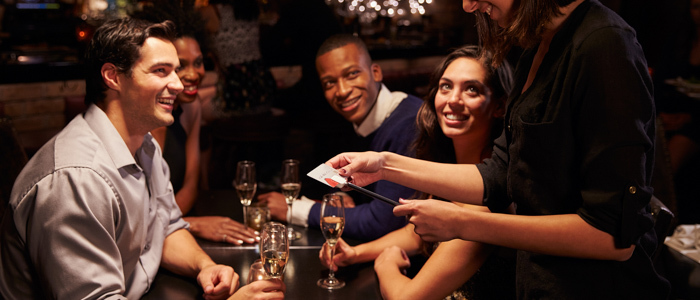 This article was updated on Oct. 9, 2018.

Based on a focus group survey facilitated by ADP with several major restaurant chains, 88 percent of the participating restaurant employers said they rely on cash to pay tipped employees on a daily basis. That has been an industry standard for decades, despite the myriad challenges cash presents for both employers and employees. Enter, electronic tipping.
The Challenges of Paying Tips in Cash
For many employers, a major challenge is the over-payment of wages to meet minimum wage requirements, which can vary by state. Employers typically set recommended guidelines for declaring tip income as a percentage of total sales, but employees often under-report their tips, and hourly wages sometimes do not cover minimum wage requirements or required healthcare coverage costs.
Another challenge noted by the focus group participants is maintaining cash reserves across hundreds of restaurant locations. That problem is growing as consumers continue to move away from cash payments. In 2012, 81 percent of restaurant sales were paid with credit, debit or prepaid cards, according to the Huffington Post. Restaurant managers still often find themselves making frequent trips to a bank or having an armored vehicle deliver the necessary cash reserve required to pay out daily tips, which takes time and money. In addition, having large amounts of cash at a restaurant can be a safety issue for employees and patrons due to the risk of robbery.
Another challenge that many employers face is the need to manually reconcile total sales and tips for each employee at the end of shifts, which takes time away from other important tasks. Manual calculation and distribution of daily shared tips often requires many hours of tracking and oversight. Employers not only run the risk of entering incorrect information in spreadsheets, they also spend time physically handing cash tips out to employees.
The Benefits of Electronic Tipping
Given the many challenges with paying tips in cash, there may be a better alternative to help employers manage and distribute tip payments. Paying tips electronically can give employers more visibility into the process. The information can be used to help avoid over-payment of supplementary wages to cover minimum wage and healthcare coverage. Plus, the time and money used to maintain cash flow in each restaurant location can be reduced and reinvested in other activities.
In addition, paying tips electronically can help improve the overall safety for the restaurant and its employees. Lastly, and most importantly, moving from a manual cash tip payment and reconciliation process to a fully electronic tipping one can help create a seamless experience for the employer through reduced touch points and hours spent calculating and distributing tip payments.
The information provided in this blog post is for informational purposes only and not for the purpose of providing accounting, legal, or tax advice. The information and services ADP provides should not be deemed a substitute for the advice of any such professional. Such information is by nature subject to revision and may not be the most current information available.