4 Trends Disrupting the (Near) Future of Work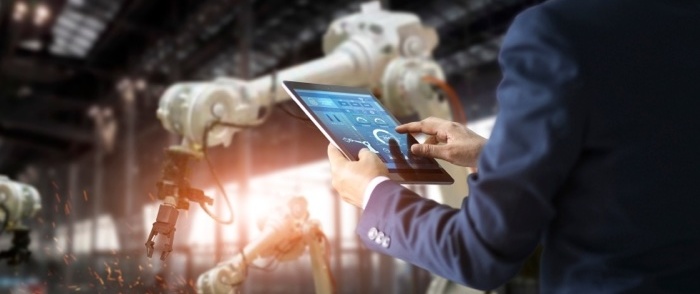 Trends shaping the future of work could have a profound effect on your organization.
The future is coming at us fast. Everything is being disrupted, including what it means to "work" and how work happens. Understanding the trends shaping the future of work can mean the difference between thriving or being left behind.
While we can't predict what's going to happen with any certainty, we can use reputable sources to identify future of work trends that help us anticipate and prepare for what most likely lies ahead. My goal in this post is to share some key trends that are currently disrupting work and will play a key role in shaping what work looks like in the future.
Trend 1: Increasing Automation and the Emergence of AI
You've seen the headlines: Robots are coming for our jobs. While there is wide agreement that artificial intelligence (AI) will cause job loss, the exact impact is up for debate. According to Quartz, some economists predict between 9 and 47 percent of current jobs in the West and a jaw-dropping 25 to 69 percent in India and China could be gone in the next 20 years. Swift change is already happening. McDonald's, for instance, is currently in the process of systematically replacing cashiers with automated kiosks in its restaurants, per CNBC.
This should not cause panic, but it should wake you up. If automation and AI aren't already disrupting jobs at your organization, they soon will. Now is the time to be proactive in researching and understanding this new technology to anticipate how to prepare for the disruption. It isn't too early to start incrementally re-training employees for higher value roles that are less prone to automation.
Trend 2: Growth of the Gig Economy
The gig economy describes the rise of freelance work as an alternative to traditional employment. As technology has advanced, it's created new ways to work and earn money — from driving for Lyft to selling your technical skills as an independent contractor.
According to one significant study of freelancing in the United States, commissioned by Upwork and Freelancers Union, 57.3 million people are already freelancing in some way (full- or part-time). That's approximately 36 percent of the workforce. The authors of this study project that within the next 10 years, that number will grow to over 50 percent.
As more work and workers shift toward freelancing, how we think about everything from management to benefits will need to change dramatically. We need to prepare our organizations to embrace and engage a blended workforce of full-time, part-time and freelance workers.
Trend 3: Declining Trust
The Edelman Trust Barometer is one of the most comprehensive studies on the state of trust around the world. In recent years, their annual research has revealed a trend of dramatically declining trust, particularly in the United States. Among what they call the "informed public" in the U.S., trust declined 23 points last year, dropping the U.S. from sixth to last place out of the 28 countries surveyed. The informed public trust crash is universal across age, region and gender.
This quote from the report sums up the situation: "It is no exaggeration to state that the U.S. has reached a point of crisis that should provoke every leader in government, business or civil sector, into urgent action. Inertia is not an option, and neither is silence. The public's confidence in the traditional structures of American leadership is now fully undermined and has been replaced with a strong sense of fear, uncertainty and disillusionment."
The landscape of diminished trust presents a challenge and opportunity. People are craving institutions they can believe in and trust. As an employer, you could fill that spot for your people, but it will require proving you are trustworthy through consistency, transparency and integrity.
Trend 4: Growing Epidemic of Loneliness
According to a comprehensive research study released by Cigna in May 2018, most Americans are considered lonely. The study of 20,000 participants revealed some pretty startling numbers:
46 percent of Americans reported sometimes or always feeling alone

47 percent feel "left out"

27 percent rarely or never feel as though there are people who really understand them
What is perhaps most shocking about the findings is that the loneliest group by age was the youngest — the 18- to 22-years-olds. Social media appears to be making us feel less meaningfully connected to one another, not more.
For many people, the workplace is the only place they regularly have the opportunity to commune with other people. Work isn't just about a paycheck; it's where people meet others, make friends and even find romance. The era of "check your personal life at the door" is over. If you expect to retain employees in the future, you will need to build social space into your work environment.
The Future Waits for No One
Too often, a discussion of the "future of work" is purely speculative — more of an academic thought exercise. But, when the future is coming at us at an accelerating pace, we need to take a more proactive — and active — approach.
The trends I've shared here are just a few indicators of what's happening and what's likely to happen in the foreseeable future. By routinely monitoring future of work trends like these and considering their potential impact on your business, you'll be able to successfully prepare your organization for what's on the horizon.