Managing Office Pools and Fantasy Sports Leagues in the Workplace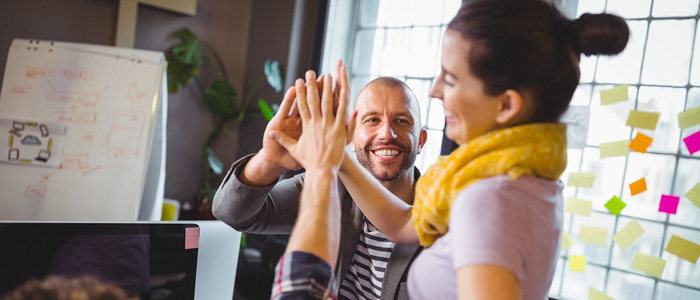 This article was updated on September 25, 2018.
The start of summer is a busy time for sports fans. Baseball season is in full swing, national hockey and basketball leagues are holding their championship games and football fans are already eagerly awaiting the start of preseason. As a result, many employees are enthusiastically discussing their favorite teams, engaging in some friendly banter about the best offseason trades, and spending time comparing brackets and setting their fantasy lineups.
Office pools and fantasy sports leagues can help promote a cohesive, engaging atmosphere in the workplace, but they also raise concerns for many small business owners who worry these distractions could decrease productivity, strain technological resources and pose compliance risks. To help minimize the risks and maximize the potential benefits, here are some best practices.
Prohibit Gambling
In most states, gambling on sports is prohibited, and, generally, pay-to-enter office pools and fantasy leagues and those that include substantial financial winnings pose significant compliance risks. As a best practice, you should consider having a written policy that prohibits gambling in the workplace. The policy should make clear how your organization defines gambling and that any employees who are found to be in violation of the policy may face disciplinary action. Once you have finalized your policy, you should clearly communicate it to your entire workforce and enforce it consistently.
Set Clear Rules
Before allowing office pools or leagues in your workplace, you should consult with legal counsel and consider the applicable federal laws and laws in your state. Any permissible company-run pools or fantasy sports leagues should be free for any employee to enter, and you should provide small, nonmonetary prizes for the winners. If you decide to allow employees to set up their own pools or leagues, you should consider requiring them to seek your written approval or the approval of your HR representative before moving ahead to ensure that the activity complies with your company's gambling policy and applicable state and federal laws.
As a best practice, you should also set rules around the acceptable use of company equipment and technology when it comes to participation in pools or leagues. Employees who are constantly checking scores or streaming game highlights on company computers may place a strain on your internet bandwidth while also decreasing productivity. Some employers choose to restrict personal use of company computers to avoid such a scenario, while others choose to limit personal use to certain times of day, such as over lunchtime. Whatever you decide, you should clearly communicate your policy to all your employees and enforce it consistently.
Listen to Complaints
While office pools can help build camaraderie and morale for participants, they may have the opposite effect on others. Listen carefully and respond appropriately to any complaints that your employees raise. You should also be mindful of state whistle-blower and anti-retaliation rules and ensure that any employee who raises a complaint about office pools or fantasy sports leagues is not subject to retaliation through adverse employment actions such as termination or demotion.
Support Team-Building Activities
Randstad US found that nearly 9 in 10 workers agree that office pools help build better team camaraderie. As a small business owner, national sporting events can provide you with opportunities to help build morale and encourage inter-departmental collaboration. Even if you decide not to allow office pools and fantasy sports leagues, you may still want to consider hosting an office event around a major sports final or opening day. You could encourage employees to congregate in a common area to watch a game, host an office "tailgate" potluck where employees can bring their favorite tailgating dishes to share, or allow them to come to the office sporting their team colors.
According to the Fantasy Sports Trade Association, an estimated 57.4 million people played fantasy sports in the United States and Canada in 2016, and that doesn't include those who filled out tournament brackets or entered other similar contests. Given how popular these activities have become, it's even more important that you develop and consistently enforce a clear policy on gambling and whether or not you will allow office pools or fantasy leagues in your workplace. That said, if you follow best practices to help minimize your compliance risk, office pools and similar activities can provide you with a great opportunity to boost morale and encourage collaboration throughout your workforce.
The information in this post is intended to provide an overview on the topic, and it should not be construed as legal advice. For analysis and advice applicable to your particular situation, please consult with a qualified legal professional.