Generation Z, Millennials and the Generation Gap: An SMB Primer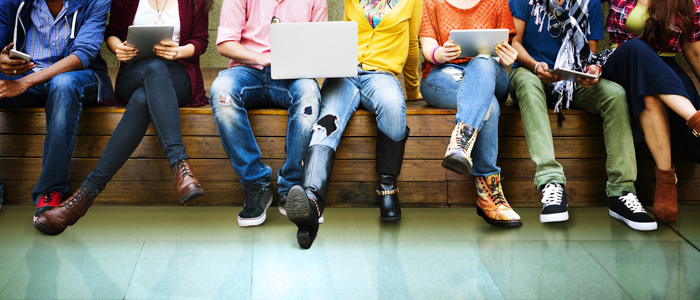 This article was updated on September 19, 2018.
Generation X and the millennials shook up offices across the country when they entered the workforce. Now, people born in 1995 or later, known as Generation Z, are coming in right behind them.
What sets this new group apart from millennials, those born between 1980 and 1995? How can small businesses tap into Gen Z's talents and attract them as customers and employees? Here's a primer on bridging the gap.
Rebels With a Cause
The newest generation differs significantly from their predecessors. As noted by a Sparks and Honey study, they multitask across five screens on average (mobile device, TV, laptop, music player, gaming console, etc.). The previous generation used three. Their attention span is four seconds shorter, from 12 seconds to just eight. They're also prone to limited situational awareness; they don't always notice what's going on around them.
According to Forbes, however, Gen Zer's have a different social outlook. Growing up in a post-9/11 world full of economic instability, they tend to be more cautious and security-minded than millennials. They're rebels with a cause — worried about the state of the world, less willing to conform, but ready to make real change.
Customer Impact
How do small and midsize businesses (SMB) capture Gen Z customers? For one, Gen Zers don't enjoy being tracked or monitored. For SMBs, attracting the Gen Z customer means developing a niche product, positioning it in the right social media channel and not forcing the issue. Consider midmarket organization AwesomenessTV, which now serves as common ground for many popular YouTube channels. As noted by AdAge, the organization capitalized on Gen Z loyalty to this medium by opening a retail shop featuring merchandise from various YouTubers — and has enjoyed marked success.
Employee Evolution
How do Gen Z employees fare? As noted by Business News Daily, Gen Zers believe they need to work harder than previous generations to achieve a fulfilling professional life. They're doubtful that retirement is possible by age 60 and, unlike their millennial counterparts, don't have any problem staying at the same company for their entire career. They do have expectations: 64 percent want opportunity for career growth, 38 percent want an honest boss and 21 percent want someone to mentor.
V3, meanwhile, notes that Gen Zers lack the cynicism toward new technology often displayed by Gen X and millennials. As a result, they're excellent predictors of the next hot trend. For SMBs looking to compete with enterprise-caliber companies in the same market space, Gen Z employees act as ideal big-picture strategists.
Small businesses must also prepare for the rise of Gen Z entrepreneurs who aren't afraid to work hard and understand the precarious position occupied by corporate America. Since Gen Zers prefer stability to the mania of some startup businesses, respecting their talent and ideas is a great way to bring them into the fold and avoid the risk of direct competition.
Generation Z has arrived to the small and midsized business space: forthright, hardworking and with an entirely new perspective.