Essential Small Business Insurance: A Startup Primer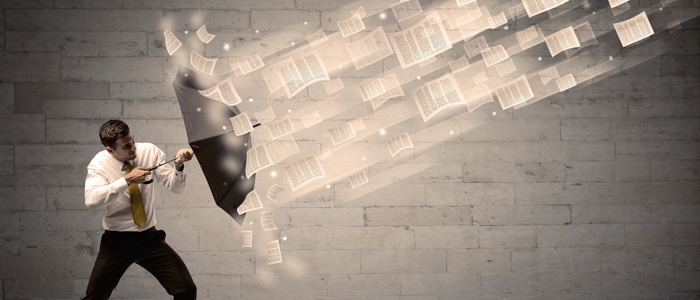 Every business faces some type of challenge or risk. When you're a small business owner, it's especially important to protect your business and assets with the right insurance – before you need it.
What is small business insurance?
Small business insurance is designed to protect your company from a variety of risks and losses. It covers a wide range of liability and property, depending on the size and scope of your business. Some types of insurance, such as workers' compensation, may be legally required in your state. Other types, like business auto/vehicle insurance, may be beneficial to protect you, your employees and other stakeholders.
Three common types of coverage
1. Property insurance: This generally covers damage to or loss of buildings and their contents (equipment, computers, inventory and so on) owned by your business. It can also cover the loss of business income following a major event like a fire or theft that interrupts your ability to run your business. Note: If you work from home, business property insurance usually covers more than a regular homeowner's policy. If you rent, renters' insurance can protect your assets within your office's walls.
2. General liability insurance: Most businesses carry some version of this insurance. It typically covers losses to property or physical injuries caused to third parties by your business operations, your products or your employees. For instance, if a customer walks into your store, trips on a rug and injures him or herself. It can also be used to help cover medical expenses or legal fees resulting from an incident.
3. Workers' compensation insurance: Coverage helps protect you and your employees if a workplace accident or illness occurs. Unless you are a sole proprietor with no employees, most states require you to have a workers' compensation policy (specific state requirements may vary). Coverage is also necessary regardless of whose fault the accident was. Even if workers are performing low-risk tasks (i.e., counting money), it's still possible for slip-and-fall injuries or existing medical conditions to turn small incidents into big claims. If you don't have workers' compensation in place, you could be on the hook to pay out-of-pocket and can possibly face stiff penalties for noncompliance.
Additional coverage to consider investing in
1. Vehicle insurance: Covers all vehicles owned by your company or operated for business purposes. For instance, a family bakery may use a designated delivery truck to transport products to customers, or an employee may use their own vehicle to perform tasks required for their job. Being covered can prevent further costs if there is an accident or other serious injury. Using your own personal auto insurance policy is not a solid option because most insurance companies exclude coverage if the vehicle is used primarily for business purposes.
2. Errors and omissions insurance: Also known as professional liability insurance, this covers your business against claims of harm or mistakes from your advice or services. For instance, if you are an accountant and you make a calculation error that causes your client to incur a tax penalty. Everyone makes mistakes, but as a small business, any singular error could be costly. To protect your interests and your assets, it's important to explore this type of insurance since it generally covers damages caused by a product or service, attorney fees and other legal expenses.
3. Cyber liability insurance: Quite often, this is the type of small business insurance. If you store information about your clients or customers, you are responsible for adequately protecting their personal information, regardless of where the information is stored. This insurance helps safeguard your business by covering damages related to a cyber-attack or data breach, usually including legal fees, notifying customers and any settlements. While the cost of this insurance continues to rise, its importance does as well due to new forms of ransomware and other hacking techniques.
Choosing the right coverage for you
According to a recent Automatic Data Processing Insurance Agency, Inc. (ADPIA®) survey, just over half (53%) of small business owners speak to an advisor, such as an insurance agent or an accountant, when deciding on what coverage or insurance is best for them. "Seeking professional guidance adds peace of mind," says Kyle McDaniel, vice president of sales and licensed agent at ADPIA, an affiliate of ADP®. "You want to make sure you're covered for the things that make the most sense for your business without breaking your pocket."
Cost is a huge driver of small business insurance purchases, as owners seek to find efficient ways to cover their businesses. For instance, a small business may benefit from a business owner's policy (BOP) – where multiple insurances (i.e., property and general liability) can be bundled. This saves time and can offer both a price and premium cost advantage.
Likewise, that small businesses often underestimate their need for important things like property and casualty insurance. This can lead to unexpected costs and headaches, especially when businesses find out the "right insurance" after they need it.
Going to a qualified expert who understands the characteristics of your business and the marketplace should eliminate this doubt and help keep your business protected. "Business owners may feel like they have things covered, but they may not be aware of best practices that can positively impact their business and clients," explains McDaniel.
For more information on small business insurance and other business insurance options, check out ADPIA's business insurance page.
This information is not intended as tax or legal advice. If you have any questions, contact a tax or legal professional.
This article was updated in May 2023.
Automatic Data Processing Insurance Agency, Inc. (ADPIA) is an affiliate of ADP, Inc. All insurance products will be offered and sold only through ADPIA, its licensed agents or its licensed insurance partners; One ADP Blvd. Roseland, NJ 07068. CA license #0D04044. Licensed in 50 states. Certain services may not be available in all states with all carriers. Some carriers may charge an additional fee for services. ADP and ADPIA are registered trademarks of ADP, Inc. Copyright © 2023 ADP, Inc. All rights reserved.