ADP Women in STEM Profile: Lorraine Barber-Miller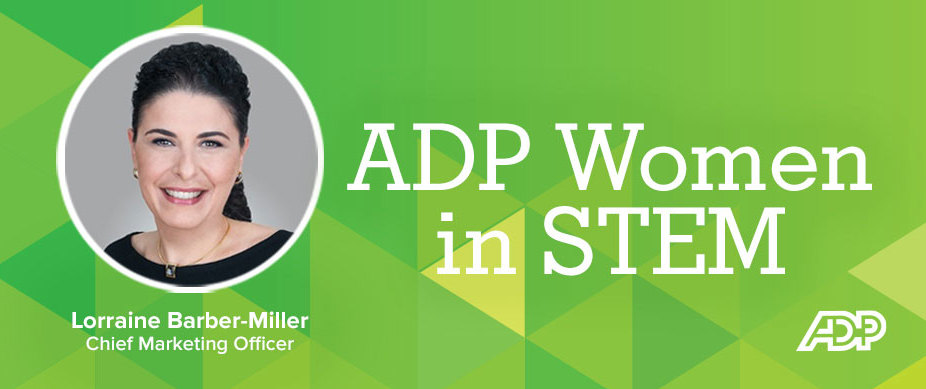 How do the art and science of marketing combine to deliver meaningful business impact? Start by turning data and analytics into business insights, and those insights into lasting value.
Lorraine Barber-Miller fell in love with marketing in her first course in college. It was the perfect combination of art and science. While she knew she found her passion and profession, she didn't know that one day she would lead global marketing transformation across more than 100 countries for iconic brands like IBM and ADP.

Walking the Walk
After graduating, Lorraine accepted a sales position with IBM, which gave her the opportunity to engage with buyers directly, hear their perspectives and understand their challenges. By walking the walk, she was able to see firsthand how marketing effectively supports sales and ultimately, clients. Lorraine explains, "The most important thing I learned from my work in sales is that client success is the North Star."
As her career advanced through sales, communications and marketing disciplines, Lorraine saw a new marketing practitioner emerging — one who is part strategist, part creative director and part technologist — to embrace digital disruption and meet ever-evolving client demands.
"Marketing and communications have grown as a discipline. It's a blend of art and science where data and analytics help to understand buyer behavior. This provides insights into people's concerns and allows us to make authentic emotional connections. Human connection is still at the core of any successful brand."
Connecting with the World
After excelling in her marketing and communications roles at IBM, Lorraine told leadership she was interested in working on international projects. IBM really delivered.
Lorraine moved to Dubai as a Marketing and Communications Director where she took on the challenge of launching IBM's Smarter Planet agenda across three continents and 100 countries in Central and Eastern Europe, Middle East and Africa.
After Dubai, Lorraine moved to Prague, where she served as the Chief Marketing Officer of Central and Eastern Europe and significantly grew revenue and profit.
Working in both mature and emerging markets, Lorraine established the IBM brand, drove demand and delivered exceptional financial results.
Reflecting on her time abroad, Lorraine shared, "I was fortunate to have the help and advice of people who understood the cultures and business challenges our clients were facing. I took the time to listen and learn from our clients, and I developed a deep appreciation for both culture and practices in the markets where we were working to drive transformation. If we could understand our clients' needs and provide them with long-term value, we would all be successful."
Insights and Innovation
As the digital revolution gained greater momentum in the U.S., Lorraine returned to the States to lead the charge in advancing artificial intelligence, cognitive and digital reinvention for IBM.
As Vice President of IBM's Global Business Services, C-suite and Blockchain Marketing across North America, she drove a new growth agenda centered around consulting partnerships with well-known companies such as Apple, Twitter, Salesforce, Adobe and Microsoft.
While being at the center of the latest in innovation, Lorraine maintained her connection with practitioners by advising select Fortune 500 clients on marketing strategy, digital transformation and client experience design.
Lorraine attributes her success in sales and marketing to her love of analytics and creativity. "Understanding design, language and how people relate to them is the basis of meaningful brand connections. Being able to see patterns emerge in data and draw insights from them is essential to marketing, business analytics — and Human Capital Management."
Advancing the Art and Science of Marketing at ADP
After 21 years across multiple continents, functions and leadership successes with IBM, ADP came knocking with a new opportunity to transform marketing across the full brand-to-demand experience.
As she considered the possibility, Lorraine took the time to speak with ADP clients, analysts and employees to understand market challenges and the company's unique opportunity to serve them.
Through these conversations, Lorraine saw an opportunity for marketing to drive meaningful business impact and client success. She decided to join ADP as Senior Vice President and Chief Marketing Officer in the fall of 2017.
Lorraine is bringing fresh eyes and a deep understanding of the technology and insights that connect people and work. "ADP lives at the intersection of technology, innovation and talent. It's a big responsibility to ask our clients to trust us with their people. That responsibility requires a deep understanding of both business strategy and human concerns. We must provide focus and care at every step of the way."
Applying the art and science of marketing, Lorraine is championing her vision for world-class marketing at ADP — one that harnesses top marketing talent to deliver brand leadership, data-driven marketing and client centricity to reimagine Human Capital Management and grow business value.
Lorraine's career advice is to follow your natural curiosity and be resourceful. "Ask questions, listen carefully and find mentors who can give you the opportunities to dig in and learn. Be willing to take strategic risks and create something new."
For more perspective from Lorraine and other women in leadership at ADP, watch their Facebook Live interview with Fairygodboss.